If you're planning a trip to Croatia in 2023 and looking for an unforgettable day trip from Split, we might have a perfect solution for you. The Blue Cave & 5 Islands tour from Split is a single-day boat trip that will take you to some of the most beautiful islands in the Adriatic Sea. From stunning beaches to crystal-clear waters, fascinating history, and authentic local cuisine, this tour has it all. But, who knows better than we at Zen Travel Croatia, a local travel agency with decades of experience? Today, we will share with you all you need to know about the 5 Islands boat tour from Split, Croatia.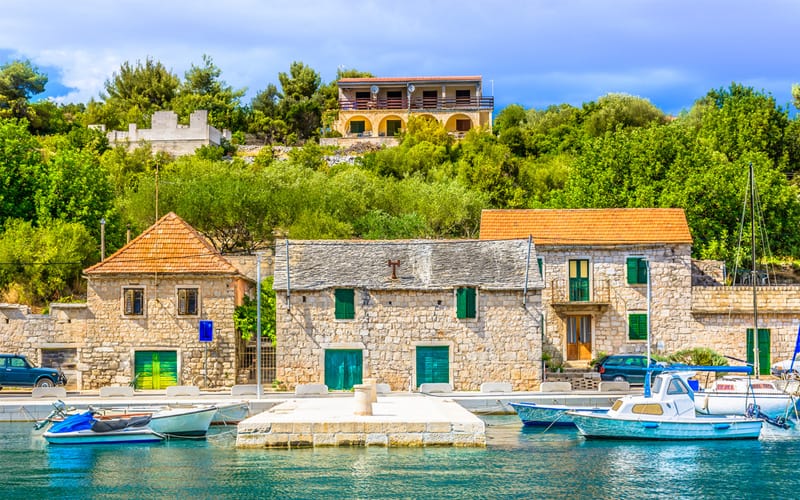 The 5 Islands tour usually starts early in the morning from Split and returns in the evening, allowing you to experience the best of five different islands in a single day. If you were to explore all these islands by public transport (ferry, catamaran), it would take you at least 5 times longer. Plus, there is even no public transport to most of these locations. Organized boat trips include a knowledgeable guide who will share fascinating insights about the islands and locations you're visiting and their history.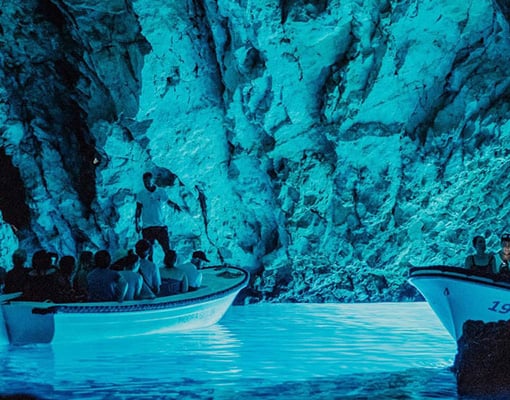 Blue Cave & Five Islands Tour From Split
Visit the Blue Cave and some of Croatia's most stunning islands and incredible natural wonders.
Split 5 Islands Tour: Destinations
1. Blue Cave, Bisevo Island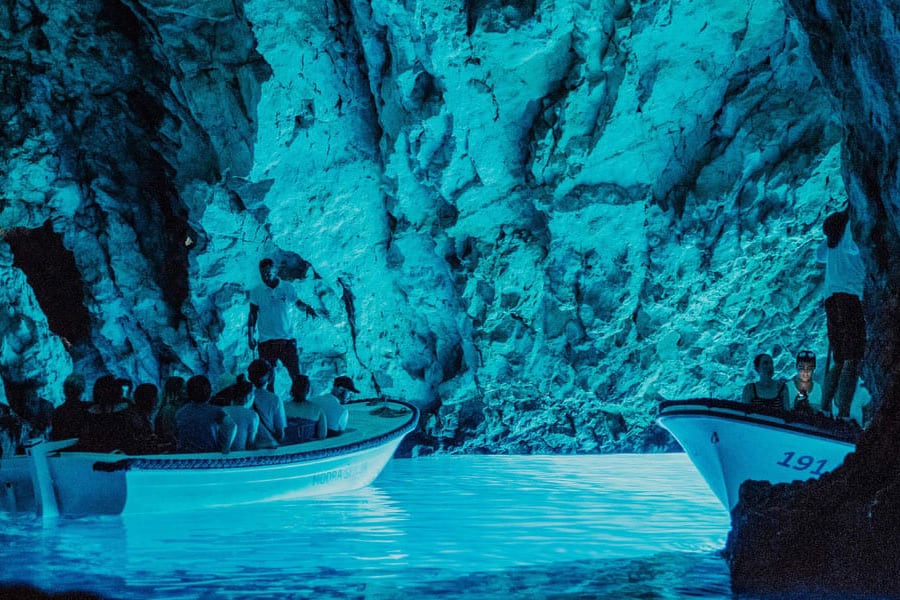 The Blue Cave on Bisevo Island is one of the top destinations on the 5 Islands boat tour from Split. An increasing number of people are discovering this spectacular natural wonder, thanks in part to the hit series 'Game of Thrones' which featured the country's stunning landscapes.
The Blue Cave, also known as Modra špilja or Blue Grotto, is a unique and remarkable geomorphological wonder located on the island of Bisevo. It's situated just five miles from Komiza on Vis Island and 44 nautical miles from Split. The cave is the furthest point in the Dalmatian archipelago from the ancient city, with Vis being its closest neighbor.
The Blue Cave is one of the most famous spots of natural beauty in the Adriatic, and beyond, and is also one of the world's most popular show caves. This is due to the surreal and glowing blue light that appears within the cave at certain times of the day.
To visit the Blue Cave, you'll need to join a guided tour from Split, as private boats are not allowed to dock at the cave. The entrance to the cave is narrow, so only small boats can enter. Visitors must lay flat on the boat's floor to pass through the entrance. Once inside, you'll be able to see the magnificent blue light reflecting off the cave walls, creating a mesmerizing and magical experience.
Overall, the Blue Cave is a must-visit attraction and a highlight of the 5 Islands tour from Split. By planning ahead and understanding what to expect, you can ensure a memorable experience that you'll never forget.
2. Stiniva Beach, Vis Island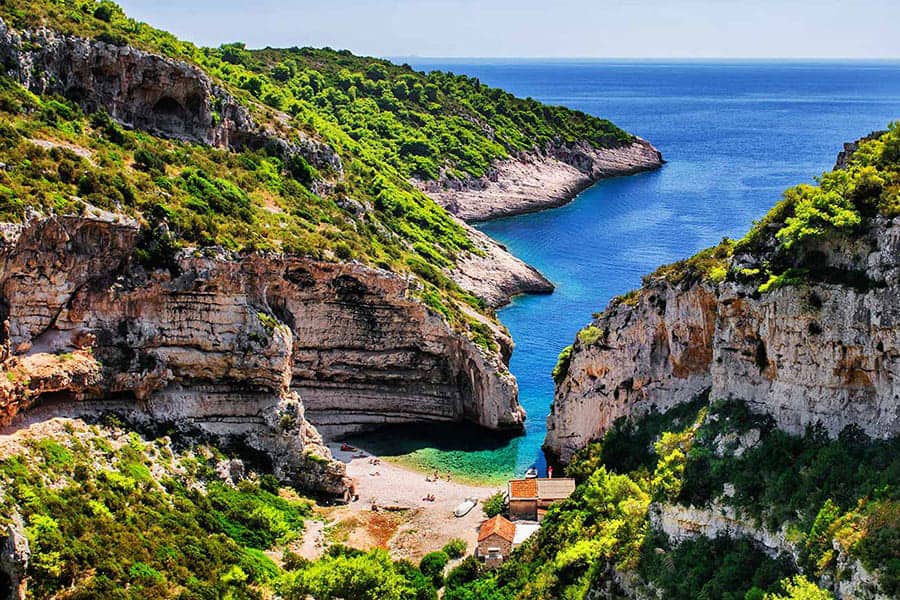 The 5 Islands tour from Split wouldn't be complete without a visit to Stiniva Bay, located on the south side of Vis Island. The bay remained closed to the public for 40 years while used as a Yugoslav naval base but is now home to a quintessential Croatian beach that was voted Europe's best in 2016.
Stiniva Bay is hidden behind towering cliffs, and as soon as you lay your eyes on it, you'll understand why it's ranked so highly. The pebbly stretch sits in a secluded cove enclosed by massive limestone cliffs, providing the perfect stop to immerse yourself in some of Croatia's most enchanting beauty.
The beach at Stiniva Bay is just 35 meters long and can only be accessed by small boats or via a 20-minute hike, which helps to keep the crowds away. The seaside entrance is narrow, at just 5 meters wide, giving it a fantasy-like feel. Despite its small size, the beach is famous for its white pebble shore and crystal-clear blue sea, as well as the old fishermen's houses and rich flora and fauna that surround it.
Stiniva Bay is named one of 82 Croatia Natural Reserves, attracting nature lovers of all sorts. The clarity of the sea and the remarkably rich underwater world make it especially appealing among divers. However, due to the many small boats that enter the bay each day, diving can be dangerous. For this reason, the 5 Islands tour only includes a short visit to Stiniva Bay, with 15 minutes of sightseeing, allowing guests to savor the even better destinations that await swimming.
Overall, Stiniva Bay is a hidden treasure that's well worth the effort to visit. Its unique location and secluded atmosphere create a magical experience that you won't forget.
3. Blue Lagoon, Budikovac Island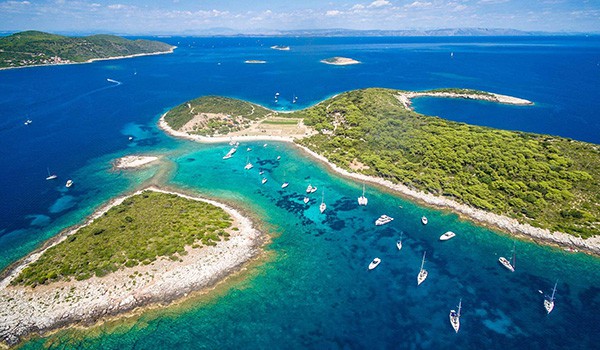 The third stop on our 5 Island Tour from Split brings us to a true gem of the Adriatic – the Blue Lagoon on Budikovac Island. This stunning turquoise lagoon is a true paradise, perfect for those hot summer days when you just need to cool off.
As we arrive, we'll provide you with snorkeling equipment so you can dive in and explore the crystal-clear waters. The marine life here is abundant, with colorful fish and underwater flora providing a breathtaking sight. And when you're ready for a break, the beach bar is just steps away, offering refreshing drinks and the perfect spot to soak in the sun and admire the view.
Budikovac Island is located southeast of Vis Island, and the lagoon is formed by the island along with two other small islets. This secluded location has helped the island preserve its natural beauty, and you won't find any cars or ferries to disrupt the peace and quiet. In fact, there's only one resident on the island, taking care of his farm and running a small restaurant that offers delicious organic dishes made with locally grown ingredients.
With its pebble beaches, turquoise waters, and peaceful surroundings, the Blue Lagoon on Budikovac Island is a true hidden gem of Dalmatia. It's a place where you can truly disconnect from the hustle and bustle of modern life and reconnect with nature, and we're sure it will be one of the highlights of your 5 Island Tour from Split.
4. Paklinski Islands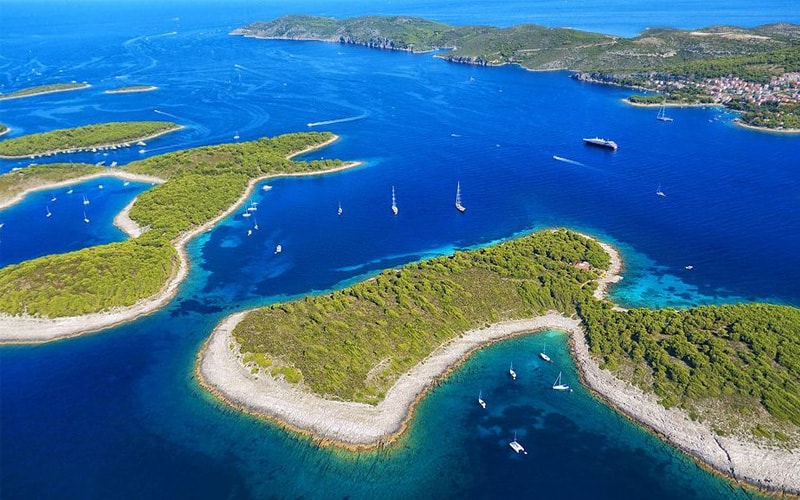 Our next destination is the Paklinski Islands, a group of approximately 20 beautiful islands located off the southwest coast of Hvar Island. We will spend around two hours here, giving you ample time to explore the stunning islands with their secluded beaches, deserted lagoons, and shady trees to relax under.
When you're ready for a break, there's a beach bar and restaurant where you can grab a bite to eat and take in the beautiful scenery.
The Paklinski Islands are known for their pine forests and sparkling blue waters, and they are considered the most beautiful part of the Hvar Riviera and even Croatia as a whole. The name "Pakleni" comes from the word "paklina," which refers to the pine resin that was once used to coat ships. These islands are truly a hidden gem, and we are excited to make them a part of our itinerary.
5. Hvar Island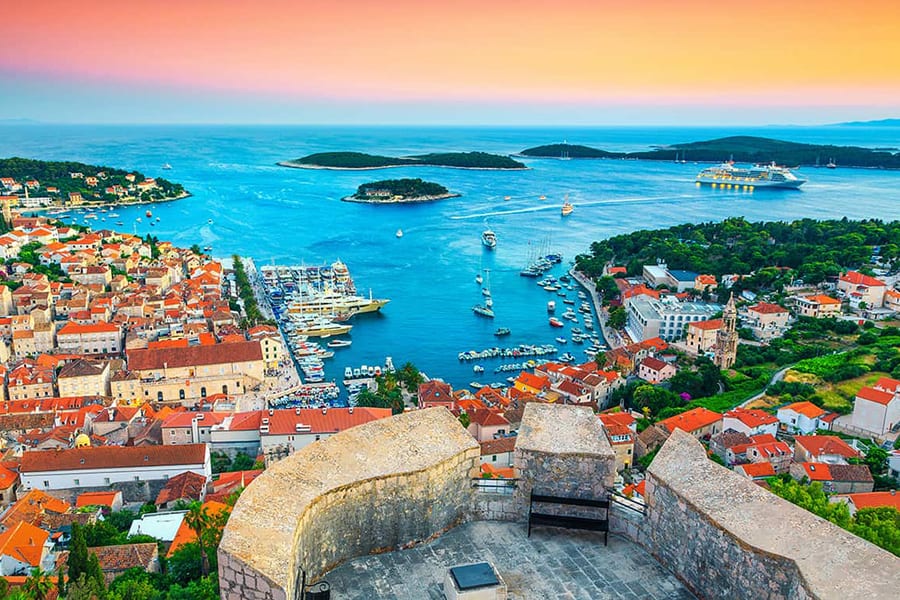 Our final destination on our 5 islands tour Split is the sunniest island in the Adriatic – Hvar. It's no wonder that it's one of the most popular tourist destinations in Croatia, attracting visitors from around the world, including numerous celebrities and VIPs.
As we sail into the harbor, you'll see mega-yachts moored alongside local fishing boats. Hvar town boasts a wide range of outstanding restaurants, beach bars, and clubs, in addition to gorgeous beaches and remarkable historic sites.
Hvar has a rich cultural and commercial history dating back to the ancient Greeks and Romans, and it was an important naval base during the Venetian Empire. One of its most iconic landmarks is the impressive defensive fortress, known as 'Spanjola,' which offers stunning views over the town and the sea. You'll also have the opportunity to visit other historic and architectural sites, such as the 15th-century Franciscan monastery, St. Stephen's Cathedral on the main square, and the 'Arsenal' – the oldest public theatre in Europe.
If history isn't your thing, don't worry – Hvar offers plenty of other activities and attractions. Whether you want to sample delicious local cuisine, lounge on a pristine beach, or party at one of the island's famous beach clubs, there's something for everyone. Keep in mind that Hvar is a popular yachting destination, so there's always something happening.
With so many options to choose from, we recommend prioritizing the experiences that interest you the most, to make the most of your time on this beautiful island.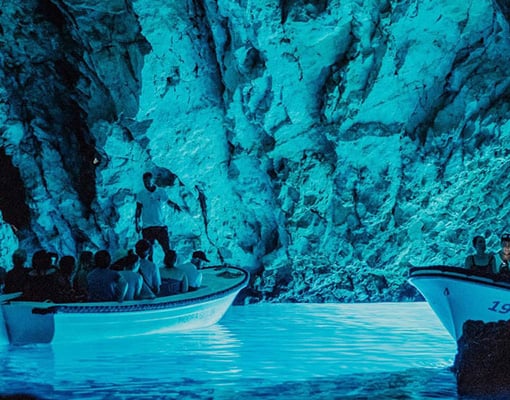 Blue Cave & 5 Islands Tour From Split
Visit the Blue Cave and some of Croatia's most stunning islands and incredible natural wonders.
Conclusion
In conclusion, the 5 Islands tour from Split is a must-do day trip that promises to deliver an unforgettable experience for visitors to Croatia. The tour takes you to some of the most beautiful islands in the Adriatic Sea, including the Blue Cave on Bisevo Island, Stiniva Beach on Vis Island, and the Blue Lagoon on Budikovac Island. From natural wonders to secluded bays, each stop offers its unique charm and beauty, making it a perfect adventure for families, couples, and solo travelers alike.
Zen Travel Croatia, a local travel agency with decades of experience, offers a guided tour that allows you to experience the best of these locations in a single day. So, if you're planning a trip to Croatia in 2023, make sure you book the 5 Islands tour from Split and enjoy an unforgettable day exploring the wonders of the Adriatic Sea.