We are taking safety measures
Hand sanitiser gel is available in all our vehicles and our guides are wearing face mask during entire tour.
Fully refundable trips
Tickets can be cancelled up to 24 hours in advance of your tour date and time to receive a full refund of your money.
Book directly from tour operators
Book directly from the tour operator. Pay for your experience, not for a middleman.
Things to do in Split
Zentravel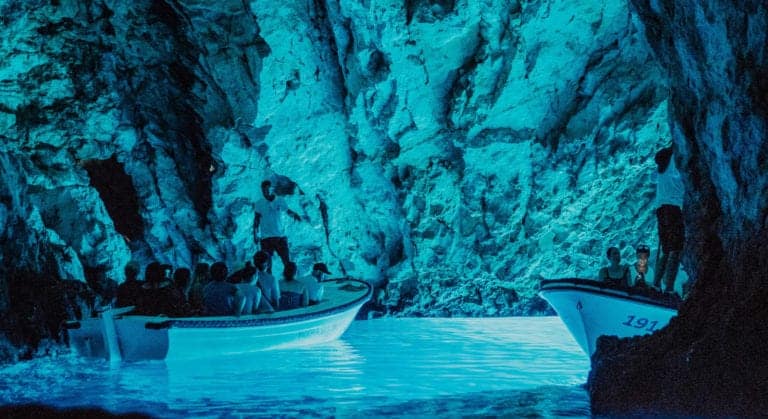 10 hours
English
Free Cancellation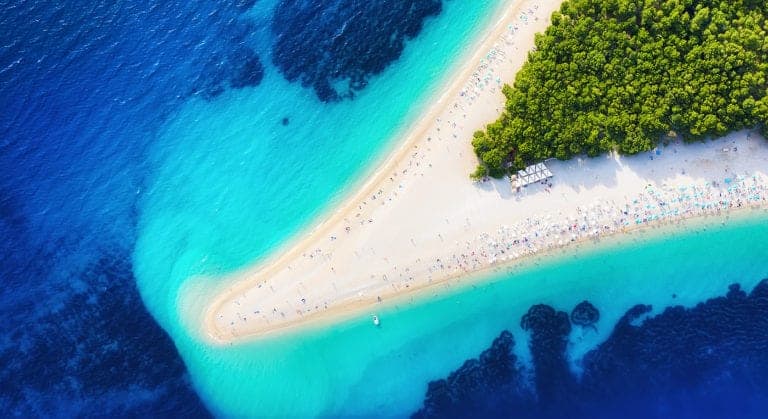 10 hours
English
Free Cancellation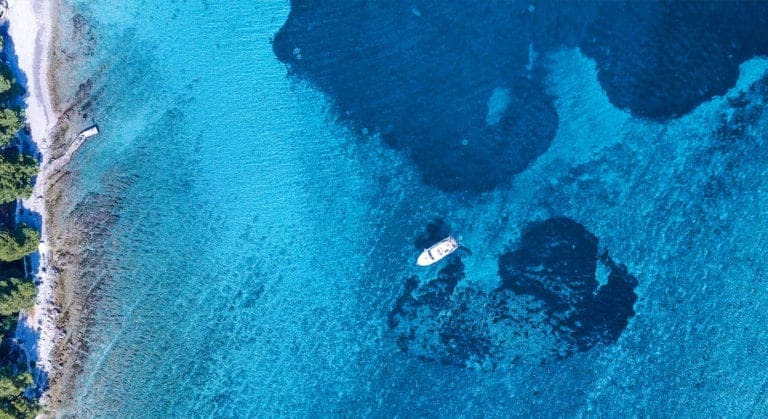 5 hours
English
Free Cancellation

THINGS TO DO IN SPLIT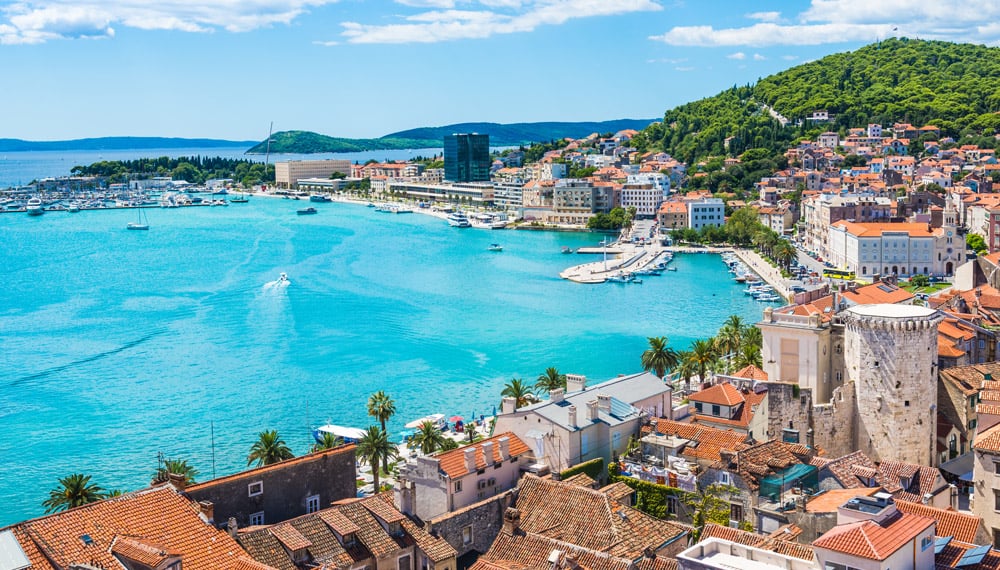 Croatia's second-largest city is one of its most enchanting. While Split may best be known for its UNESCO-listed Diocletian's Palace that dates back more than 1,700 years, it offers a long list of things to see and do. So much, in fact, that one day isn't going to be nearly long enough, which is why we've put together this guide to help you navigate it all and do some prioritising.
Of course, the more time you can squeeze in to take advantage of all this ancient city has to offer the better, because you'd probably need months, if not years to do it all.
1. Tour Diocletian's palace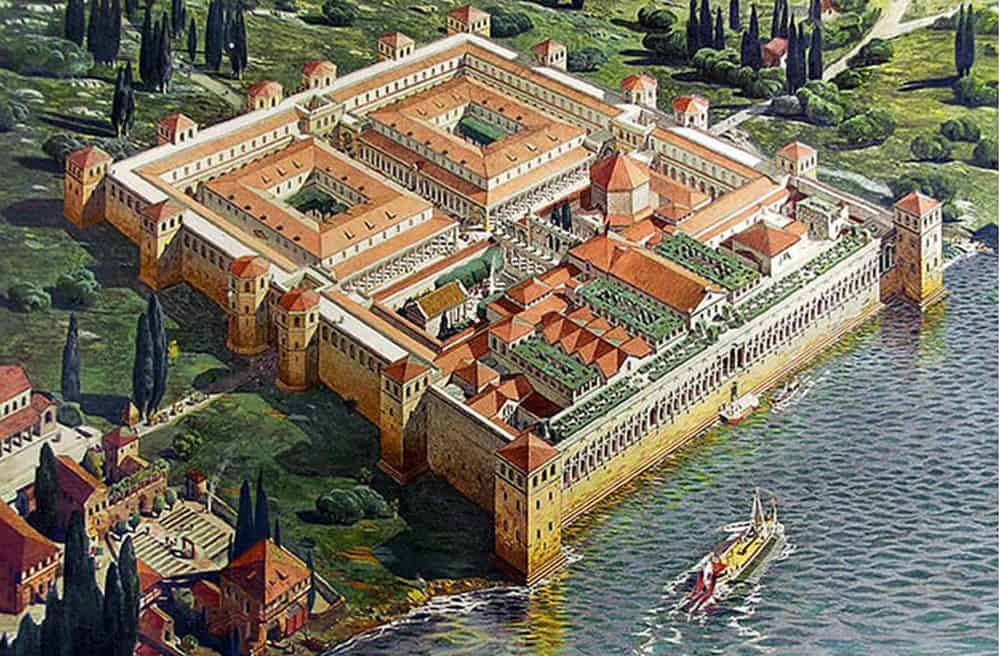 Split was birthed when Roman Emperor Diocletian decided to build his retirement residence here in the late 3rd-century, and today it still hosts his sprawling palace that makes up nearly half of the historic centre. Walking the centuries-old streets is like taking a walk back through time. You'll discover influences by the Greeks, Romans and Venetians in the magnificent ancient buildings and monuments, including the Cathedral of Saint Dominus, one of the oldest Catholic cathedrals in the world, constructed in 305 AD.
There are tens of reasons why Diocletian's Palace is #1 on our things to do in Split Croatia guide. While this maze-like complex is fascinating just to wander through, it's best to experience on a tour first, and then head out at your leisure, getting lost within its endless magical delights. An expert guide will bring the palace to life, revealing the stories behind places you're witnessing and point out many gems that you'd probably miss otherwise as you wander the marble walkways. And, for fans of the hit series Game of Thrones,' it's truly a must with some of the show's filming sites revealed as well. The palace and the entire historic core also serve as a hub for daily life here today, with unique shops and boutiques, restaurants, cafes and bars to discover in every nook and cranny. With insider tips, you'll be able to seek out some of the best.
2. Climb the cathedral bell tower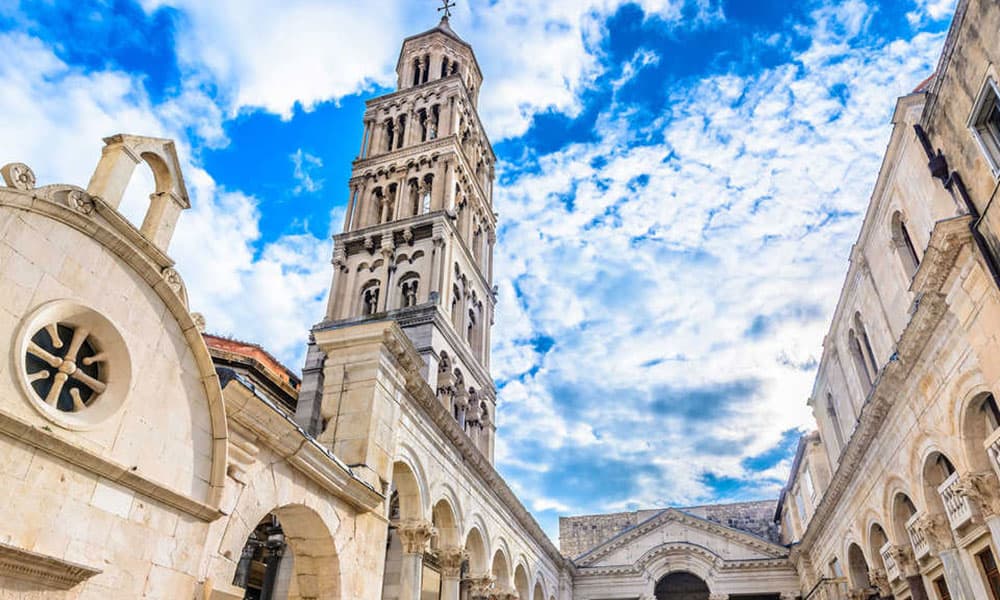 The Cathedral of Saint Dominus sits in the heart of Diocletian's Palace and was once the site of the mausoleum for the emperor himself. One of the best views in the city can be enjoyed by climbing its nearly 200-foot-high bell tower. While it requires ascending some 200 steps, the effort is worth the reward. You'll be able to marvel at the stunning panoramic view from the top which includes the Old Town and the glistening expanse of the Adriatic Sea beyond.
3. Explore the Palace cellars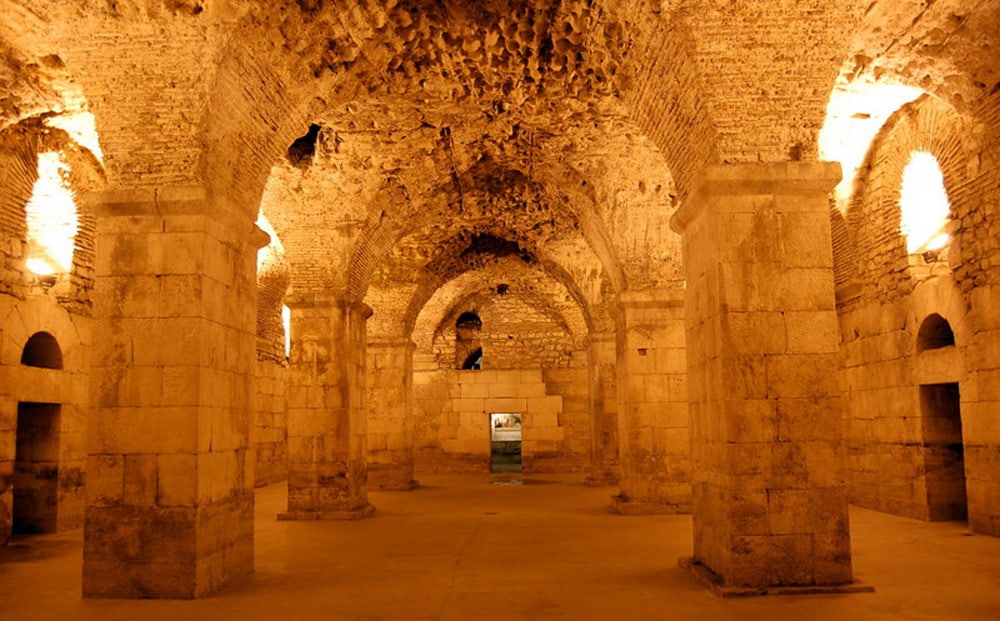 The cellars of the palace are housed within its southern half – by walking the seafront promenade (Riva), and ducking through the Brass Gate, you'll discover an underground passage filled with souvenir shops that lead to Peristil Square. The basement halls served as the entrance to the palace, and when the sea reached the high walls, boats would be able to make berth in front of the gate to receive noble guests or drop off supplies. Here you'll see a large press that was one used to turn grapes into wine, revealing evidence that the emperor likely enjoyed his own wines here. After the death of Diocletian, the basement was ultimately used as storage and for garbage, which just so happened to keep it and many items used from the period very well-preserved. During restorations to protect and conserve the palace, an excavation of the cellars took place in the mid-19th-century which uncovered many archaeological finds. Today, the cellars are open to the public and they've even served as the place where Daenerys trained her dragons in 'Game of Thrones.'. This is for sure one of the things you don't want to skip while you're in Split.
4. Marvel at the temple of Jupiter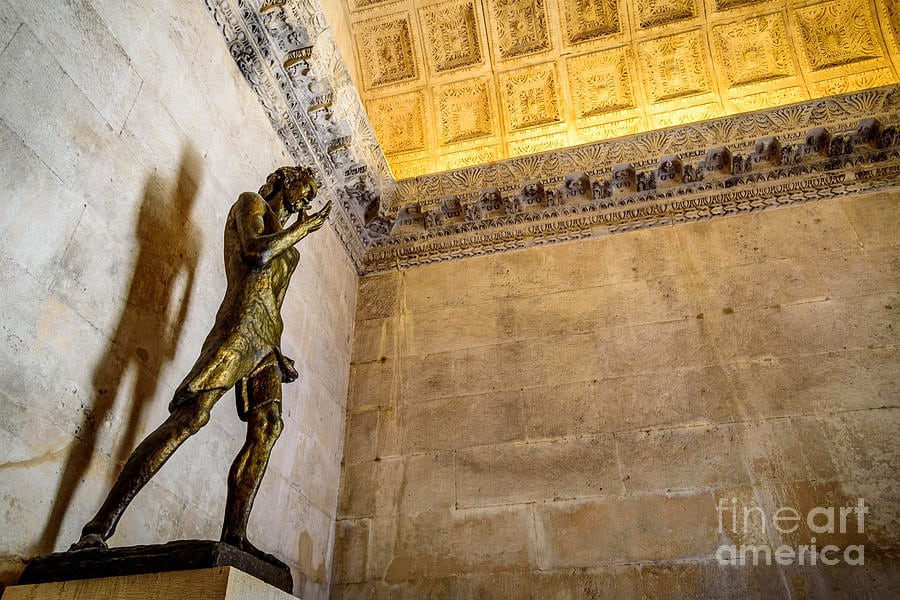 One of the major landmarks in Diocletian's Palace is the Temple of Jupiter which stands near the courtyard opposite the emperor's mausoleum. It dates back to the 3rd-century, built as a Roman temple dedicated to the king of Gods, Jupiter, with the location chosen to signify the divine connection between the god and the emperor. In the 6th-century, it was converted into the Baptistery. It's been impeccably preserved and remains nearly intact, with carving on the barrel-vaulted ceiling that contains a relief with more than five dozen different facial expressions.
5. Listen to the incredible acoustics in the Vestibule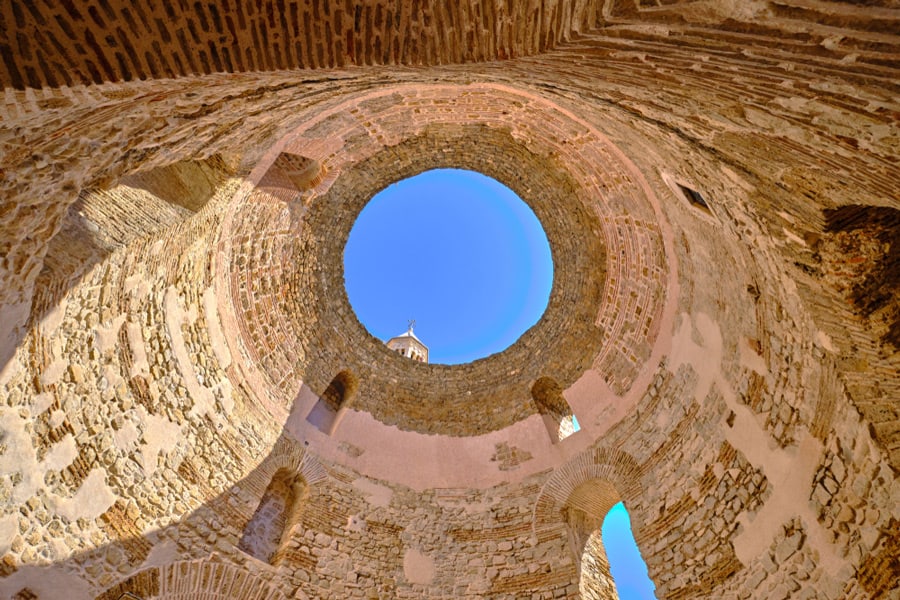 While it's not guaranteed, if you head to the southern end of the palace courtyard just above the basement stairs, you'll enter the vestibule, a majestic domed room that's open to the sky. With luck on your side you'll be able to enjoy the sounds one of the Klapa groups which often put on an a cappella performance here to take advantage of the incredible acoustics. It's truly a spine-chilling experience.
6. Rub the toe of Grgur Ninski statue – if you hope to return to Split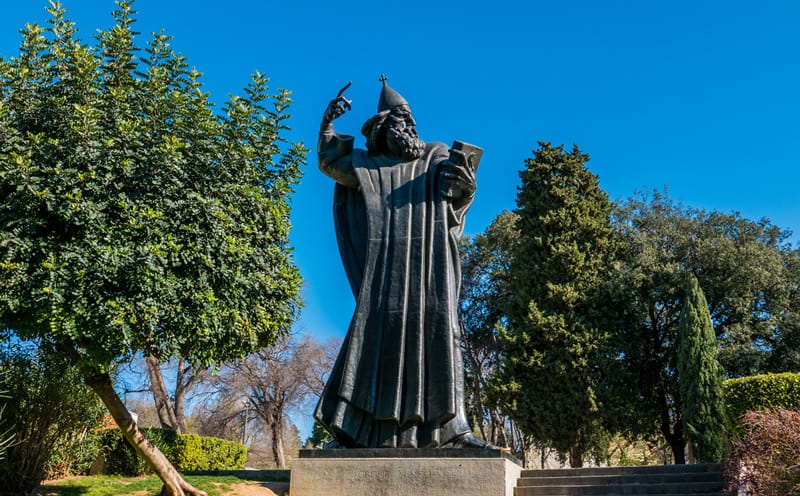 With so much to see and do in Split, odds are, you're hoping to return. Many visitors find themselves planning another trip before they even board their flight home. If you're one of them, be sure to visit the Grgur Ninski Statue. Sculpted by Ivan Mestrovic, the gargantuan statue is one of the city's defining images. It depicts the 10th-century Croatian bishop who fought for the right to use old Croatian in liturgical services rather than Latin. But the important thing to note is his left toe. You'll see that it's been polished to a sign – if you rub it, it's believed to bring good luck and even guarantee that you'll come back to Split.
7. People watching and 'Fjaka' on the Riva promenade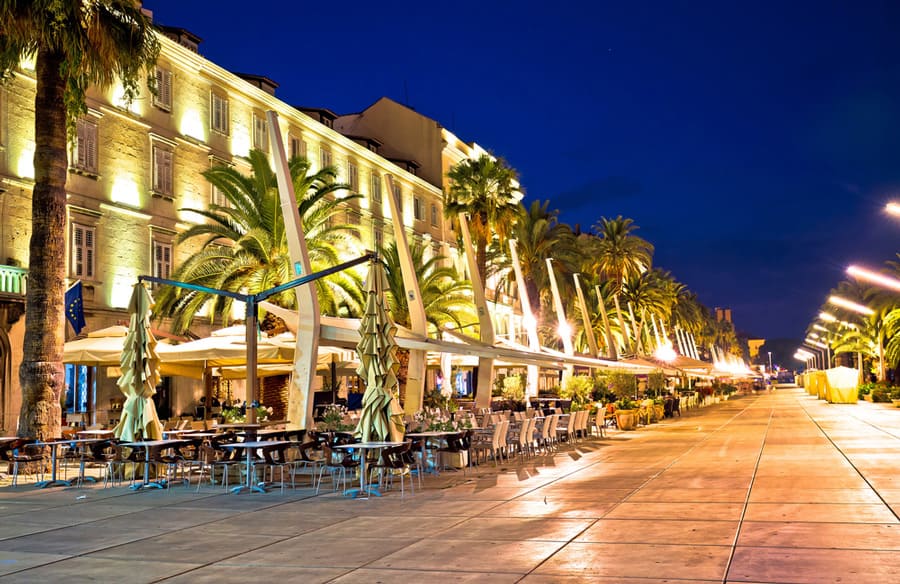 The Riva is Split's waterfront promenade, a popular gathering place for locals as well as an ideal spot for visitors to relax, dine, sip coffee or wine, and enjoy some outstanding people watching too. There are snack and souvenir stands, trendy restaurants and cafes, making this an ideal spot to experience something the locals call 'fjaka,' which literally means the art of doing nothing, a state of mind where worries fade away while time stops allowing you to enjoy the moment.
8. Explore Split's Jewish heritage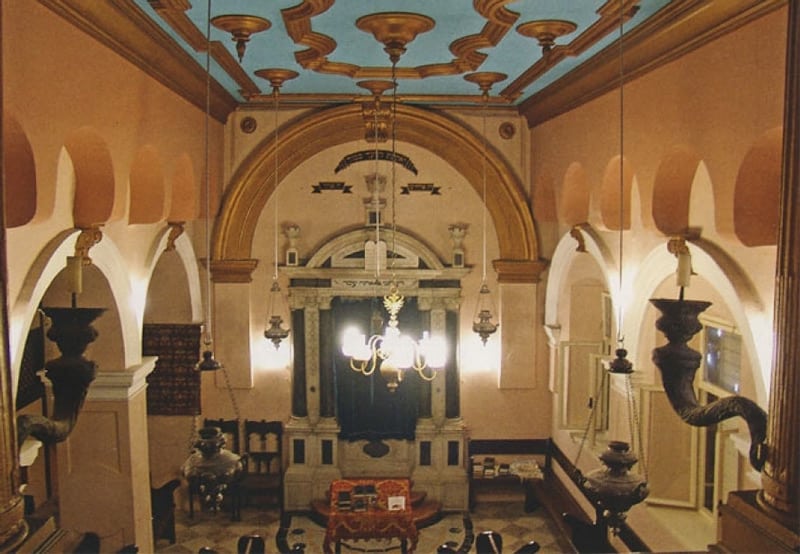 Jews have been a part of Split's culture since Roman times. Discover one of the oldest synagogues in Europe and the world's third oldest continuously used Sephardic Synagogue tucked within the narrow alleyways of Diocletian's palace among the layers of history. It dates from the 16th-century, used by Sephardic Jews who arrived as refugees from the Iberian Peninsula. It was a church before being converted into their place of worship, created out of two medieval houses. Constructed in Classicist style, behind the wooden door there are enchanting arches, a blue painted ceiling, brass chandelier and silver lamps. The aron hakodesh, the ornamental closet and most important part of all synagogues, is framed by graceful black and white marble pillars, built right into the palace's western walls. There are two plaques, one serving as a sober reminder of the Holocaust with the names of Jews from Split who perished, while the other memorialises Split's Jews who fought with the Liberation Army. While there is no rabbi in residence, the tight-knit Jewish community which has about 100 members in Split continues to meet here for Sabbath. The public can visit on weekdays, however, it's best to call ahead.
The Jewish Cemetery can be found on the eastern slopes of Marjan Hill about a 10- to 15-minute walk from the historic centre. There are more than 700 graves here dating from the 18th- to 20th-centuries, with the last burial taking place in 1945, when it was closed and protected as a monument.
9. Spend the day at the beach – relaxing things to do in Split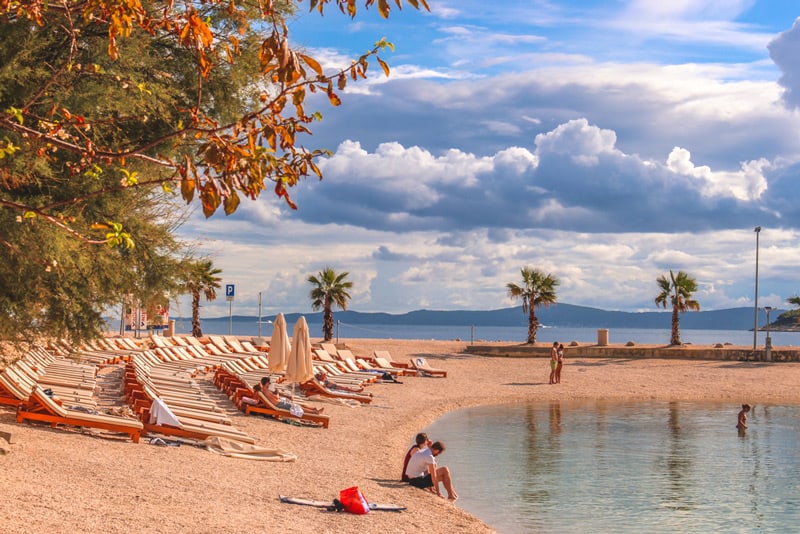 Most beaches in Croatia are made up of pebbles, but Bacvice Beach is a sandy stretch, the only one you'll find in Split. The first to receive Blue Flag status in the city, it's just a 10-minute walk from the ferry terminal. A half-moon expanse lined with trendy bars and cafes that draw a mix of visitors and locals, it's the perfect spot to unwind with picturesque mountain views and crystal-clear blue waters that are shallow enough for young children to swim. Watching the locals play their popular pastime, a game called picigin, is rather entertaining too. Acrobatic skills are used while hitting a small rubber ball back and forth – you'll see players diving to save the ball from going into the water.
There are beach chairs and shady umbrellas available for hire, and with the spectacular sunsets overlooking the glistening Adriatic, Bacvice serves as an idyllic setting for ending the day with a cold beer or cocktail in hand. This is a nightlife hotspot too, with a number of legendary clubs like La Playa Beach Bar & Club, Tropic Club and Caffe-Club Bacvice. In the summer you can take advantage of the warm evening for fun under the stars. Some even stay until the sunlight begins to peak above the horizon.
While Bacvice is ideal for those who want to immerse themselves in lively crowds and stylish cafes, there are other beaches that offer a more tranquil experience, including some of the stretches that sit at the foot of Marjan Hill. A series of picturesque beaches on the south side like Kasjuni are especially enjoyable with a small sandy stretch along with others that are part pebble. Nearly all of Split's beaches are framed by calm, clear water without high waves or underwater currents, while sea temperatures are pleasantly warm from around mid-May through mid-October, ideal for swimming.
10. Join the locals for a game of picigin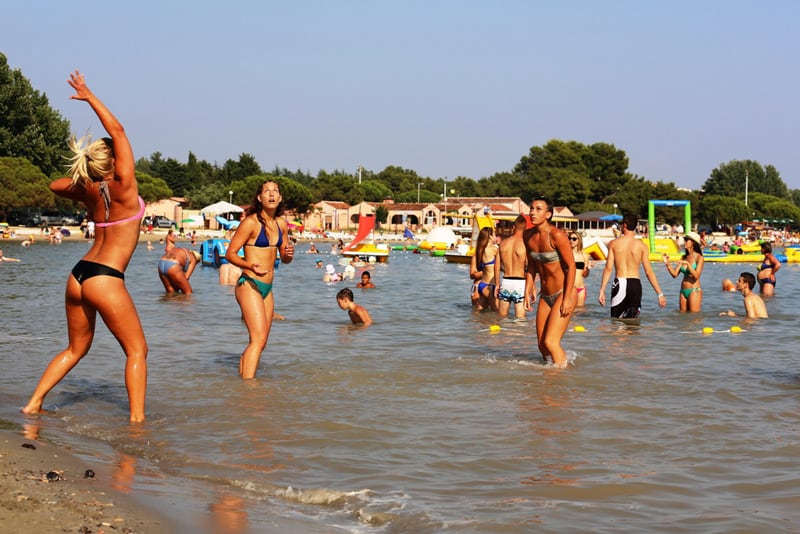 As mentioned, when visiting Bacvice Beach, you'll often see the locals playing picigin. While it's popular throughout the Dalmatian region, it's especially popular here in Split where it's been played over more than a century. If you want an authentic experience, join in on a fun game – it's played with a stripped off tennis ball in the shallow water, with the goal to keep the ball in the air for as long as well. The main idea is to throw it to other players in a way that makes them do acrobatic moves and jumps. The ball can only be hit with the palms of your hands, and there aren't any winners, it's all about the fun of playing.
11. Get a perspective of Split from the water in a sea kayak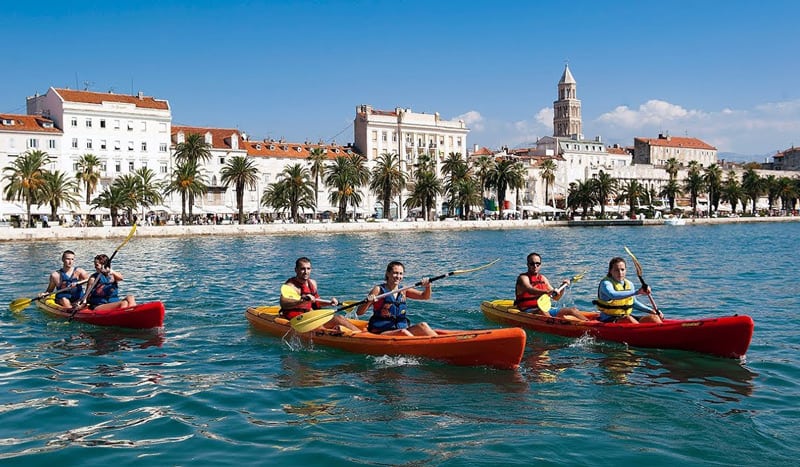 Join a sea kayaking tour, typically available from April through September, and you'll be able to gaze out at the 1,700-year-old emperor Diocletian's Palace from the water for a jaw-dropping perspective of Split. Everyone from beginners to experts can enjoy paddling the coast of the spectacular Marjan peninsula. Many hidden coves, caves and idyllic beaches can only be reached from water, in a small vessel like a kayak, providing the perfect opportunity to explore some of the most alluring places this area has to offer. Forget the crowds and noise, instead enjoy peacefully gliding across the water to a deserted beach, with time to swim or snorkel in the crystal-clear turquoise water and perhaps enjoy cliff jumping too. Sunset tours are available too, bringing the opportunity to watch the glorious colours as they're splashed across the Adriatic.
12. SUPing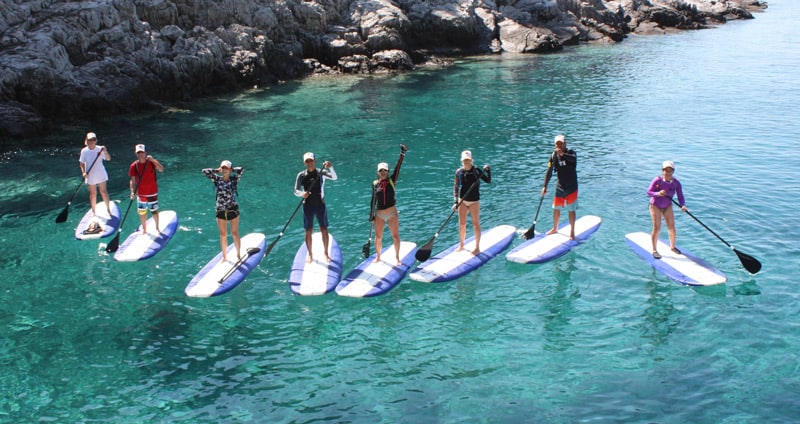 Stand-up paddle boarding, or SUP, is a sport that's exploded in popularity in recent years. Sort of a cross between kayaking and surfing, it's a fun way to get out on the water among the gorgeous scenery and get some exercise in too. If you've always wanted to try it, or you're already a fan, Split is the perfect place to paddle, with a variety of tours offered both in the city, around Marjan Hill where you can discover hidden beaches, and multiple places nearby. This is a sport for all ages, and a certified SUP expert will provide instruction to help you get up on your board and paddling across the water where you'll feel as if you're walking atop its surface.
There are even night-time tours available for enjoying the cool summer evenings with boards that are equipped with LED lighting on the bottom that allows you to see everything beneath and around you as you paddle.
13. Hire a bike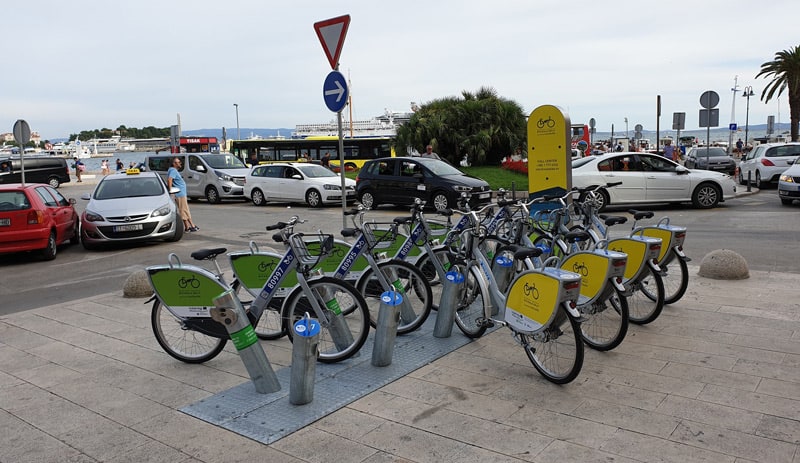 If you'd like to do some exploring on two wheels, bike hire is available at many places throughout the city centre of Split too. They all have similar prices and various types of bikes along with additional equipment like helmets and seats for children. While you wouldn't want to ride through the narrow streets of the historic centre or higher-traffic areas in the newer part of the city, there are plenty of good options to choose from. Marjan Hill with its forested park is a top pick with lots of paved and off-road trails for all types of cycling. In fact, at the northern gate of the park, you can hire bikes by the hour to ride around the hill or visit some of the beaches below. They make for an ideal break – you might even want to cool off by taking a dip in the water.
Another good option for cycling in Split is to pedal to the beaches that lie to the southeast of the historic centre. Pedal from the old town about four-and-a-half kilometres to Znjan Beach and back. This is the largest beach in Split, popular for sunbathing and water sports. There are outdoor showers, a beach bar, several restaurants, an ice cream stand and other facilities too.
14. Climb a rock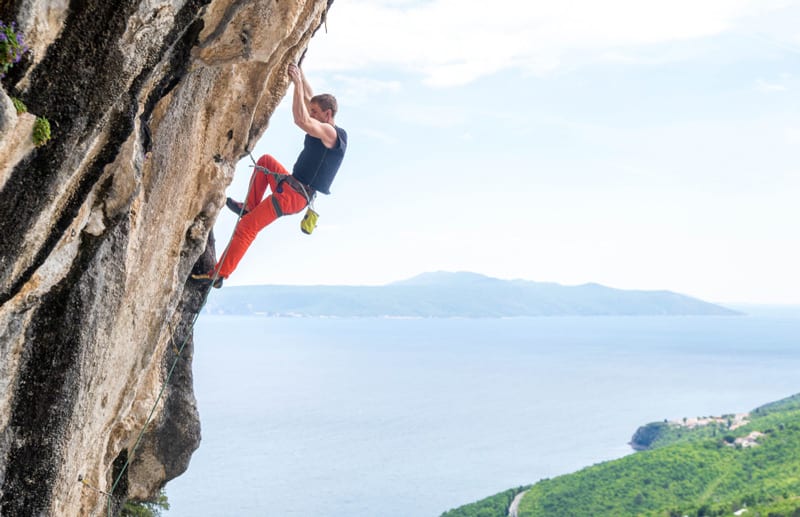 Rock climbers can enjoy their favourite sport here too – in fact, Marjan crag was one of the first sites in the Dalmatian region where organised climbing for sport first began back in the mid-1980s. There are few other places in the world where you can climb right in the heart of the city. Referred to as Santine Stine, the 40-metre-high cliffs sit at the westernmost section of Marjan right above Kasjuni beach. There are more than 75 mostly vertical routes, with difficulty levels ranging from 4c to 8a. Look forward to an exciting challenging among the fresh air with dazzling views of the sea
If rock climbing is something that you'd like to try, there are opportunities for guided adventures for beginners which include all equipment like climbing shoes, a helmet, harness and rope as well as instruction by professional guides. Experienced climbers who aren't travelling with their gear and want to head out on their own will find rental equipment available at multiple outfitters in the city.
15. Hit the back roads by ATV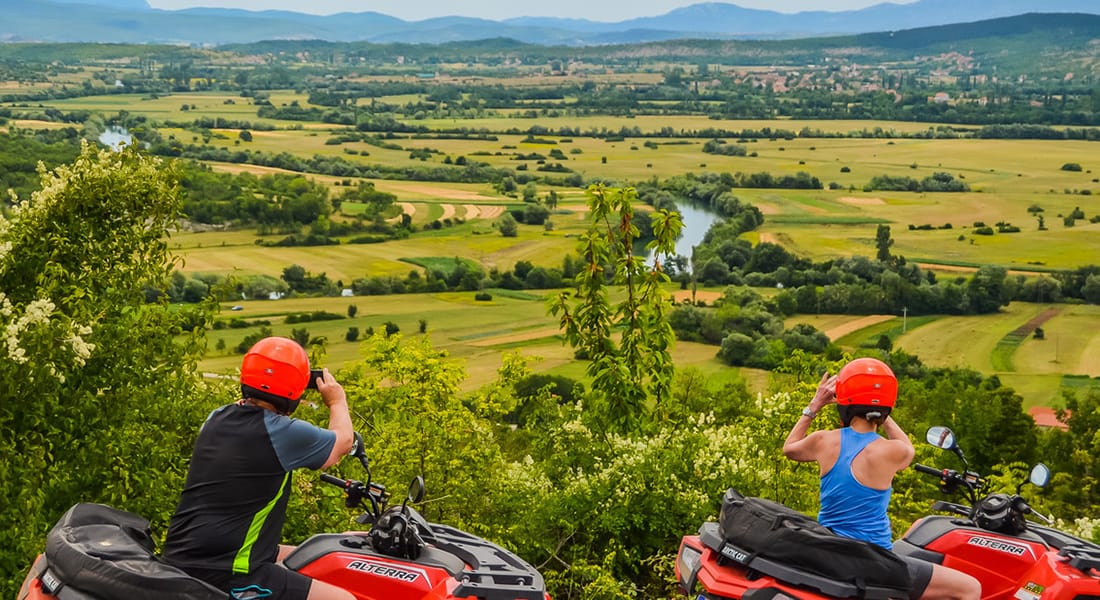 Discover the hidden beauty among Dalmatian hinterland by embarking on an ATV tour. From Split, one of the most popular ATV excursions is a quad tour that will bring you up to the highest mountain in Croatia, Dinara. You'll enjoy a thrilling but safe ride on a high-quality quad alongside experienced guides that reveal some of the very best trails and the most fantastic views. The off-road trails head up to 1,000 metres in altitude, allowing you to explore the steep mountain terrain, wild canyons and lush meadows, often ending at the scenic Cetina river. Look forward to swimming in the clear refreshing water and feeding your appetite with delicious, homegrown foods as well.
16. Climb Marjan hill – things to see in Split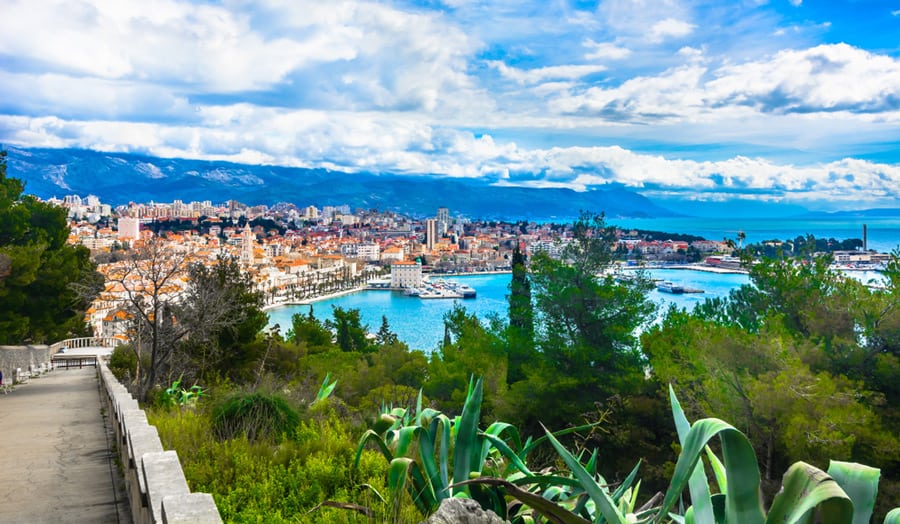 One of the best views in the city can be found from Marjan Hill overlooking Split, the sea and islands from nearly 600 feet above. Often referred to as the "lungs of the city," this is also the perfect place to escape the hustle and bustle of daily life with a sprawling nature reserve that's covered with dense Mediterranean pine forest. There are trails for hiking which lead to scenic lookouts, cave dwellings once inhabited by Christian hermits and a 16th-century Jewish cemetery that can be visited for a glimpse of the city's Jewish heritage. Benches are scattered throughout for relaxing and there are plenty of idyllic picnic spots too. If you climb to the top of the hill, you'll see a number of medieval churches which were built when this area served as a spiritual haven for residents who would express their faith by making a pilgrimage to their holy hill. This is where you'll find one of the most magnificent views for watching the ferries and other boats glide in and out of the harbour. If you're still here at dusk, you'll have the chance to marvel at a famously stunning sunset. Vidilica café, located at the summit, is an ideal place to grab a drink (and a meal) to enjoy with that beautiful view.
17. Whiz across a Zip Line in the Cetina Canyon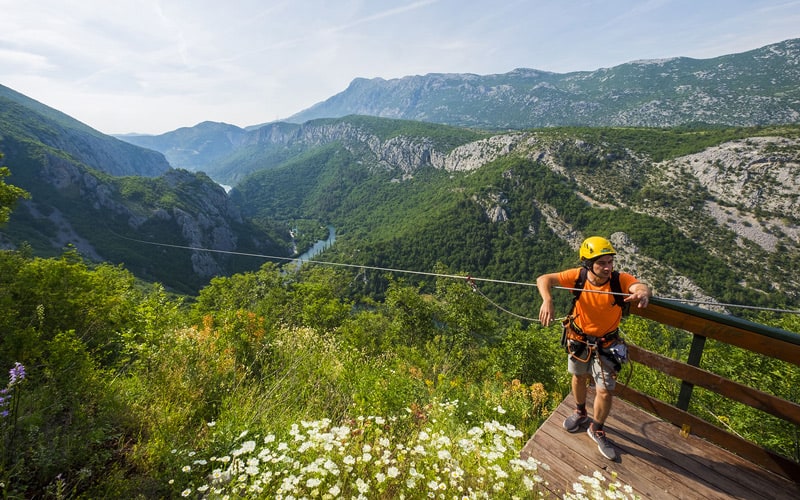 For a heart-pounding thrill and spectacular scenery, go zip lining in the Cetina Canyon. The adventurous can head to Omis, located where the Cetina River meets the Adriatic. just a little over 30 minutes from Split. This small town is an historic treasure where one can discover the traces of its ancient wall and secret passage, a 10th-century church, Illyrian seminary and Turjun fort. In the canyon nearby, there are eight steel cables for zip lining, totally 2,100 meters, 150 meters above ground for jaw-dropping views and an amazing ride.
18. Rafting on the Cetina river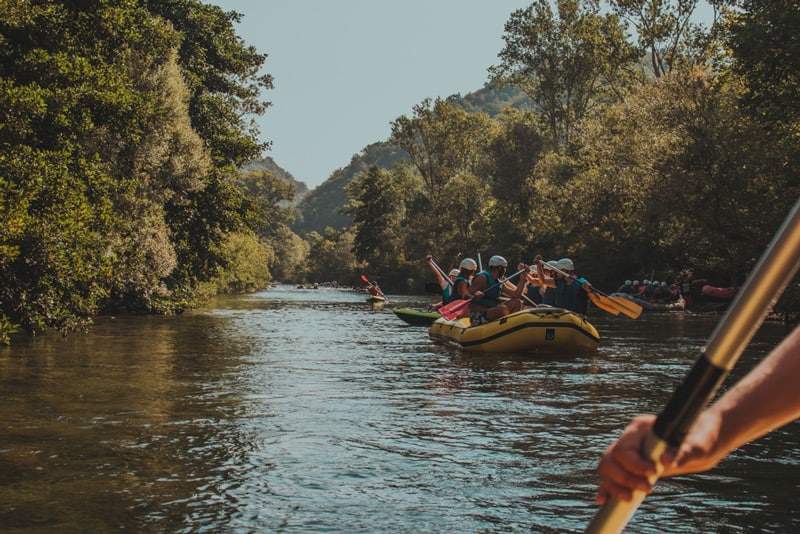 Less than an hour's drive from Split, the Cetina River offers the opportunity for an exhilarating day out riding the rapids with no experience necessary. A tour can bring you to the river where professional guides will be at your side to teach you all you need to know for a fun and scenic ride in the river canyon. All the gear is included, like neoprene suits (if it's chilly out), safety vests, helmets and oars) for a safe, once in a lifetime journey – all you need to enjoy the gorgeous natural beauty of the landscape from the clear emerald water is a sense of adventure and some sunscreen.
19. Catch a Hajduk game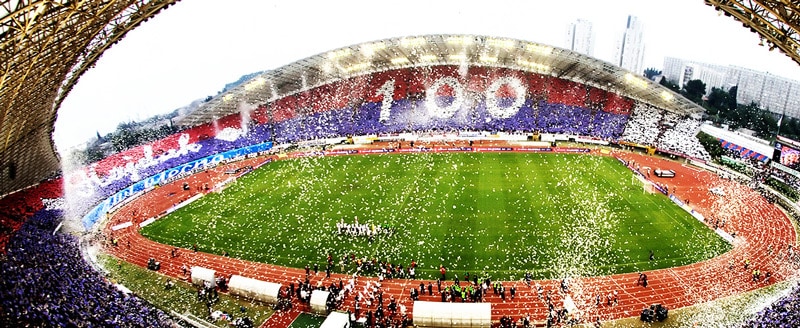 Just about every Split resident is passionate about football, and specifically, the Hajduk Split football club, named from the freedom fighters who battled against the invading Habsburg and Ottoman occupations. You'll see a round badge with a red-and-white checkerboard motif and the words 'Hajduk Split 1911' throughout the city, including stalls that sell t-shirts and all sorts of other items with the emblem. Fans here are extremely loyal – don some blue attire and catch a game with them at the seashell-shaped Poljud Stadium to not only enjoy mingling with the locals to get more of the flavour of what it's like to live here, but to take in the dramatic setting that overlooks the Adriatic. The stadium sits just a kilometer north of the historic centre of Split, easily reached on foot. Tickets are cheap and can be purchased at kiosks just outside the stadium, but if it's a Europa League game or a game against Dinamo Zagreb, it's better to buy in advance to avoid disappointment.
If the club isn't playing while you're here, you can take a tour of the stadium to learn about the history of Hajduk, Croatia's oldest football club, founded in 1911, hence the reason for the year on its badge. The magnificent arena was built in 1979 and is considered a masterpiece by Boris Magas, one of the most prominent architects in the country. At the time of its construction, it was considered a breakthrough in sports architecture, along with Munich's Olympic stadium. The tour will reveal some of the team's most iconic matches, players, coaches and trophies along with interesting and emotional stories.
20. Visit the daily markets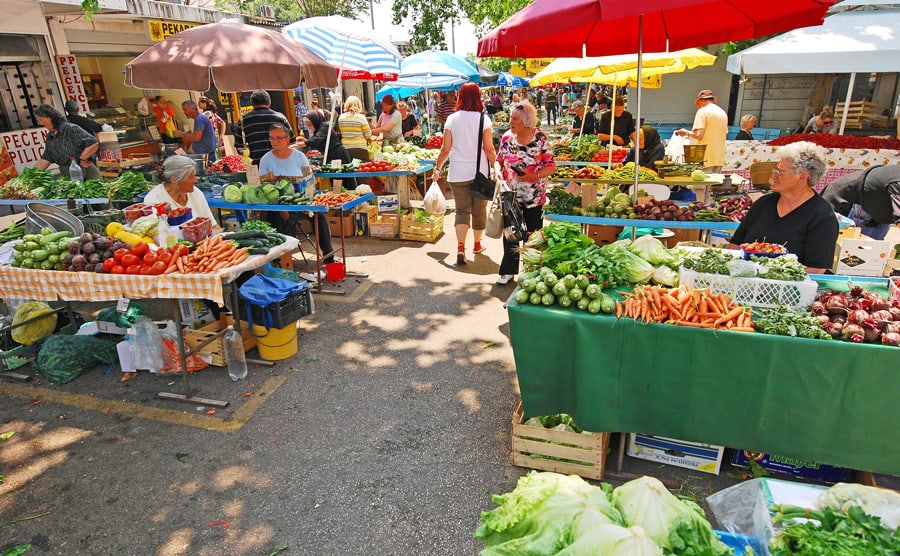 While Split has plenty of grocery stores and malls like any other city, many locals prefer to shop the local markets, and they're a must-visit for tourists too. The Green Market, or Pazar as Split residents typically call it, is just steps from the east wall of Diocletian's Palace and runs all the way to its Silver Gate. There are vendors selling lots of cheap souvenirs, clothing and the like, but the highlight is the myriad of seasonal foods, with local farms providing fresh fruits and vegetables, herbs, artisanal cheeses and cured meats, thinly sliced by hand right before your eyes. You'll also find homemade wine, herb-infused olive oils and packets of lavender to tuck into your pillowcase for a better night's rest. It's the place to go to stock up for a picnic – and, if you're staying in accommodation with a kitchen, this is where you'll want to pick up your provisions. Even if you don't buy, it's worth a visit just to experience the atmosphere, a daily ritual for locals.
The fish market sits in a Secession-style hall and an adjacent terrace on Marmontova Street. It's chaotic and smelly, but it's truly a spectacle to behold. Many locals visit daily to haggle with the fishmongers for the freshest catch. While the aroma from the natural underground sulphur springs makes for an odd smell when mixed with the fishy scent, it tends to keep the flies away.
If you want the best offerings, be sure to arrive early, before 9 a.m., but if you're after a bargain, the best time to come is around noon when the market is starting to shut down for the day.
21. Try Split's signature dishes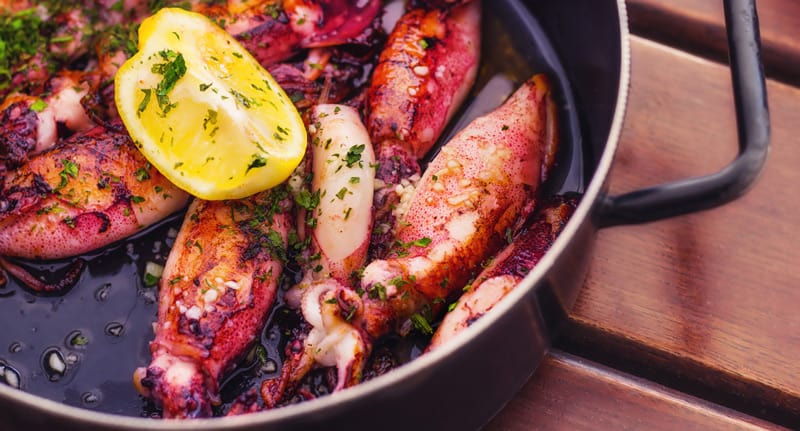 Whether or not you take a food tour, sampling some traditional Croatian delicacies while in Split is a must. Pasticada, a stewed beef dish, is one of the most popular. The meat is stuffed with bacon, carrots, cloves and garlic and marinated in vinegar overnight before being roasted and cooked with onions, bacon, tomato paste, nutmeg, parsley and prunes, then stewed for as long as five hours. After it's cooked, vegetables are added to the sauce. Konoba Hvaranin, tucked in an alleyway in the tourist centre, is one of the best eateries for traditional fare, and here pasticada is served with gnocchi.
Fish stew, or Brujet, is served in most Split restaurants, including Konoba Hvaranin, made with a variety of different types of fish like grouper, monkfish or sea bass, and sometimes with shellfish like mussels added too. The fish is typically fried with garlic, onions and olive oil, and then braised in a flavourful broth made up of tomato sauce, red or white wine, seafood stock and sometimes chili peppers and fresh tomatoes. It's then seasoned with popular Mediterranean spices like parsley, rosemary and bay leaves. Brujet is commonly served with a side dish of creamy polenta.
You'll probably be curious about black risotto too – every seafood eatery here has it as a traditional part of their Croatian menu. A must-try, squid ink which is known to be a natural antidepressant, is used to paint the rice black. It also contains seafood like mussels, clams and other shellfish.
When you're up for dessert there are lots of options, but one of the best ways to enjoy it is to walk off your main meal first along the Riva promenade. It's here that you'll find street stalls selling fritula, a fried sweet dumpling typically flavoured with rum and raisins. You might find rozata on dessert menus and it's well worth a try too. This traditional Dalmatian pudding with a caramel sauce gets its name from the unique rose liqueur, Dubrovnik Liqueur Rozaline, which gives this tasty treat its wonderful aroma.
22. Book a wine tasting experience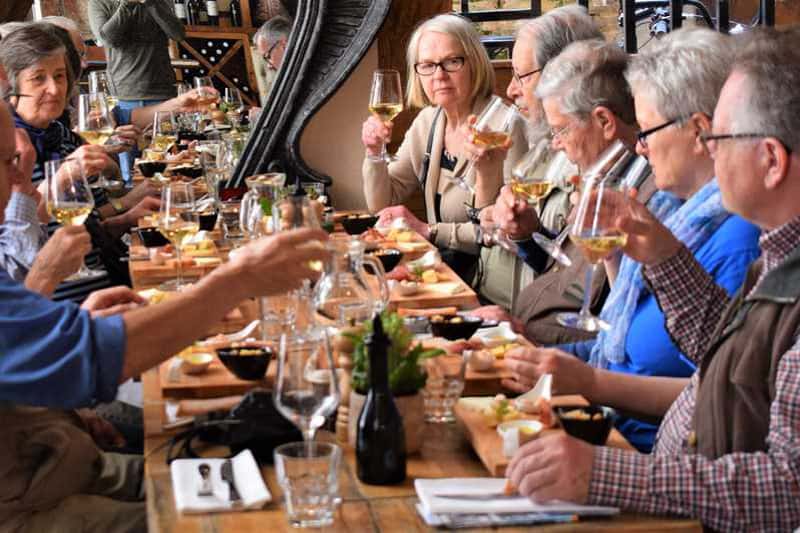 There are a variety of offerings for wine enthusiasts, including wine tasting experiences that provide the opportunity to indulge in the flavours of Croatia, sampling crisp white and robust red Dalmatian wines as a professional sommelier points out the various aromas, appearances and notes that make each one unique.
You might join a walking/wine tasting experience that combines sightseeing with tasty Dalmatian wines, strolling through the centre of ancient Split with an expert guide who will reveal the historic highlights and perhaps the markets and Riva promenade. Tours typically conclude at a wine-focused eatery like the Diocletian Wine House Restaurant where you'll be led by a sommelier on a wine tasting journey, sipping while learning about the grape harvest and winemaking process. Of course, gastronomic delights help to complement the experience, typically Dalmatian foods like cheeses, prosciutto and homemade bread.
Wine tasting is one of the most popular things to do in Split. There are also tours available that will bring you to the wineries and vineyards near Split to immerse yourself in this wine region that dates back thousands of years. Expect to visit wineries like Putalj where you can even meet the winemaker and founder for a personal tour through the vines before sharing a chilled bottle of rose paired with local cheeses on the shaded patio that overlooks Split and the sparkling expanse of the Adriatic.
23. Independent wine tasting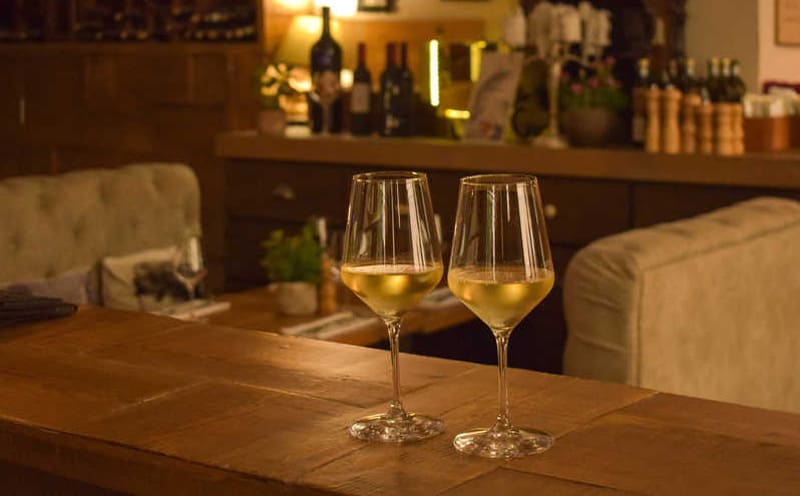 If you'd prefer to indulge in a wine tasting journey on your own, you'll have plenty of options too. Zinfandel Food & Wine Bar enjoys a central location in a narrow backstreet within the palace walls and boasts a wine list with over 100 wines from Croatia and across the globe. Wines can be ordered by the glass or by the bottle, and there is also an innovative food menu to complement them. MoNIKa's wine bar is also a top pick, located in the city centre near Saint Francis Church. The owner is a sommelier and the daughter of a winemaker. She runs the wine tastings and also has a very knowledgeable, friendly staff who will happily introduce you to the world of Croatian wines through both the wines produced at her family's estate nearby and treasures made by other local winemakers. There's a fabulous tasting menu too.
24. Join a Cooking/Culinary tour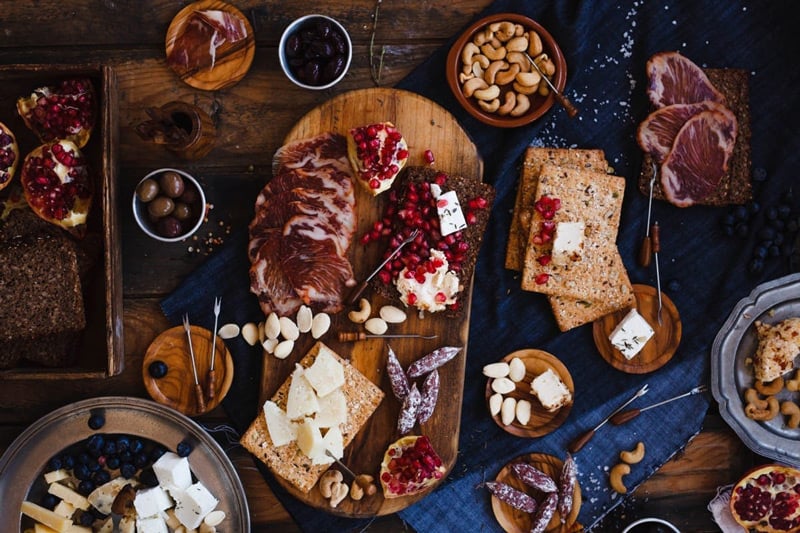 Croatian cuisine is unique, blending traditional Mediterranean fare with Eastern European influences, and one of the best ways to get to know it is to take a culinary tour. As there are with walking tours, there are also a wide range of options for culinary experiences, including gourmet food tours that will bring you to the Green Market to purchase ingredients that will be part of a meal you'll put together, led by an expert foodie guide. You'll learn all about the foods available, and then after gathering ingredients you'll get a cooking lesson from one a talented local chef so that you can put together your very own traditional Dalmatian meal.
Other food tours focus strictly on the eating, allowing guests to sample a wide range of traditional foods like the always popular cheeses and prosciutto, olive oils, handmade pastas with rare truffles and fresh local seafood.
25. Craft beer sampling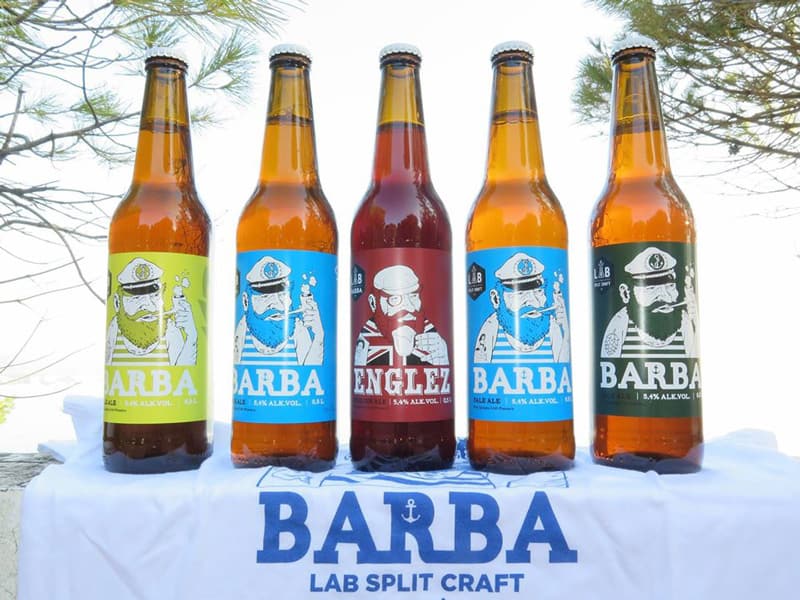 It wasn't all that long ago when visitors would be hard-pressed to find a decent local beer anywhere in Croatia, but things have changed significantly in recent years with Split now home to a thriving craft beer scene. There are three breweries within the city limits along with quite a few craft beer bars. Mandrill Nano Brewing is just minutes from the ferry port and offers several house-brewed craft beers along with a good selection of local bottled and draft craft beers with an open-air, dive-bar vibe.
Tap B is almost always ranked as the best of the breweries here, a hidden gem producing a dozen top notch craft beers made by expert local brew masters tucked away in an apartment complex about a 10-minute taxi ride from the old town. LAB was the first independent craft beer to come out of Split, with Barba Pale Ale its first beer, which is still the most popular. It's located quite a distance from downtown on the main highway and it's only open from 8 a.m. to 4 p.m. on weekdays, so you might want to sample it at one of the bars. Locals often recommend Leopold's Delicatessen Bar – it's not really a deli like you'd probably imagine but a bar. Few come here for the food, they're drawn for the 80+ different beers from throughout Europe and the half-dozen rotating local craft beer taps. There's also a covered outdoor patio space for enjoying a cold one, or two.
26. Join a Pub Crawl tour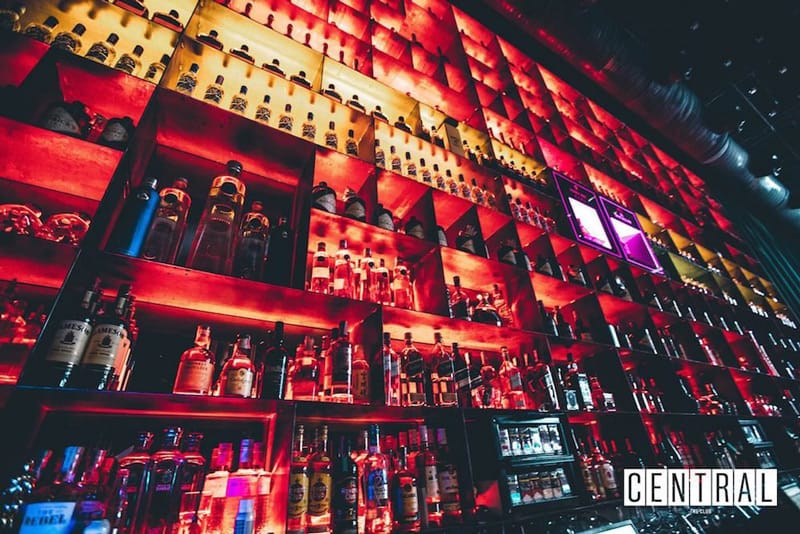 If you want to sample the various pub offerings in Split and enjoy a fun night out, consider joining a pub crawl. It's a great way to meet like-minded travellers and locals while getting a good taste of the nightlife. There are multiple offerings, many of which include complimentary drinks for a certain period of time, usually two hours, visiting several different venues to sample a vast selection of unlimited alcoholic beverages from brews to cocktails while enjoying free food like pizza as well as other perks. You might get entrance to an exclusive VIP club and have the opportunity to play all sorts of drinking games that are popular in the city like slap cup and beer bong. Themed pub crawls are popular too, like Hawaiian Luau Night, Neon Parties with glowsticks and face painting, and retro nights featuring '80s and '90s music spun by old school DJs.
27. Dress your best for a show at the Theatre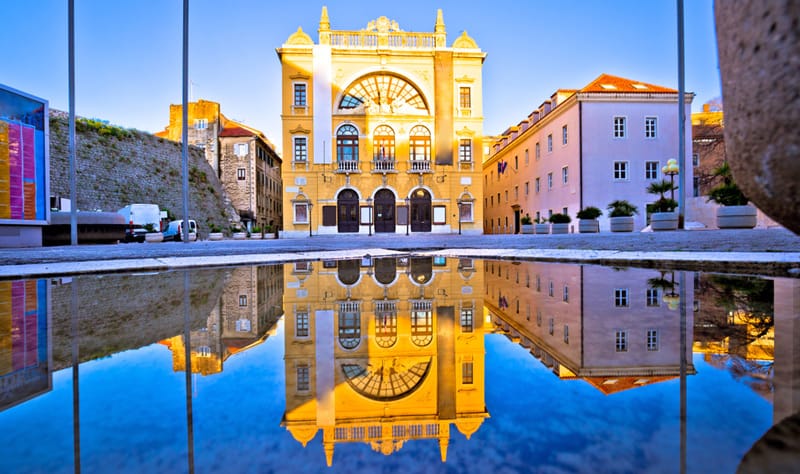 If you're in the mood to get dressed up and enjoy one of Croatia's traditional cultural attractions, head to the Croatian National Theatre. It can be reached with a pleasant stroll along the pedestrianised Marmontova, which offers plenty of places nearby to enjoy a pre-show drink or meal. Housed in an imposing landmark building, it offers a diverse programme of opera, ballet and theatre. Audiences dress for the occasion, so you'll want to don your finest. Performances can be enjoyed throughout the cultural season from September through June, and in the summer, the Split Summer Festival is hosted here, which also includes outdoor opera performances at the courtyard in Diocletian's Palace.
28. Get an overview of Split's history at the City museum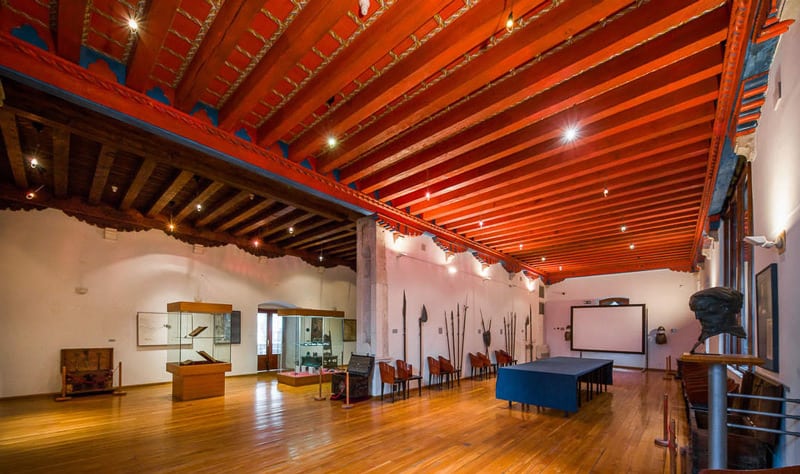 The town museum is located in the heart of Diocletian's Palace. Most impressive for the building itself, the 15th-century Gothic style palace with an elaborately carved entrance gate makes for a great photo-op but it also provides a good overview of Split's history. There are interesting displays on the emperor's palace along with documents, maps, photographs, weaponry and paintings.
29. Learn more about the life and works of Ivan Mestrovic at the sculptor's home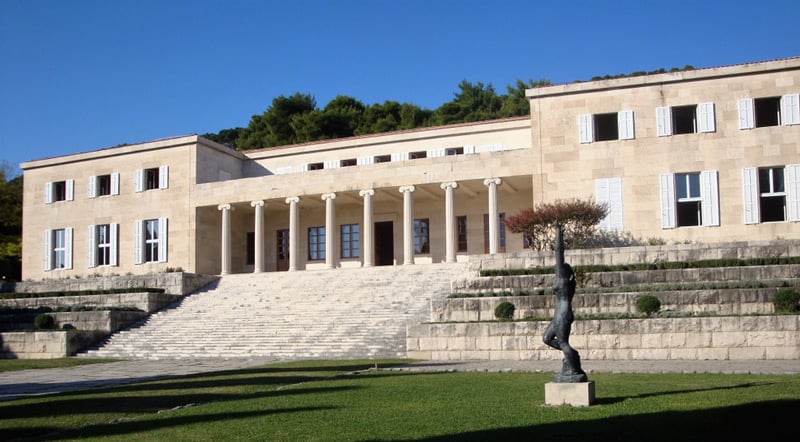 If you want to learn more about Croatia's most famous modern sculptor, you can visit the Ivan Mestrovic Gallery which sits within the holiday home where Mestrovic once spent many summers. He designed the house, built in the 1930s, before donating the property and 100 works of art to the state in 1952. The gallery preserves his most significant works, including drawings, sculpture, architecture and furniture. There are original plaster models and all sorts of finished works displayed on two floors and in the front garden. Nearby is a restored chapel, Kastelet-Crikvine, which holds a set of wooden wall panels that were carved by the artist.
30. Wander through the Archaeological Museum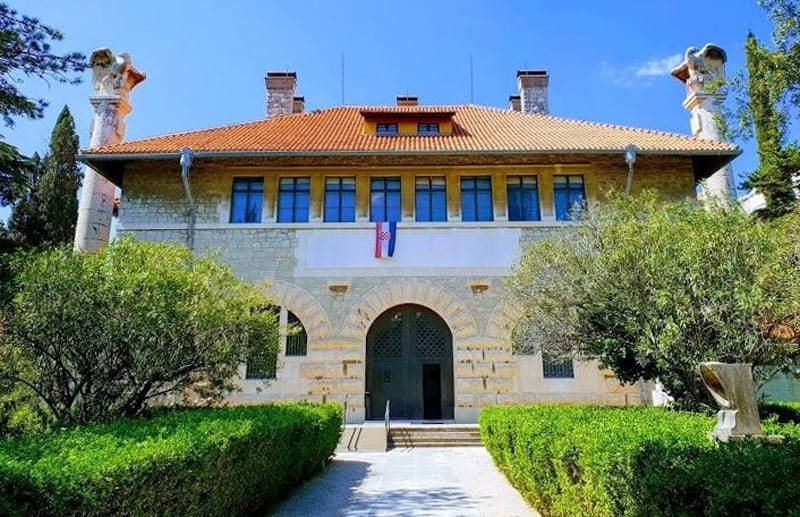 Split's Archaeological Museum, just a short walk north of the town centre, is the oldest museum in the country, established in 1820. It showcases more than 150,000 artefacts from prehistoric, Greek, Roman, early Christian and medieval times. Most are from Split and Salona, but there are valuable objects from over 50 different archaeological sites. Some of the museum's items, like the headless Egyptian sphinx statue, came from Diocletian's Palace. There is a treasure trove of classical mosaics and sculptures, ancient coins and jewellery. Notable items also include a near intact warrior's helmet that dates back to 400 BC and stone inscriptions from the nearby Roman settlement at Salona, Roman glass, a collection of Hellenistic pottery and Croatia's largest gem collection.
31. Walk through the former bedroom of Diocletian at the Ethnographic museum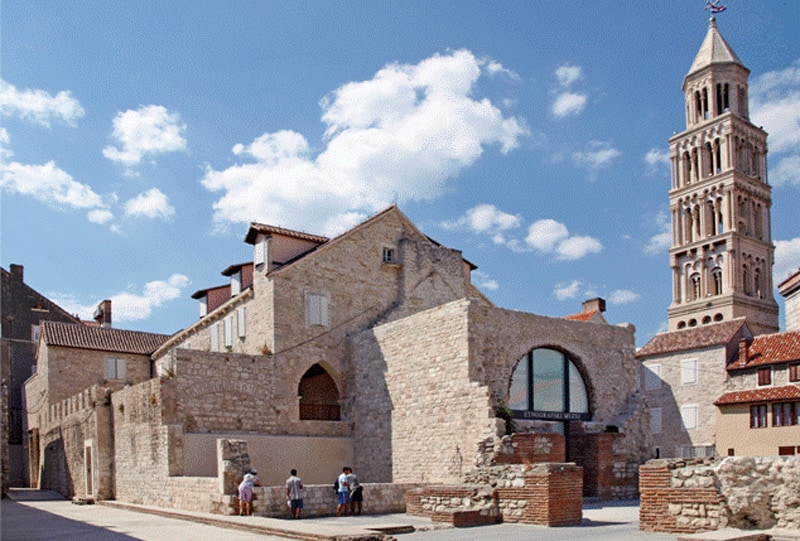 Located next to the central square in Diocletian's Palace, the Peristyle, the Split Ethnographic Museum is housed in a building that holds exceptional historical architectural significance. The former convent was constructed within what was once the emperor's bed chambers, meaning you can walk through the former bedroom of Diocletian himself. Downstairs are temporary exhibitions, and elsewhere you'll find objects that portray the old ways of life in the city as well as the farmers in the hinterland and the islanders. There are weapons, tools, toys, pottery, jewellery, traditional costumes and more. By climbing the reconstructed Roman staircase, you'll reach a Renaissance terrace which encircles the top of the vestibule with views that are reason enough for a visit.
32. Take in Seven Centuries of Art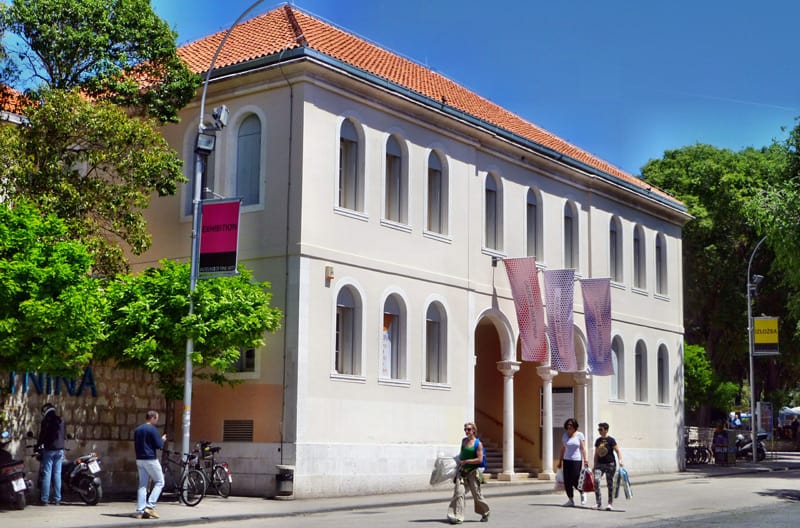 The Split Gallery of Fine Arts is housed in a late 18th-century building that served as the city's first hospital. The gallery showcases one of the finest collections of contemporary and modern Croatian art in the country, exhibiting around 500 works that span seven centuries. The permanent collection is a chronological journey that begins with religious icons, followed with works by artists like Guido Reni and Paolo Veneziano which sit alongside pieces by locals such as Ivan Mestrovic, the most renowned 20th-century Croatian sculptor who once lived and worked in Split.
33. Delve into Split's maritime history at the Maritime museum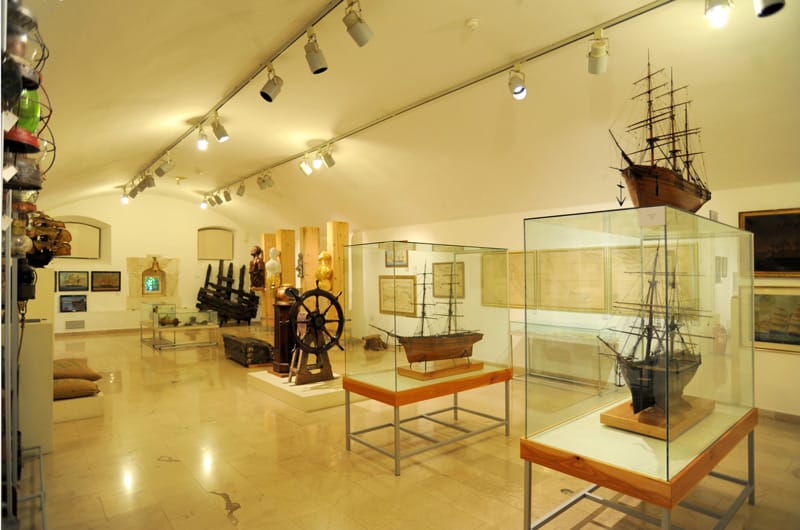 If you have any interest in maritime history, you won't want to miss this museum that sits within Gripe fortress, built in the 16th-century by the Venetians to keep invading Ottomans at bay. In includes a small but compelling collection of model ships ranging from Venetian galleys to 20th-century cruise liners along with naval uniforms, nautical equipment and lighthouse lanterns. Most notable perhaps is the room devoted to torpedoes – it contains the most valuable specimens of torpedo weapons from the world's first torpedo factory in Rijeka. There are also outdoor courtyard displays with World War II weapons, beached boats, and often colourful peacocks which roam free on the east side of the fortress.
34. Wander through a museum like no other: the Museum of senses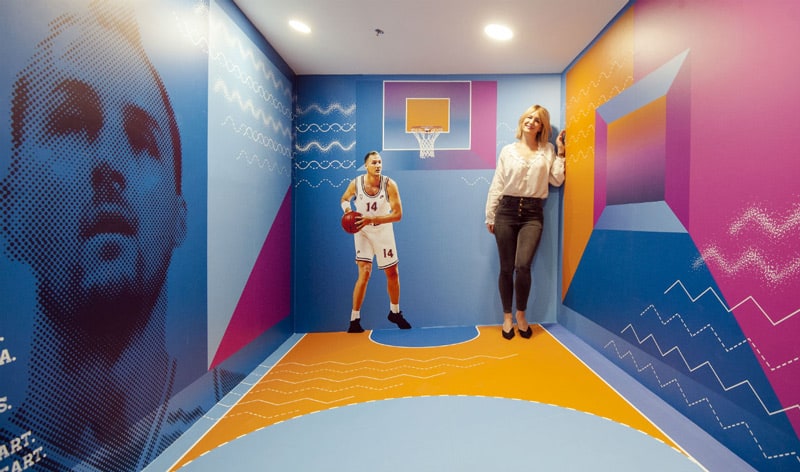 If you're ready for something different, the Museum of Senses is unlike any other museum on the planet, hosting 50 different attractions that are divided up into five zones. Each one is dedicated to a different sense: smell, touch, hearing, sight and balance. Discover secrets of the ancient city through interactive displays that include a ball pit room, mirror maze, rotating light tunnel and an upside-down room. It's one of the most unique attractions mixing learning with lots of fun created by young Croatian designers, architects and artists.
35. Immerse yourself in the 'Game of Thrones'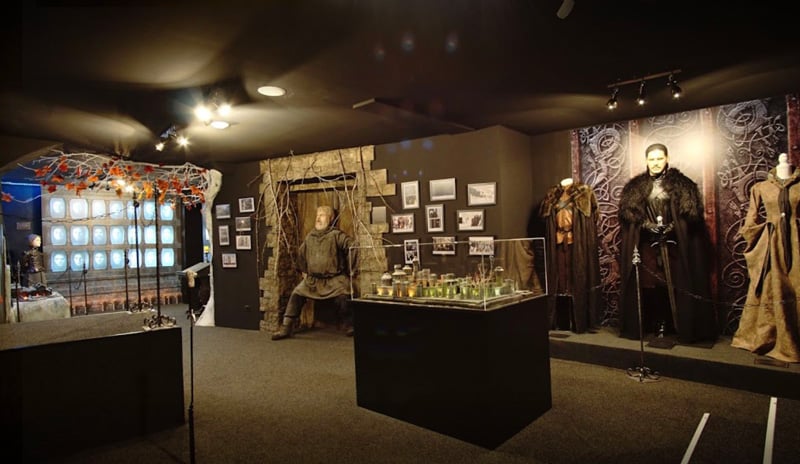 If you're a fan of the 'Game of Thrones' television series, don't miss the new 'GoT' museum. It's located at Bosanska Street 9, just steps from Diocletian's cellars, the very place where Daenerys kept her dragons. In fact, the 'life size' head of one of these creatures will greet you at the entrance. Inside, there are more than 100 exhibits that will transport you into the medieval times that inspired the show, complete with the scent of jasmine, lavender and cedar, dimmed lights and black walls. Everything is just like it is in the series, with exact replicas of the characters, scenes and symbols. There are photographs that were taken on the film set as well as items used during filming along with helmets, skulls, swords, costumes, city models and even the full armour of the King's Guards. The space holds a number of thematic rooms, each one linked with a leading character like Arya, Khaleesi, Jack Sow, Thyrion Night King and Hodor – his statue portrays him holding the door, of course.
Storytellers can even guide you around the museum – they're experts on the filming details, the show and the books.
36. Experience one of Split's most bizarre attractions: Froggyland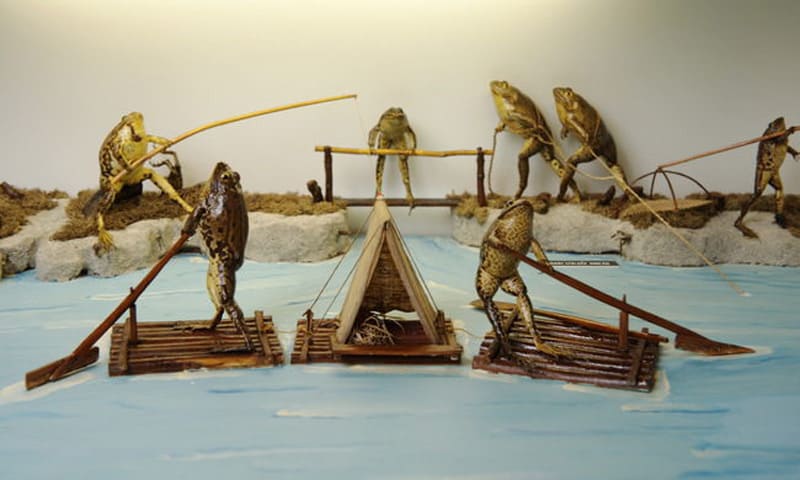 One of the most original and unusual tourist attractions in Split is a shrine to the frog. The Froggyland Museum is a quirky exhibit displaying stuffed frogs in various human scenarios, from the everyday variety to some rather unlikely ones. You'll see frogs running a circus, playing sports, walking to school, capturing photos, sewing, painting, playing instruments and more – all are incredibly detailed, like the classroom scene in which one raises two fingers, indicating that it would like to speak. While they are amusing, they're also quite impressive. The mad genius behind it all was a Hungarian taxidermist named Ference Mere who devoted an entire decade to stuffing and meticulously arranging his more than 500 frogs. He used an advanced technique in which they were stuffed with a cork, a very time-consuming process that left them lacking any external incisions.
37. Explore the ruins of Klis fortress, a 'Game of Thrones' filming site – things to do near Split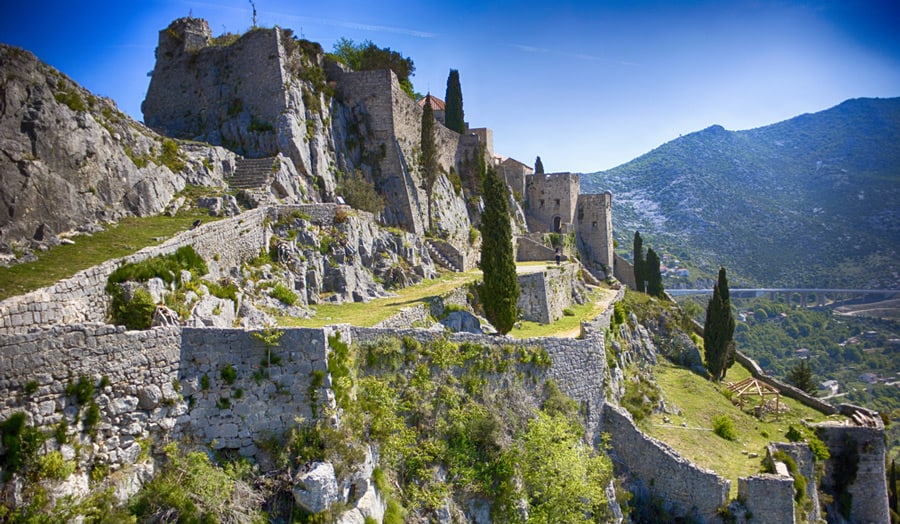 Located on a hillside behind the city, Klis Fortress was built in the 7th-century to defend the area from invading Mongols and the Ottoman Empire. Look forward to awe-inspiring views from its lofty setting, which includes the surrounding mountains, Split, the endless blue of the Adriatic, and nearby islands. Visitors can explore a Roman amphitheater, temples and baths and a Christian graveyard too. Fans of 'Game of Thrones' may recognise the walled fortress as the city-state Meeren, as it was used as one of the many filming sites in Croatia. In fact, the show was what helped to transform the crumbling ancient outpost into a popular visitor attraction on our things to do in Split guide.
38. Discover the most archaeologically important ruins in Croatia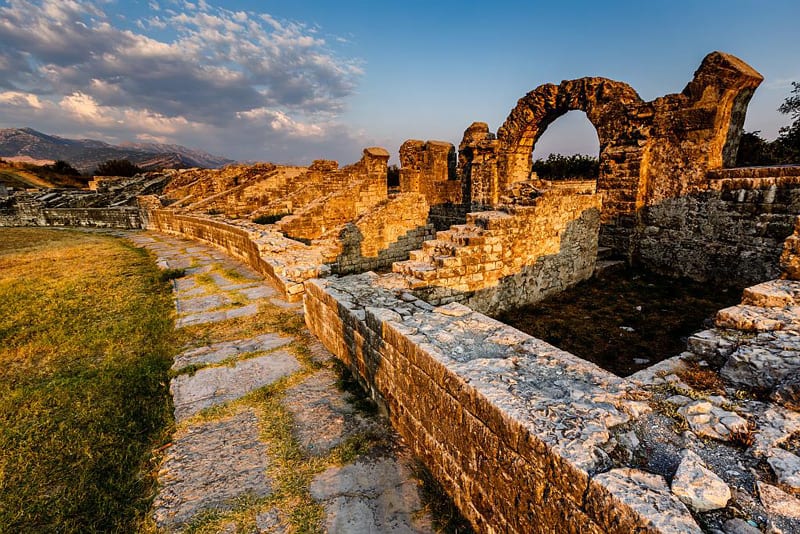 Only a few miles northeast of Split, just outside the quiet suburb of Solin, are the ruins of the ancient city of Salona, the most important archaeological site in the country. If you've visited the city's archaeological museum, this is where many of those fascinating finds were uncovered. The extensive ruins testify to the importance of the colony under Roman rule, featuring a Roman amphitheatre, multiple churches, a burial ground, aqueduct, public baths and more. Wandering through will bring you on an unforgettable adventure to an era of gladiators, Christian martyrs and emperors. There is a small museum on site which also serves as a souvenir shop and the ticket office. It houses some artefacts from Salona, but most are in the Split Archaeological Museum.
39. Take a day trip to Trogir – Day Trips From Split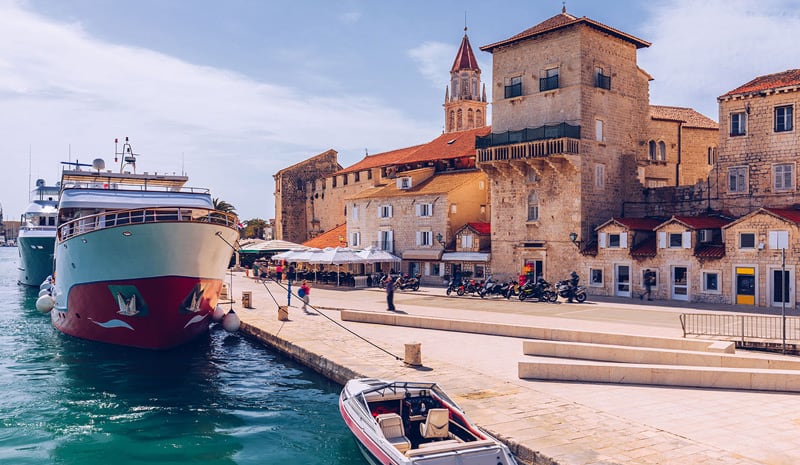 The medieval town of Trogir sits on a small island connected to the mainland by bridge and it's less than 30 minutes from Split, making it ideal for a day trip. UNESCO-protected, it boasts a rich culture and history that dates back 2,300 years. Sometimes referred to as a 'floating town museum,' it features defensive walls, opulent palaces, grand towers, monasteries, stone houses, the well-preserved Kamerlengo Castle built by the Venetians to defend the city and the famous Cathedral of St. Lawrence, a fine example of Renaissance and Gothic architecture. Built between the 14th- and 16th-centuries, by climbing to the top you can enjoy a breath-taking view.
40. Listen to Zadar's unique "Sea organ" that plays music using the waves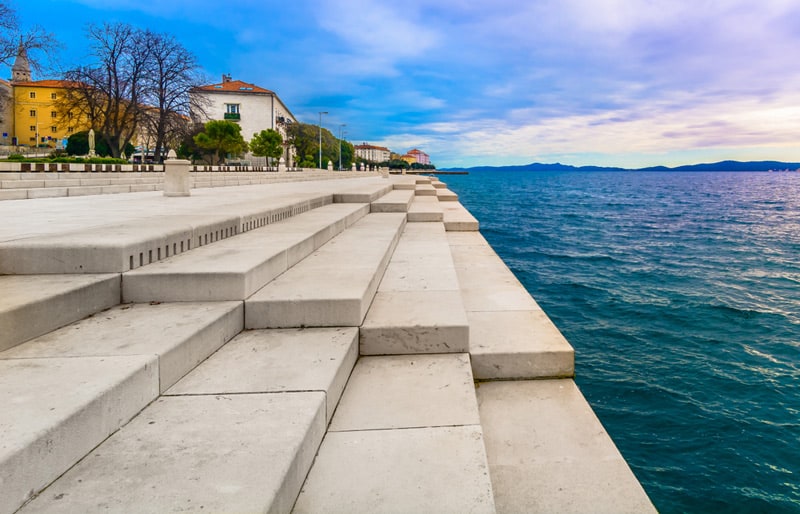 The 3,000-year-old walled city of Zadar is less than two hours north of Split and well-worth the journey. It's home to not only some of Croatia's most impressive history and architecture, with cobbled streets, a remarkable mix of classical Viennese secessionist architecture and Austro-Hungarian heritage, but the world-famous pair of light installations created by artist Nikola Basic that sit along the seafront, most notably the Sea Organ. It's made up of some 36 pipes that are fitted into the pavement to create music using the power of the waves. The Greeting to the Sun is a 72-foot-wide work of art representing the solar system. Driven by the sun, at sunrise, the cells beneath the glass panels generate enough electricity for it to illuminate. By the time dusk arrives, they have enough power to light up the waterfront. If you can stick around for sunset, you'll get to marvel at what Alfred Hitchcock once famously declared to be the world's most beautiful sunset, with an epic visage of pinks, oranges and reds splashed across the Adriatic. All that makes it be one of the things to do in Split Croatia you don't want to miss.
41. Take a day tour to Dubrovnik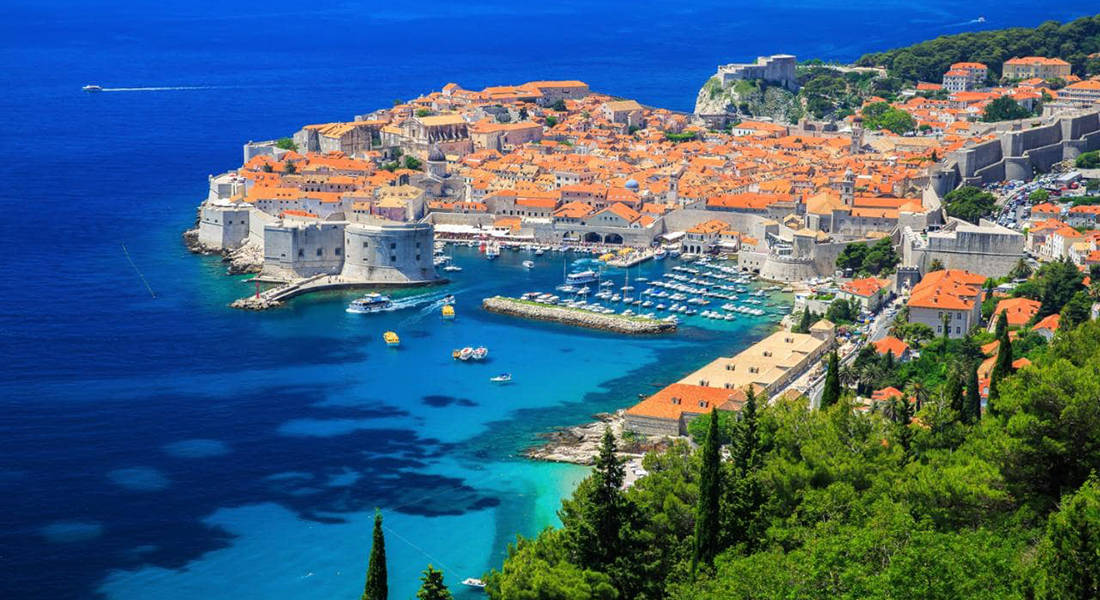 Dubrovnik, the UNESCO-listed 'Pearl of the Adriatic' is Croatia's most popular destination, and truly a must-visit. If you don't plan to visit on your own, be sure and book a day tour from Split. You'll be able to stroll its marble streets that surrounded by medieval ramparts, once walked by the likes of Richard Burton and Elizabeth Taylor who liked to enjoy romantic liaisons here. After walking through the majestic gates, an expert guide can point out some of the most impressive sites like one of the oldest pharmacies in Europe at the Franciscan Monastery and 15th-century Rector's Palace which has been transformed into the Cultural History Museum with beautifully restored rooms, coats of arms and coins, portraits and more. There are plenty of opportunities for jaw-dropping views as well – take a walk atop the ancient walls that encircle the historic centre and you'll get a view of the endless red-tiled roofs, the Adriatic and nearby islands. These white limestone defensive walls date back to the 7th-century and it takes about an hour to cover the full circuit, with stops to take in the incredible panoramas. Or, hop on the cable car to Mount Srd for a bird's-eye view above it all.
42. Embark on a day trip to nearby islands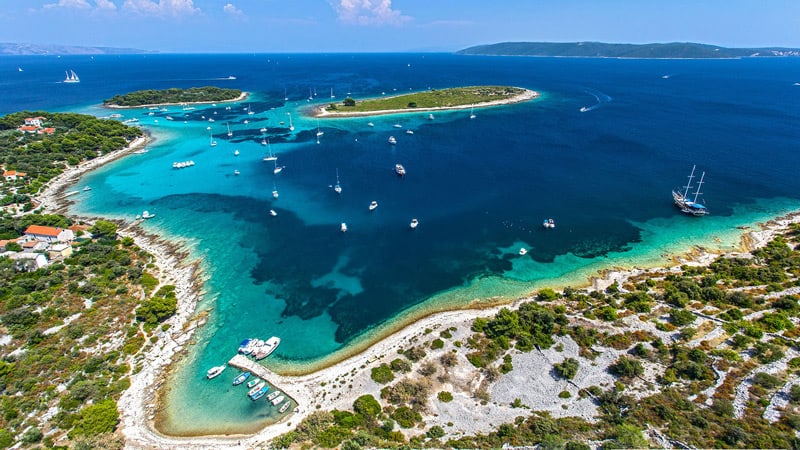 There are a number of enticing islands near Split that make for an easily doable day trip, from one of the most popular in the country, glamorous Hvar, to lesser-known gems like the Paklenski Islands, a string of emerald jewels that lie just across from Hvar town. One of the best options will include a visit to Hvar, Brac and the Paklenskis, providing a full day out on the Adriatic, exploring islands and historic old towns, idyllic beaches and secluded bays. Look forward to snorkelling and swimming in the crystal-clear turquoise water, exploring fascinating historical sites and feasting on delicious local foods and wine too.
Brac Island is one to one of Europe's most famous and most beautiful beaches, Zlatni Rat, also known as the Golden Horn for its unique shape which juts out over 500 metres into the sea and changes with the tides and the wind. Hvar is famous for its abundant sunshine, fragrant lavender fields and picturesque vineyards as well as being a popular gathering spot for international jetsetters, including plenty of celebrities. Its harbour is frequently filled with superyachts, with VIPs arriving to take advantage of the many outstanding restaurants, bars and beach clubs. But Hvar town offers a lot more than that, including a rich history with a number of captivating landmarks like the oldest theatre in Europe which opened its doors in 1612 and the grand Cathedral of St. Stephen with its remains of a 15th-century gothic church. Enjoy a spectacular view and fantastic photo-ops from the top of the 16th-century fortress that looms over the town and its glistening white homes, with a panorama of the island-dotted sea and maze of winding streets.
Legend tells that the Paklenski Islands came into existence as a result of a secret love between a nymph and the sea god Poseidon. Just a short boat ride from Hvar, it's the perfect stop for enjoying serenity in hidden coves and uncrowded beaches, swimming in the crystalline sea among unspoiled nature. A visit to Milna back on the island of Brac may be included too. This small fisherman's village with its small stone houses and beautiful long coastline, referred to as "Valle di mille navi" by the Venetians, (bay of a thousand ships), has long been a favourite port among sailors with its protected location in a deep bay. Enjoy sightseeing and wine tasting while strolling the atmospheric streets filled with the authentic charms of the Mediterranean.
43. Tour the Blue cave on Bisevo island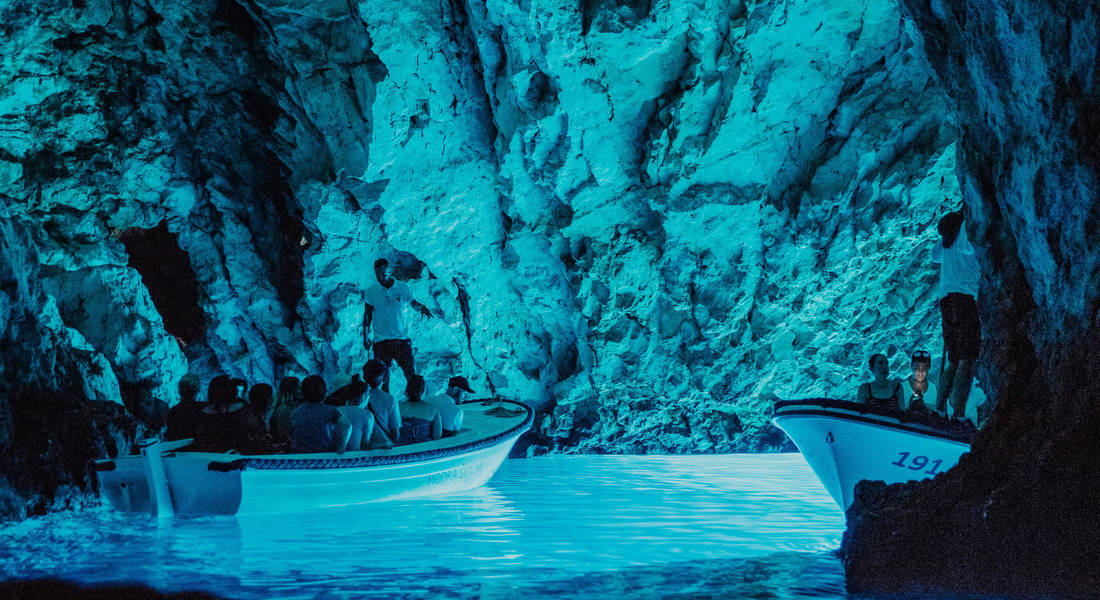 One of the most extraordinary natural phenomena, the Blue Cave Croatia is considered a must-experience for anyone visiting Croatia, and if you're lucky enough to be based in Split, it's within easy reach by taking a boat tour. This is definitely one of those things to see in Split you don't want to miss. Located on the island of Bisevo, when conditions are right, the cave can be entered by a small vessel. Visitors can experience the magic when it's illuminated in a surreal, silvery blue glow, the result of light refraction off the limestone bottom when the rays of the sun enter through a crack in the rock. A full day tour from Split may feature not only the Blue Cave, but the chance to visit a total of five islands, including places that can't be reached by ferry. You might visit charming villages and the Blue Lagoon Croatia too. Here you'll be able to swim in the pristine shallow waters that are so clear you can see to the bottom to view all sorts of fish and other marine life.
44. Hop on the ferry to Solta island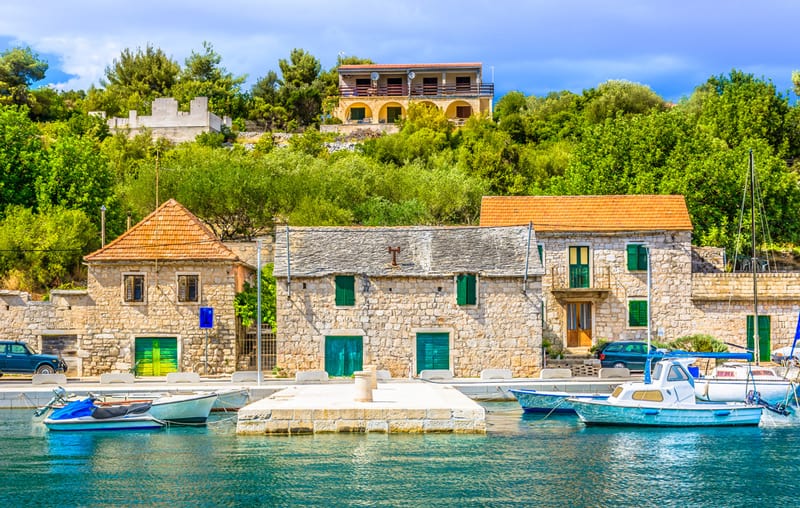 Solta Island is just a short ferry ride from Split – it's so close that it's practically considered a suburb, making it easy to visit on your own. In less than an hour you can be enjoying the many crystal-clear turquoise bays, sheltered coves and unspoiled beaches, surrounded in the tranquillity of nature's beauty. Visitors can also hire a bike in Stomorska to explore the coastal and inlands routes that lead through vineyards, olive groves, the woods and alongside the sea.
Tasting the traditional specialties of the island is a must while you're here. Solta is famous for its Olintio honey made with wild rosemary. You can even meet with local beekeepers who will show you how it's produced. Olives are renowned here as well, with many families on the island producing olive oil from olives grown on their own trees. At Olynthia Natura, you can enjoy an olive oil tasting, watch how the oil is produced and purchase what's widely considered to be some of the world's best olive oil.  Be sure to try the local wine while you're here too – Dobricic is a red wine made by local producers from the island's indigenous grape, using traditional methods that help to infuse it with delicious flavours. It's ideal when paired with the fresh catch of the day.
45. Experience the 'Mediterranean as it once was' – things to do near Split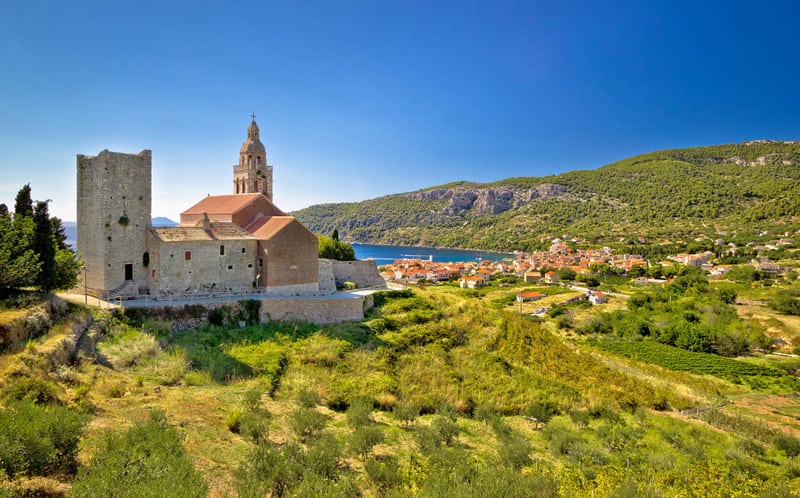 Split also serves as an excellent jumping off point for exploring unspoiled Vis. Most of the year the ferry schedule makes it easy to visit on a day trip. It's worth the ride to enjoy one of the rare islands where one can be immersed in the 'Mediterranean as It Once Was,' thanks to its isolation for some 40 years as a Yugoslav military base. It was hidden away from the public, allow it to remain nearly untouched by tourism development, resulting in one of the most authentic Croatian island experiences. Enjoy its highlights, perhaps visiting the ruins of the Roman baths, sipping some of the fine wines produced in the island's traditional wineries, or exploring Vis Town with its well-preserved traditional architecture. The town's roots date back to the 4th-century BC as a base for the Greek colonisation of the Adriatic. In the city museum, the Issa Archaeological Museum which is housed in a 19th-century Austrian fortress, you can view the country's most extensive collection of Hellenistic artefacts. The island was also a film setting for the popular movie 'Mamma Mia: Here We Go Again,' primary shot in Vis town, Komiza and remote Barjoska beach, which means if you're a fan, you may see a few familiar sights.
46. Explore Croatia's world-famous Plitvice Lakes National Park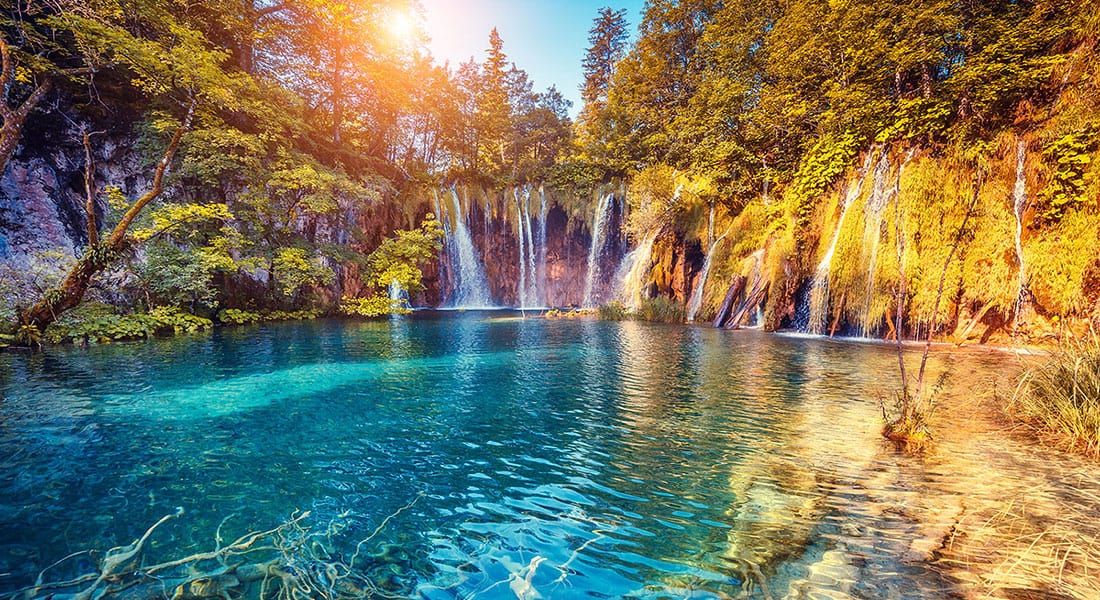 One of the most photographed and most popular destinations in the country, images of Plitvice Lakes National Park have been splashed across the Internet, countless brochures and postcards. It's frequently found on travellers' bucket lists thanks to its remarkable natural beauty, so stunning that one might think it was somehow Photoshopped. It features 16 interconnected lakes in a myriad of shades from emerald green to brilliant blue along with nearly 100 magnificent waterfalls, all of which are framed by the parks' lush greenery. A full day tour from Split will bring you on a guided walk through its unspoiled nature, including a boat ride across Kozjak, the park's deepest and largest lake. Be sure to keep an eye out for the wide range of animals here like eagle, owl, brown bear, wild cat and wolf. Afterwards, you'll relax on an electric train that provides a panorama of the scenery before returning to the starting point.
47. Immerse yourself in the cascades of Krka National Park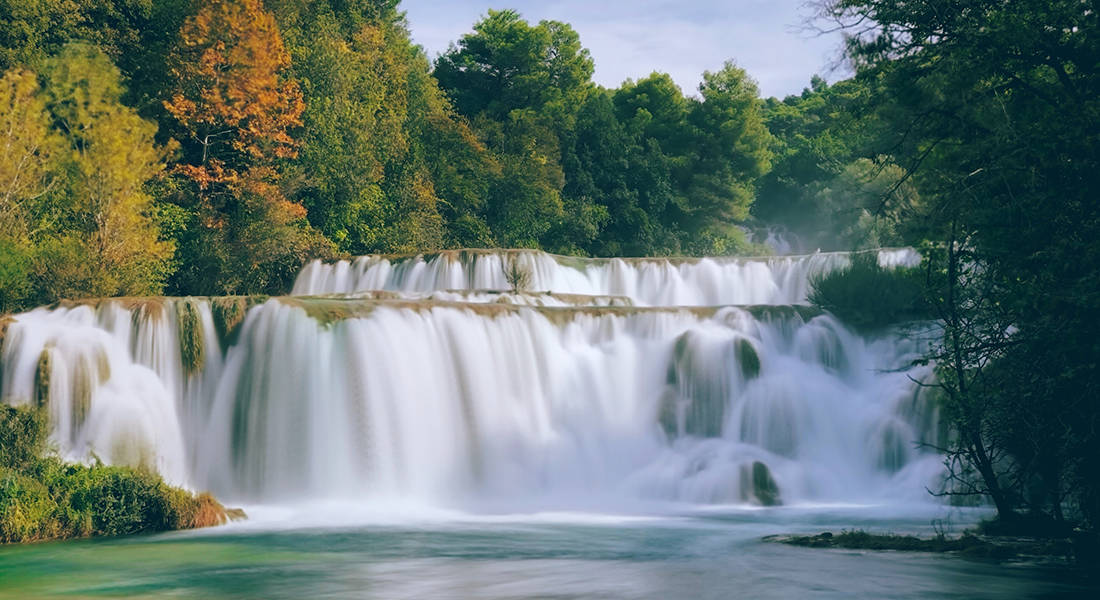 Split also happens to be a perfect spot to base yourself for a visit to Krka National Park, with tours leaving from the city that will bring you on this unforgettable excursion. A stop is often made in the small coastal town of Primosten, famous for its high-quality local wine and well-preserved medieval Old Town with a fabulous historic ambiance. The highlight is its 15th-century church of St Juraj which sits atop a hill providing a sweeping vista of the coast. Legend has it that when God created the Earth, he created this town as the place to rest from work on the seventh day, something that's easy to believe once you've laid eyes on this view. The park is located just outside of medieval Sibenik, a beautiful 1,000-year-old UNESCO-protected city. A visit here is also included on some tours bringing the opportunity to witness the grand stone palaces and the most important Renaissance monument in the country, St. James Cathedral with its dome and triple-nave basilica with three apses.
Once in the park you'll get to marvel at its rich and diverse flora and fauna, including 860 species and subspecies of plants with several endemic types, as well as more than 220 species of birds that make it a birdwatchers' paradise and one of Europe's most ornithologically valuable regions. An expert guide will bring you on a walk through the picturesque pathways and across wooden bridges to experience the natural beauty in all its glory, including seven travertine waterfalls. Skradinski buk is the highest in the Mediterranean, plunging for 46 meters, and it's widely considered to be one of the most stunning calcium carbonate waterfalls in Europe. Be sure to bring your bathing suit as you can even swim beneath the spectacular cascades, immersed in scenery that's likely to make you feel as if you're in a dream.
48. Explore Bosnia & Herzegovina in a day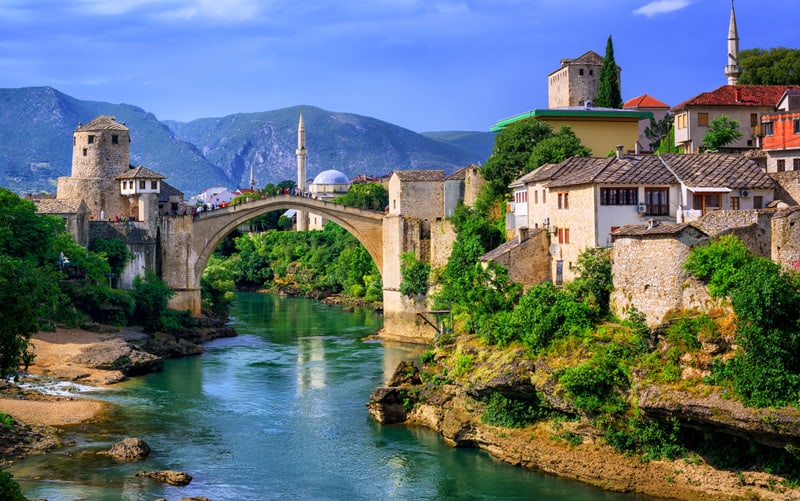 While you're in Split, you can easily visit another country, Croatia's next-door neighbour, Bosnia & Herzegovina. There are multiple day tours available, with 8- to 12-hour excursions that typically include a stop in the walled village of Pocitelj, the medieval town of Mostar and Kravice Waterfall. You'll notice that the architecture in this nation is quite different from what you'd see in most of Europe with its many Ottoman influences. Pocitelj, which sits on a steep mountainside along the River Neretva, is like an open-air museum, a wonder of Mediterranean architecture and nature. In historic Mostar you'll marvel at the beautiful old Turkish homes while strolling the maze of cobbled streets, and you might witness the locals leaping off Stari Most Bridge which elegantly arches over the emerald-coloured River Neretva. The iconic 16th-century Old Bridge is one of many remnants from the Ottoman's control over the region. Finally, at Kravice Falls, you'll not only be able to take advantage of outstanding photo-ops as one of the prettiest waterfalls with its brilliant green hue, but you may be able to enjoy a swim.
NEWS
Good to know about Split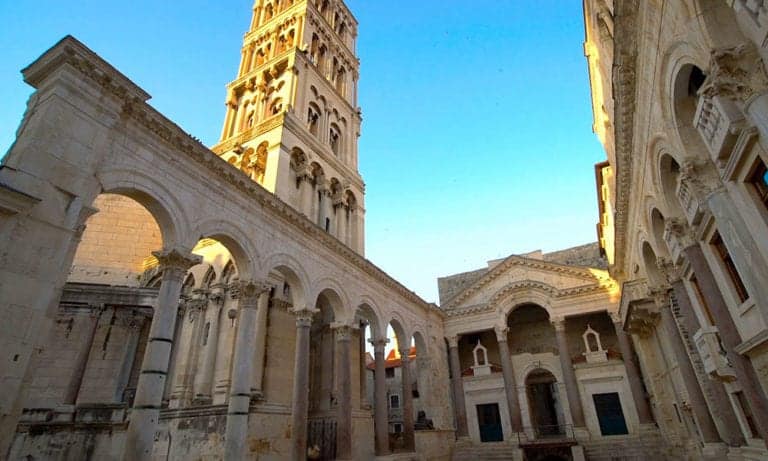 FOUNDED BY ROMAN EMPEROR DIOCLETIAN
Heart and soul of Split, Diocletian palace was built approximately 1700 years ago. Renovated and in full glory, the palace still stands as one of the most impressive Roman ruins. Palace does not stand as a monument of ancient times, in fact, is full of life and offers you many shops, bars, restaurants with the finest local delicacies and with actors dressed as Roman soldiers and citizens you can feel the ambiance of the Ancient Roman Empire.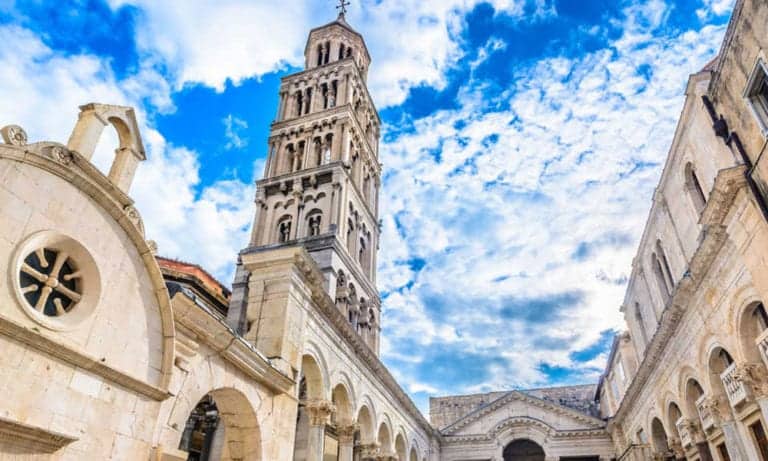 THE OLDEST CATHEDRAL IN THE WORLD
Originally built in the 7th century as a Roman mausoleum for Emperor Diocletian, Cathedral of Saint Dominus (Sveti Duje) is considered to be the oldest cathedral in the world. Alongside the Cathedral there is a Bell Tower constructed in the 12th century and visitors can climb up to the top from which you get a spectacular view on the Diocletian palace.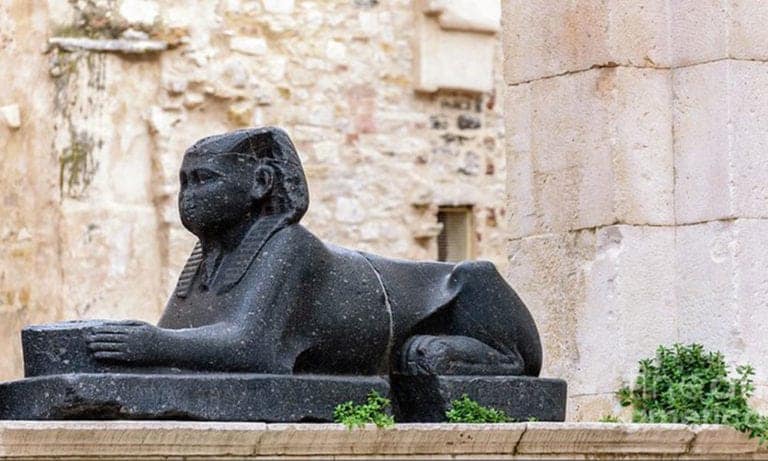 THE SPHINXES OF SPLIT
Split has a truly rich history heritage thanks to the Roman Empire and one of the unique things about Split is that it has genuine Egyptian sphinxes. The most popular and most photographed one is in front of the cathedral, 3,600 years old.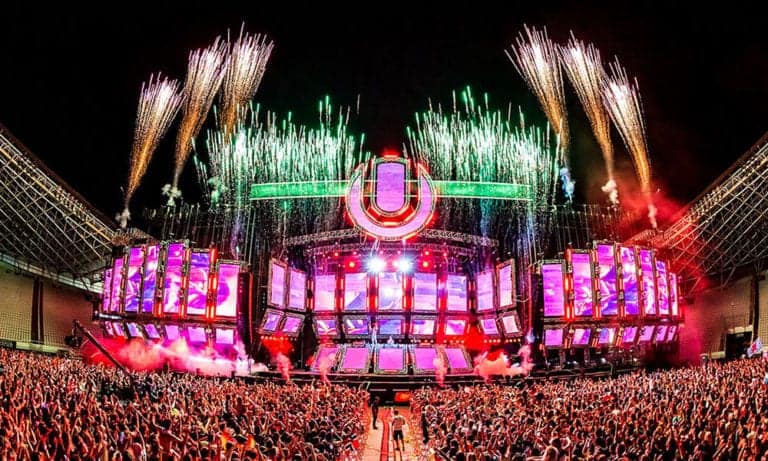 HOME OF ULTRA EUROPE MUSIC FESTIVAL
Recognized as one of the best destinations in Europe, Split became home for Ultra Europe music festival since 2013. For three days in Split and an additional Ultra Beach party in Hvar Island, the festival attracts tens of thousands of visitors each year. Split can truly offer days to remember.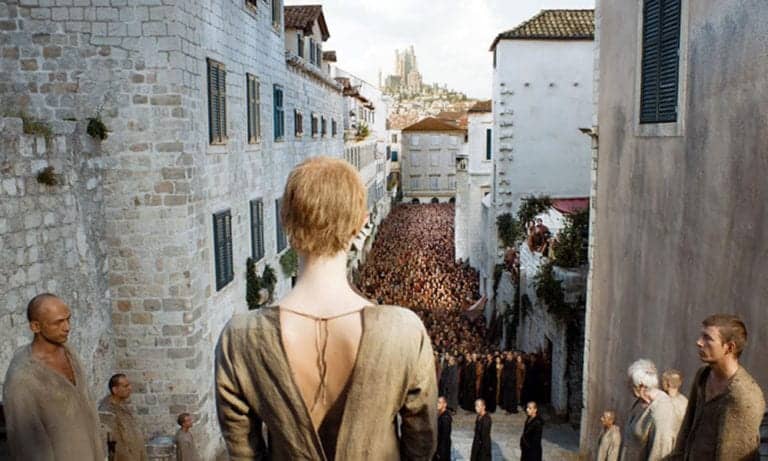 GAME OF THRONES
While Dubrovnik is well known to be King's Landing in Game of Thrones, Split also attracted series producers and it is known as the city of Meereen and Bravos. Klis fortress, just outside of the city, dubbed Meereen city walls and Diocletian's palace cellars that kept Danery's dragons. There are also organised day trips from Split to Klis fortress.
Currency
Croatian kuna (HRK)
Best time to visit
January - December
Latest from the blog
TRAVEL GUIDES