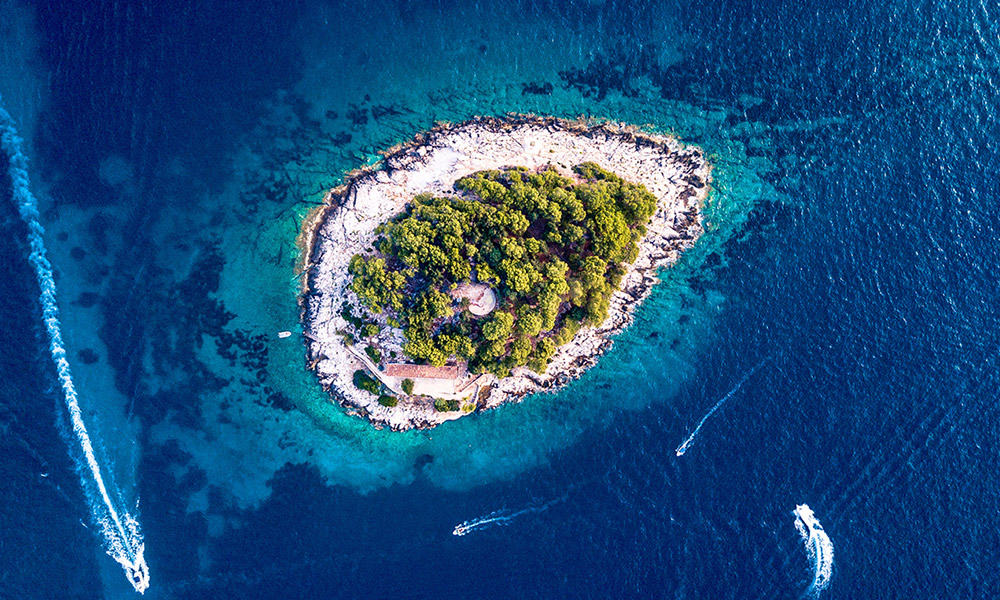 As you plan your trip to Croatia, Split is a must for any itinerary as one of the most enchanting destinations in all of Europe. The second largest city, it dates back to the 3rd century when Roman emperor Diocletian decided to build his retirement residence here.
Today, much of it still remains as some of the best-preserved Roman architecture you'll find anywhere in the world. It also boasts a world-class dining and nightlife scene, gorgeous beaches, and opportunities for a wide range of outdoor adventure.
Split is the perfect base for explore Dalmatia's many islands too. While you can easily reach them if you have your own boat, those who don't have plenty of options as well. Many can be accessed by ferry or visited as part of a guided tour. These islands in particular are our favorites when it comes to the best islands to visit near Split.
1. Bisevo Island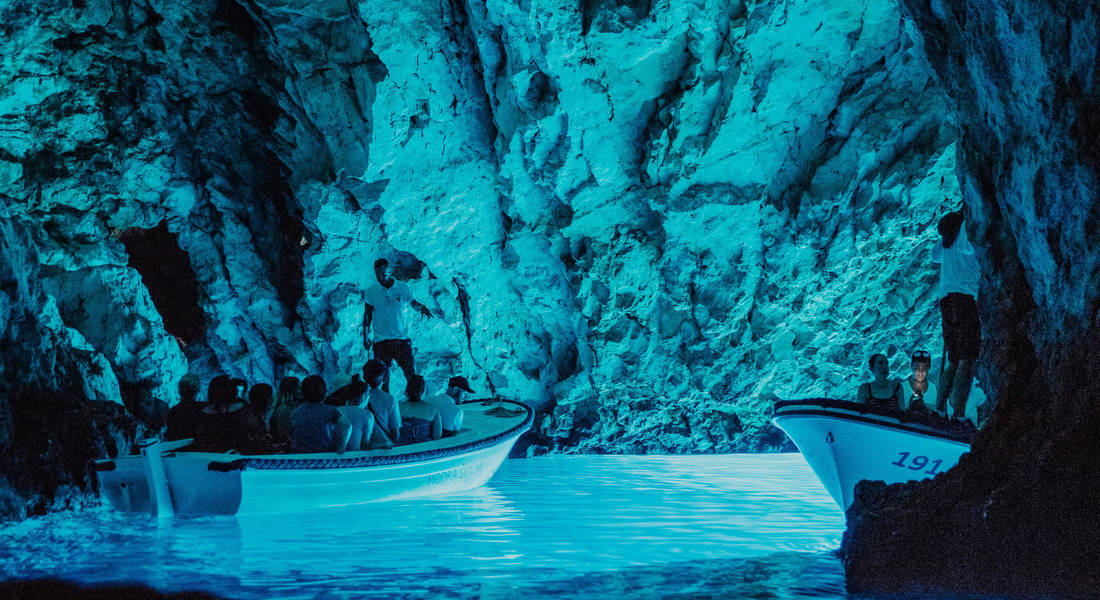 Bisevo Island is one of the most popular day trips from Split, yet it's home to a population of only about a dozen permanent inhabitants. You'll find the ruins of a 1050 AD Benedictine monastery that was deserted about 200 years after it was founded due to the danger of pirate raids.
Nearby is the well-preserved church of St. Sylvester, also dating to the 11th century. The biggest attraction here is the Blue Cave. It's what draws most visitors to the island and can only be accessed by taking a Blue Cave tour.
The allure is a magical natural phenomenon that occurs when the sun beams its rays through a crack in the roof's interior. Reflecting off the white limestone sea bottom, the cave becomes illuminated in a silvery blue glow. While local fishermen knew about it for years, it didn't become well-known to the public until 1884, when an entrance was carved out so that small boats could get through to enjoy the incredible show.
Today it attracts over 10,000 every year as one of the must-experience attractions in Croatia. While it's always open, boat trips operate between April and October, with summer the optimal time to visit.
The Monk Seal Cave on Bisevo can also be visited, located on the island's southeast side. It once had a large population of monk seals and while the animals are now an endangered species that are no longer here, the cave offers stunning aquamarine waters for swimming. The interior has a spacious main hall and a low winding canal that ends at a small beach.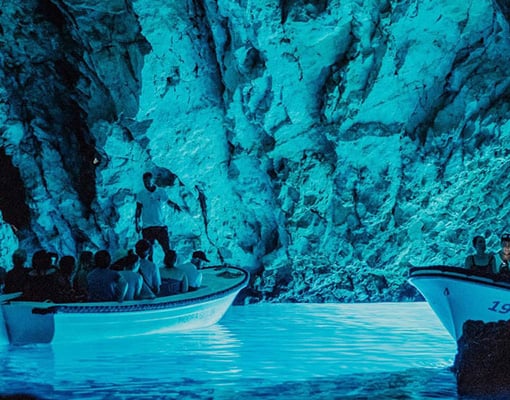 #1 Island Hopping Day Trip From Split, Croatia
Visit the Blue Cave and some of Croatia's most stunning islands and incredible natural wonders.
2. Drvenik Veli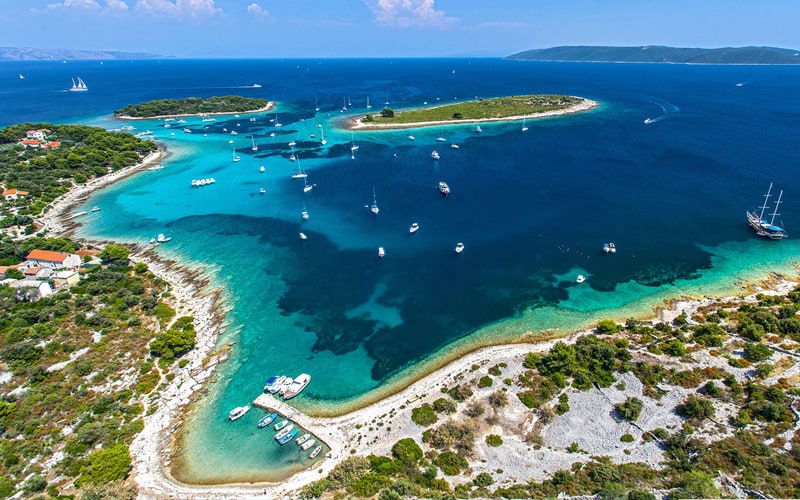 The small island of Veli Drvenik is just 14 miles from Split's port and has a population of less than 170, with people here making a living from fishing and agriculture, with the many olive trees on the island playing a big part as a significant source of income, particularly olive oil.
It has a long rich history and a number of churches worth visiting, such as 16th-century St. George's Church with its Venetian altarpiece and baroque furnishings. Just outside of the main village, also called Drvenik Veli, is the early 19th-century St. Nicholas Church that was started but never finished.
In more recent years, tourism has also helped the people of Veli Drvenik earn a living thanks mostly to the Blue Lagoon. A calm, shallow bay with some of the clearest blue waters that make it look as if it were stolen from the tropics, many come to spend the day here swimming, snorkeling, and sunbathing on the soft white sands.
While it can't be reached by ferry, it is possible to book a boat tour to the Blue Lagoon. There's a restaurant/bar for enjoying cold beer, cocktails, and tasty Croatian fare too.
3. Hvar Island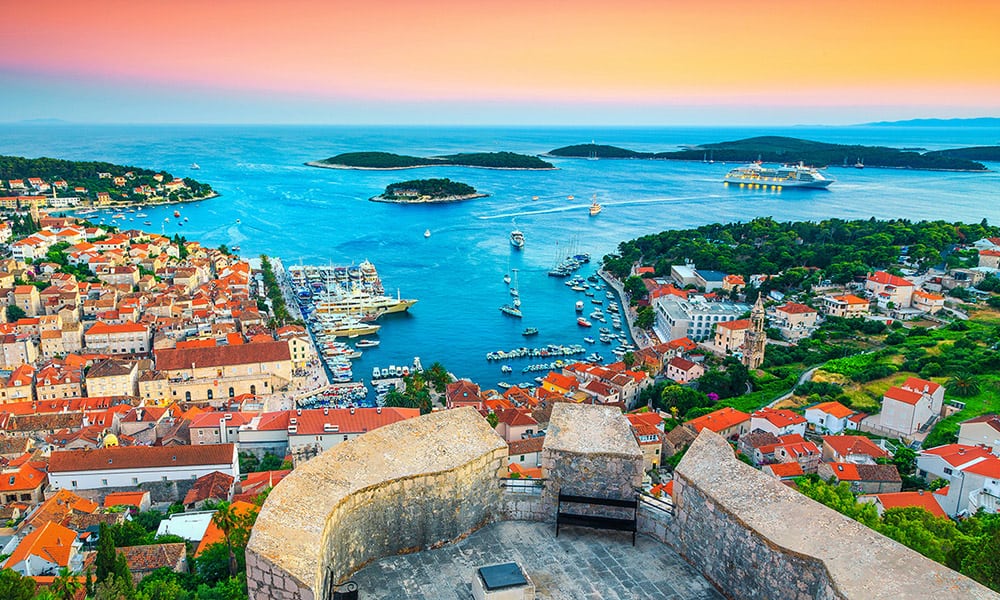 Hvar is one of the most popular islands in Croatia, drawing many celebrities and VIPs of all types. You'll see the harbor just outside Hvar Town filled with superyachts, with their owners typically coming for the legendary beach bars, buzzing nightclubs, fine dining restaurants, and luxury resorts.
But the island offers a lot more than that, including a rich and interesting history that includes the oldest public theater in Europe (opened in 1612), a hilltop fortress, and a main square anchored by Renaissance-style St. Stephen's Cathedral. Just outside the historic center are beautiful beaches and turquoise waters. Travel further and you'll find everything from the vineyard- and lavender-covered hills to ancient hamlets.
One of the best ways to visit Hvar is to join an island-hopping tour which includes also includes Brac and the Paklinski islands. It's the perfect way to enjoy a three-in-one, experiencing three Croatian islands with opportunities for swimming, snorkeling, and sunbathing, as well as sightseeing.
Trips often start by visiting Brac with its highlight Zlatni Rat beach often named among Croatia's – and even Europe's – most beautiful beaches, but we'll touch on that island later. Hvar often follows, with the historic sites included along with time to climb the medieval fortress for a panoramic view of Hvar Town, the harbor, and nearby Paklinskis.
Those islands, which legend says came into existence as the result of a secret love between a nymph and the sea god Poseidon, are known for their secluded coves and dazzling clear blue waters that are ideal for a memorable swim.
4. Brac Island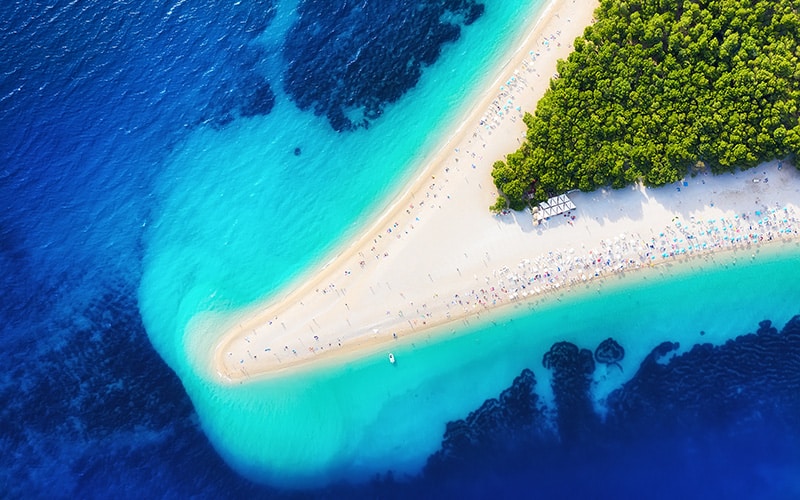 If you don't take the island-hopping tour to Brac, you can visit on your own as it's one of the easiest to access from Split by ferry, just seven nautical miles away. Once here there is regular bus service to all areas of the island. As mentioned, it's best-known for Zlatni Rat Beach, also known as the Golden Horn for its shape.
Surrounded on three sides by a dreamy aquamarine-hued sea, it's one of the most photographed in the country. Brac is also known for its stone quarries, with some of its stone used to build ancient Roman palaces, including Diocletian's Palace in Split, Budapest's Parliament building, and even the White House in Washington, D.C. There is a stonemasonry school in the town of Pucisca that teaches students the craft and is open to the public for visits.
Like olive oil? Over a half-million Buhavica, a rare variety of olive trees, have been planted here and at the Museum of Olive Oil, you can learn about the tools used to make the olives into olive oil and enjoy samples in the tasting room.
If you're up for a hike, take the trek to the top of Vidova Gora, the highest peak in the Adriatic Islands, where you'll get a fantastic view over Zlatni Rat Beach, the town of Bol, and Hvar Island. There's even a bar at the summit where you can relax with a refreshing drink too.
5. Paklinski Islands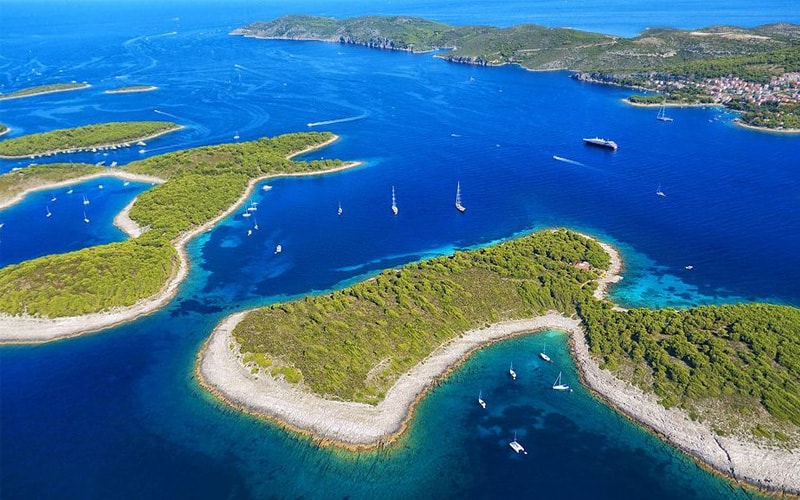 The Paklinskis are best visited on an island-hopping tour. Their secluded coves and deserted lagoons make the archipelago a wonderful place for swimming and snorkeling in brilliant blue, crystal-clear water.
Covered in pine trees, these emerald gems provide a stunning contrast against the blue of the sea. If you'd like to enjoy sunbathing in the buff, Jerolim is clothing optional.
Marinkovac is known for its beach club that sits on Stipanska Bay while Sveti Klement, the largest of the islands, is home to three villages. Palmizana lies along a gorgeous horseshoe bay, home to restaurants, a busy marina, and a little sandy beach.
6. Ciovo Island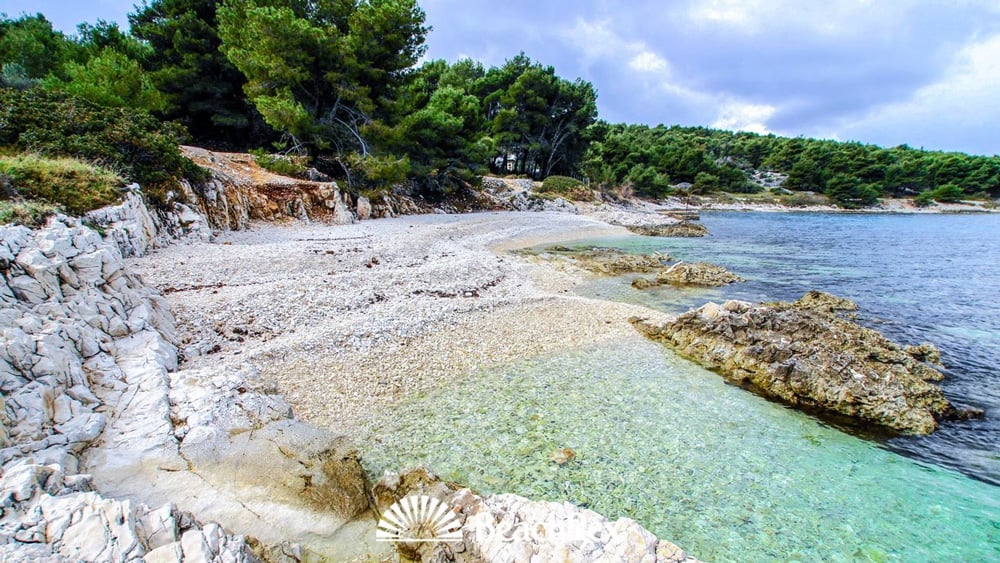 On a boat tour to the Blue Lagoon (and other destinations), you'll pass the island of Ciovo, but it can easily be visited from Split. In fact, it can be accessed both by boat and car. It's so close to the mainland that the town of Trogir, a half-hour's drive from Split, has a small bridge that links to Ciovo.
While it may seem as if it's part of Trogir, if you venture further away you'll discover wild landscapes with often beaches. Diving is popular here with the underwater world featuring abundant flora and fauna, along with a shipwreck, while equipment is readily available for rent.
Spend the day at one of the many beaches, most of which have plenty of restaurants and shops nearby when in need of a break or explore on foot or bicycle. The island has a maze of footpaths that connect all of its settlements, attractions, and beaches as well as large network of bike paths too, with bicycle rentals offered in just about every town.
7. Korcula Island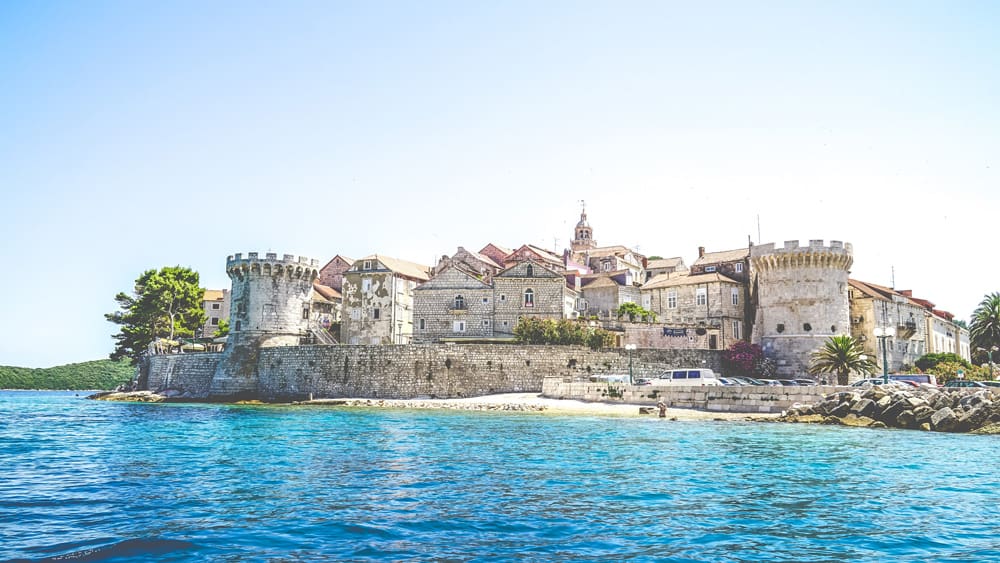 Korcula is closer to Dubrovnik but it's just 41 nautical miles from Split, making it easy to reach by boat for a day trip with departures that leave early in the morning and return in the evening. The island might be small at 20 miles long and four to five miles wide, but it makes a big impression with its charming villages, emerald forests, vineyards, olive groves, and sandy beaches.
The highlight is Korcula Town, with its historic core looking like something out of a story book surrounded by medieval stone walls, towers, ramparts, and gates. It's purportedly the birthplace of world-famous explorer Marco Polo, and here you can even visit his birth home, now a museum.
The town was once controlled by the Venetians and you'll see many glimpses of its past as you wander the maze of atmospheric streets. By visiting St. Mark's Cathedral, you can climb to the top of its bell tower and take in a spectacular view over it all.
Afterwards, you might enjoy a stroll along the promenade that runs just outside the outer wall, lined with all sorts of eateries for dining with a beautiful sea view. In the summer, delve into its culture by watching an impressive Moreska sword dance performance too. To explore more of the island, bicycle and scooter rentals are available in Korcula Town.
8. Solta Island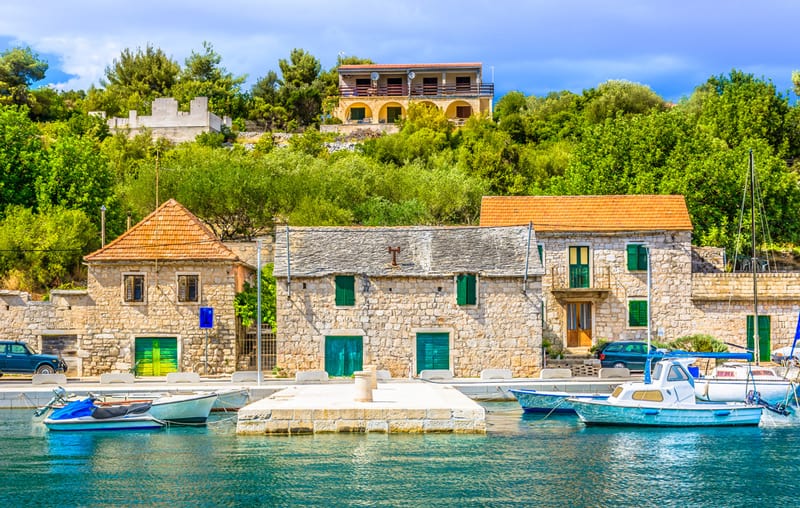 Only 30 minutes by boat from Split, Solta makes an easy day trip if you want to enjoy an unspoiled paradise on an island that's been spared from much in the way of development. Despite its close proximity to the city and frequent ferry departures, it's one of the less-visited island gems, yet it offers peaceful beaches for enjoying quiet contemplation while surrounded by breathtaking beauty, including a crystal-clear blue sea.
On the north side of the island there are popular diving spots, including Senjska and Livka. If you travel a little further, you'll find remains of a fish market that belonged to Emperor Diocletian lying in Piskeri Bay.
The local restaurants and cafes tend to offer affordable yet incredibly delicious Dalmatian fare and there are multiple attractions everywhere from Stomorska, the old harbor town, to Grohote, the capital in the north.
If you want to spend the day swimming, Tatinja Bay is ideal as the water is calm, protected from the wind. Visitors can discover prehistoric fortress, ancient ruins of sarcophagi, historic churches, and much more.
Solta is also known for its wine, olive oil, and honey. Visitors can tour an olive mill to learn how it's made and all about the island's olive oil-making tradition or learn how to make honey at a family-run farm and take a jar home as a souvenir.
9. Mljet Island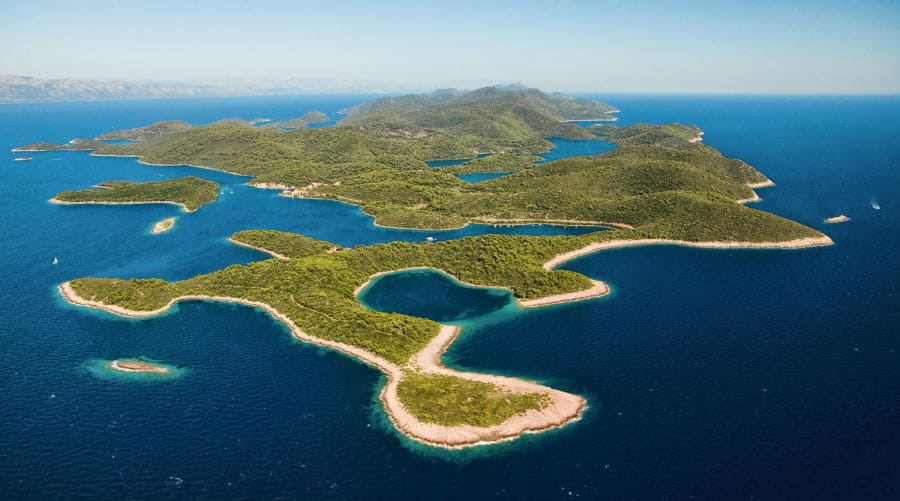 While Mljet isn't as easy to reach you may be able to catch the fast ferry during the high season or you can charter a boat. Either way it's sure to be worth the reward as one of Croatia's greenest islands with much of it covered in dense forest. Nearly a third of it is protected by Mljet National Park, home to two saltwater lakes that are surrounded by lush greenery.
When the weather is warm, you can enjoy a refreshing dip, or perhaps catch the hourly boat ride to the tiny islet in the middle of Great Lake which is topped by a 12th-century Benedictine monastery and church. There are also kayak rentals if you prefer to paddle there.
Yet another option is to rent a scooter to explore more of the island like the little hamlet of Prozurska Luka where you'll find a restaurant that sits just above a picturesque bay. There are also vineyards, tombs, fortifications, and even a Roman palace, second in size only to Diocletian's in Split.