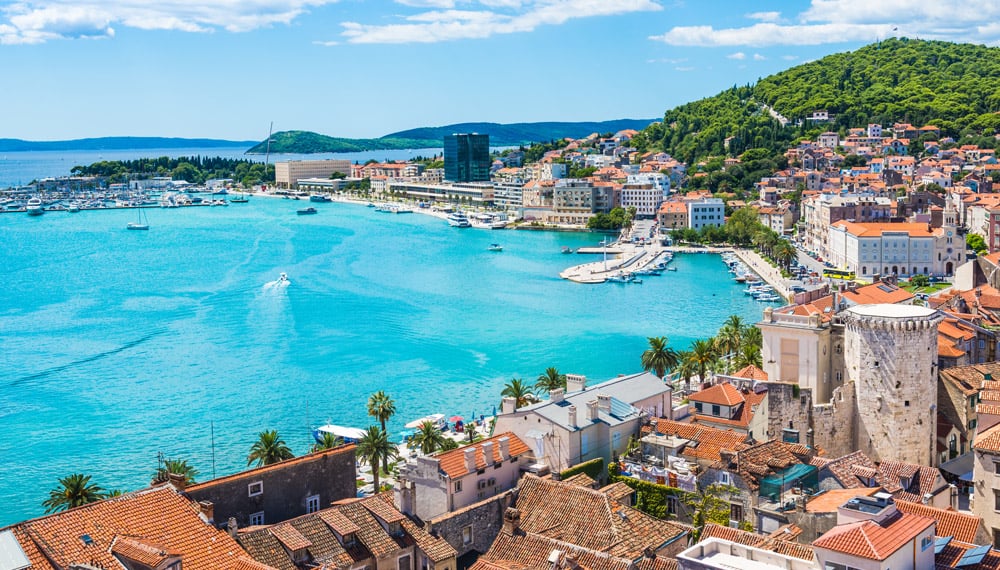 Any visit to Croatia should include spending time in Split. One of the country's jewels along the Adriatic coast, it can easily be the focal point of your itinerary with so much to see and do. It offers over 1,700 years of history, famous as the home of the 4th-century Roman emperor Diocletian's Palace, birthed when the emperor decided to have his retirement residence built here.
Within the maze-like complex you'll find some of the world's most well-preserved Roman architecture, with many of the buildings now serving as apartments and holiday rentals, enticing boutiques, art galleries, wine bars, cafes, and restaurants. There's more than enough to do among its cobbled streets and alleyways to keep you occupied for a full day or more.
Beyond the palace, Croatia's second-largest city hosts a fabulous seaside promenade that's ideal for people watching while sipping some of the tasty local wine along with wealth of museums, beautiful beaches, and many other attractions.
As Split is conveniently positioned in the middle of the Dalmatian coast, it also happens to be ideal for day trips that range anywhere from minutes away to a couple of hours. The day trips below are our favorites, bringing the opportunity to explore everything from magnificent islands, stunning lagoons and a renowned cave to waterfall-filled national parks.
One can also take part in thrilling outdoor adventures or delve into fascinating history. Of course, no matter where you go you can expect to find plenty of mouthwatering Croatian cuisine to fuel your exploits.
Sea day trips from Split:
1. The Blue Cave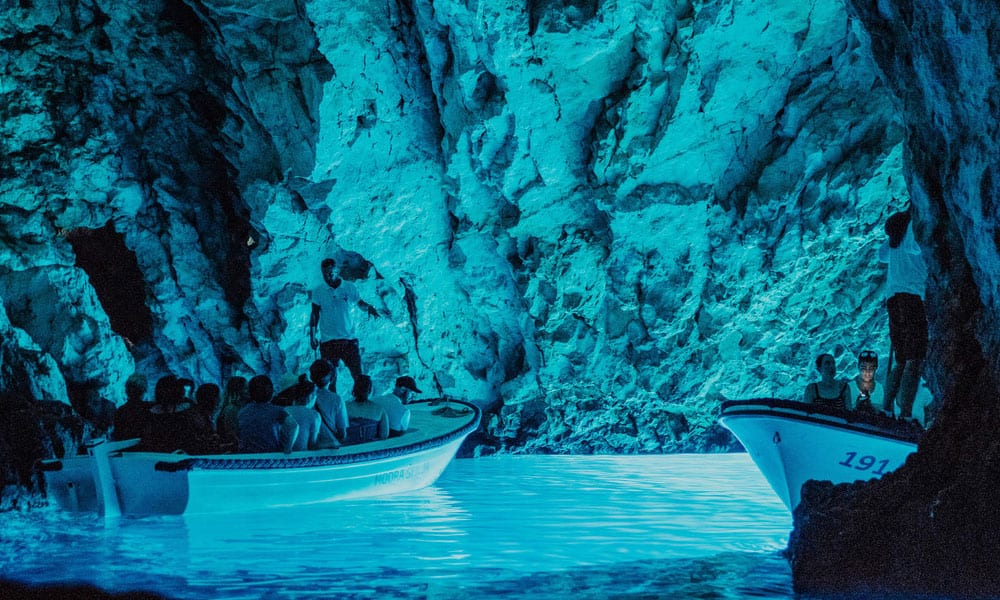 One of the most popular attractions in Croatia, the Blue Cave tour from Split. A stunning natural wonder, it's located on Bisevo Island, just 44 nautical miles from the city. At certain times of the day when the sunlight beams through a crack in the roof's interior, reflecting on the white limestone sea bottom, the cave is illuminated in a silvery blue glow.
You can't visit on your own, the only way to experience it as by taking a tour. The best excursions will bring you there by speedboat, with the admission fee usually included in the cost of the tour. From there, you'll hop in a smaller boat that can travel through the narrow entrance so you can marvel at the magical phenomenon that comes thanks to Mother Nature. While flash photography isn't allowed, by switching off the flash mode on your camera or smartphone, you can get some fantastic photos for your Instagram feed.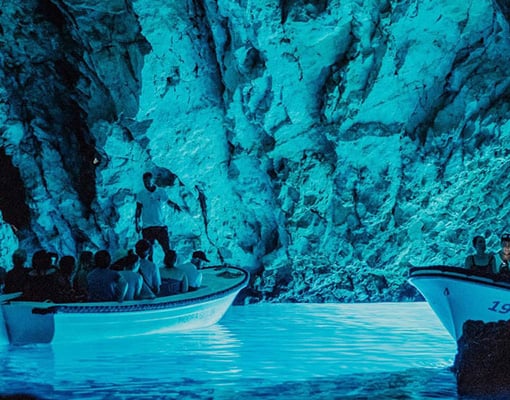 #1 Island Hopping Day Trip From Split, Croatia
Visit the Blue Cave and some of Croatia's most stunning islands and incredible natural wonders.
2. The Blue Lagoon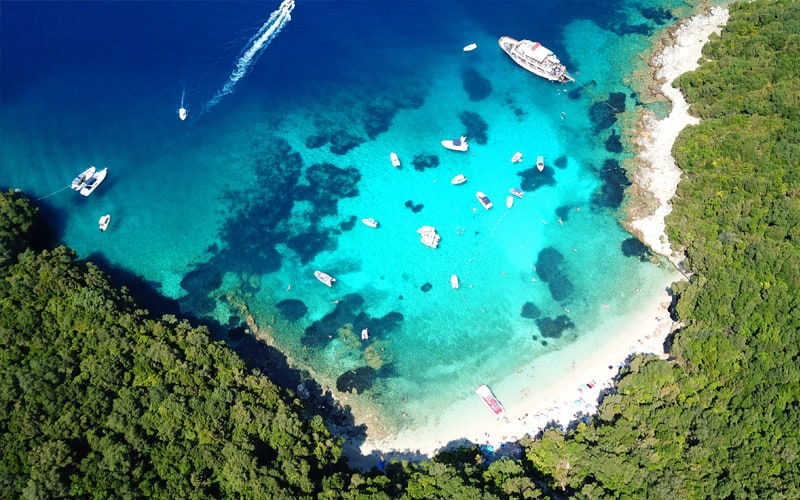 The Blue Lagoon, officially called the bay of Krknjaši, is another must-visit while in Croatia, especially during the warmer months of the year as it's one of the top spots for an unforgettable swim. It boasts some of the clearest blue waters and a sandy seabed with the scene looking like it's something out of a tropical Caribbean paradise.
The remarkable visibility also makes it ideal for snorkeling, and in between you'll be able to relax while surrounded by the out-of-this-world scenery. There's a restaurant/bar where you can enjoy a refreshing cocktail, cold beer, or an iced coffee along with tasty Dalmatian cuisine too.
A boat tour can get you here in about 45 minutes from Split, bringing the chance to enjoy picturesque sights along the way, like Ciovo Island with its precipitous cliffs and a lovely little 16th-century church. Be sure to keep an eye out for dolphins as they often leap and play right alongside the boats.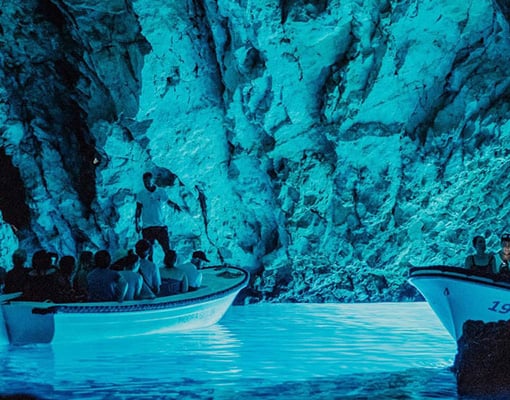 #1 Island Hopping Day Trip From Split, Croatia
Visit the Blue Cave and some of Croatia's most stunning islands and incredible natural wonders.
3. Island Hopping to Hvar, Brac and the Paklinski Islands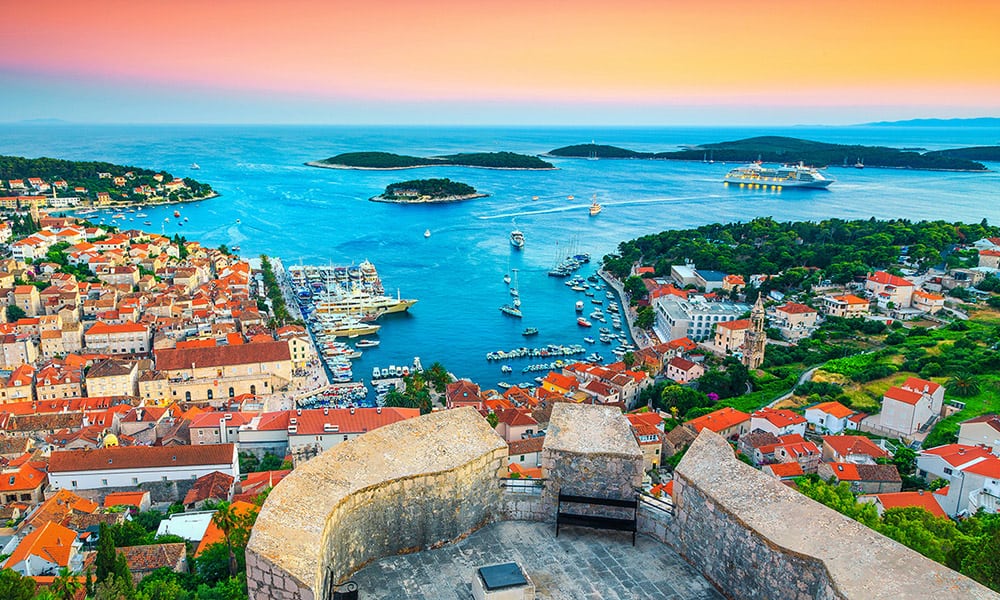 Croatia's coast was made for island hopping, and thanks to Split's idyllic position, many can easily be reached from the city. Boat tours often combine several of the best like Hvar, Brac, and the Paklinski islands, for the perfect island-hopping itinerary that allows you to see more in just one day. Many include time for swimming and snorkeling, sunbathing on some of the most postcard-perfect beaches in Dalmatia, and sightseeing too.
Your visit to sunny Hvar will allow you to explore this cosmopolitan island that attracts international jetsetters from around the world, including celebrities and all sorts of VIPs. Beyond its famous eateries and lively nightlife, the atmospheric streets host many historic landmarks, including Europe's oldest public theater which opened its doors in 1612. A medieval castle/fortress looms high above Hvar town, offering a panoramic view of the sparkling bay and the nearby Paklinski islands.
The islands are often the next stop as they're just a 15-minute boat ride away. The emerald gems provide a striking contrast against the vibrant blue of the sea and many trips stop at one of the secluded beaches for snorkeling or swimming, with time for a drink and a bite to eat at one of the beach bars or restaurants.
Brac is one of the closest islands to Split with a visit here combining magnificent coastal scenery and the chance to spend time on what's often ranked as one of the most beautiful beaches in Europe, Zlatni Rat, AKA the Golden Horn. It swirls out nearly a third of a mile into the sea in the shape of a horn, almost entirely surrounded by the brilliant turquoise waters, providing the perfect place for a swim.
The pretty fishing village of Milna on the west coast is known for its picturesque harbor and small stone homes. Nearby, you'll find opportunities for wine tasting with many of the country's 130 indigenous wines available for sampling here. That's why this is one of the most popular day trips from Split.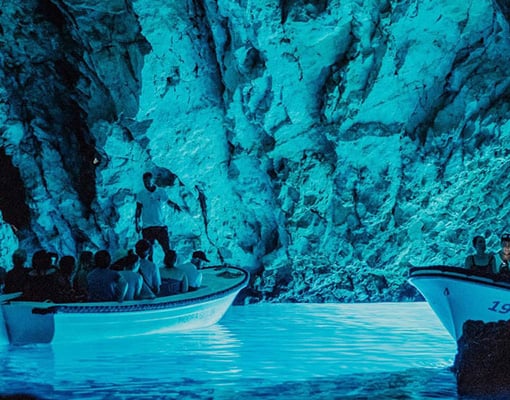 #1 Island Hopping Day Trip From Split, Croatia
Visit the Blue Cave and some of Croatia's most stunning islands and incredible natural wonders.
4. Solta Island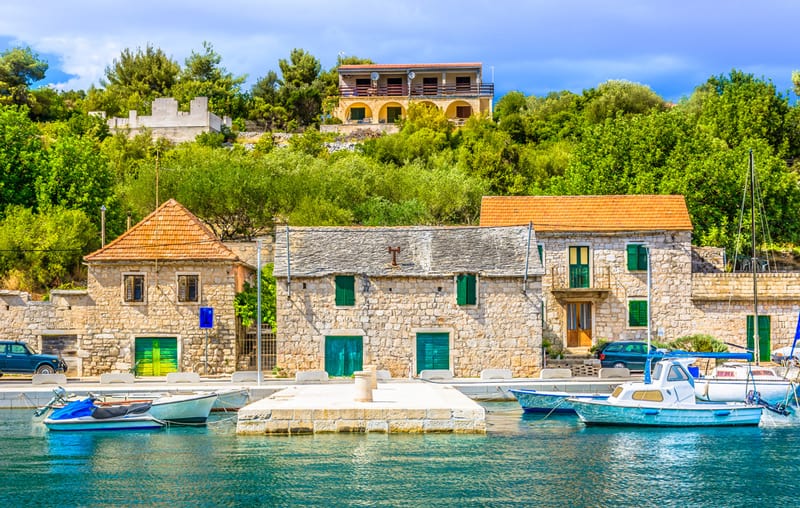 Just a 30-minute ferry ride from Split, Solta offers the chance to experience one of the more unspoiled Croatian islands, less developed than many of the others and often overlooked by tourists. It's managed to retain its history and culture, with a number of historic sites to explore, including prehistoric Gradac fortress, the ancient ruins of sarcophagi, and around a dozen centuries-old churches.
The island is also known for its production of honey, olive oil, and wine. In the main settlement of Grohote, you can learn all about beekeeping and the honey-making process with the Tvrdić family and even try your hand at making your own jar to bring home. The Olynthia Olive Mill is the place to go for learning about the island's olive oil making tradition. Private tours are available upon request which includes seeing how the olives are pressed and tasting the results. While you're on the island you won't want to miss tasting some of Solta's authentic Dobričić red wine either.
Of course, you can just choose to spend the day relaxing. Solta is an idyllic island for simply enjoying quiet contemplation while soaking up the sun and swimming from beautiful beaches, especially around Tatinja Bay with its crystal-clear turquoise waters sheltered from the winds.
Day trips from Split to National Parks:
1. Plitvice Lakes National Park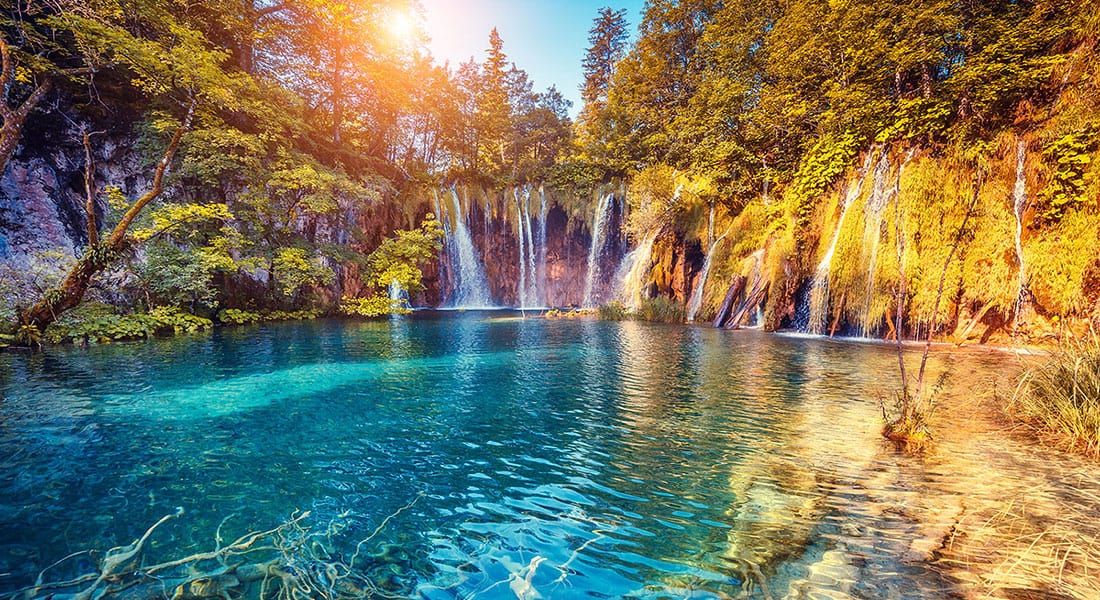 A UNESCO-World Heritage Site, Plitvice Lakes National Park is about a two-and-a-half-hour's drive from Split, but it's well-worth the trip to experience what's become an iconic symbol of the country, a perfect representation of its enchanting beauty. The park is one of Croatia's most photographed and most famous places, with its images frequently going viral. It's home to a maze of countless waterfalls and 16 interconnected lakes that vary in hues from brilliant turquoise to deep emerald all surrounded by lush greenery and inhabited by abundant wildlife.
There have been nearly 130 recorded bird species and more than 320 different butterfly species recorded here along with red deer, lynx, wolves, and even brown bears. Visitors can explore the Lower Lakes, Upper Lakes, or both before hopping on a train ride for a panoramic overview that ends with a return to the north-side entrance. It's best enjoyed on a guided tour so you can relax and enjoy the scenery while someone else does the driving. Some even provide free Wi-Fi access for the ride.
2. Krka National Park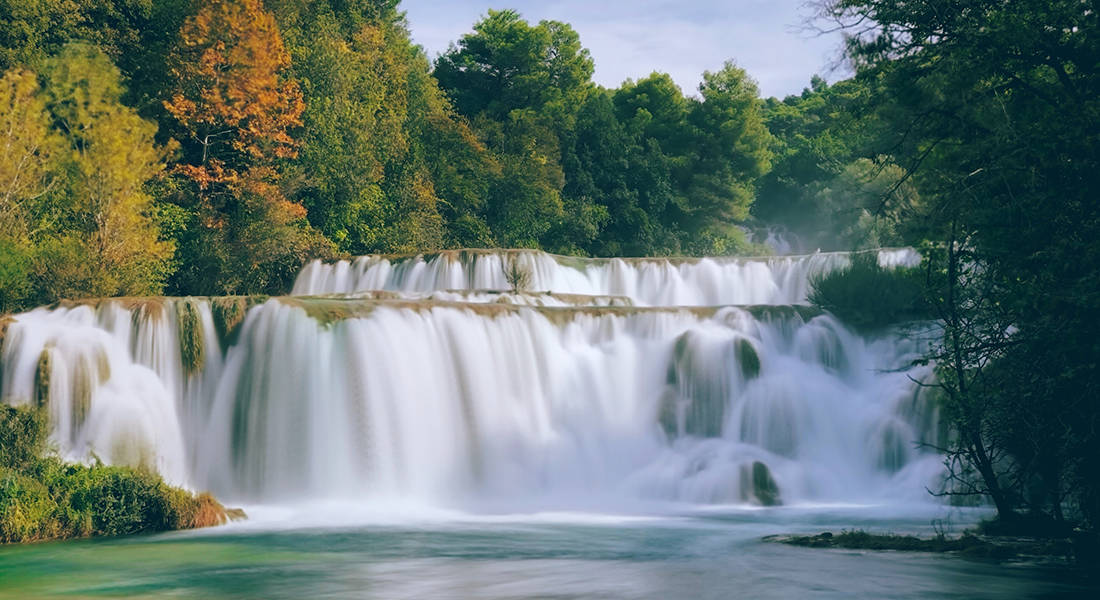 Krka National park is also known for its impressive waterfalls, lakes, rivers, and abundant flora and fauna. It's home to Skradinski buk, the Mediterranean's highest waterfall which plunges nearly 151 feet into a serene pool at the bottom that's popular for swimming.  As you walk the scenic trails, you'll want to keep an eye out for the many birds that inhabit the park.
There are over 220 different species, making it one of Europe's most ornithologically valuable regions. The remoteness of this area attracted many monks who built monasteries here, including Krka Monastery with its Byzantine and Mediterranean architecture. It enjoys a tranquil setting above Krka River and is an important site for the Serbian Orthodox. If you visit between mid-June and mid-October a national park guide can show you around.
The park is only about a 90-minute drive from Split, so you can drive yourself if you have a rental car, but organized day tours include other stops that make it worth your while for a more relaxed experience and the chance to get more local insight. A day tour to Krka National Park might include the oldest city on the Adriatic coast too. Sibenik is home to the magnificent St. James Cathedral, built in Renaissance and gothic styles, and dates back to at least the 11th-century.
Adventure day trips from Split:
1. Centina River and Dinara Mountain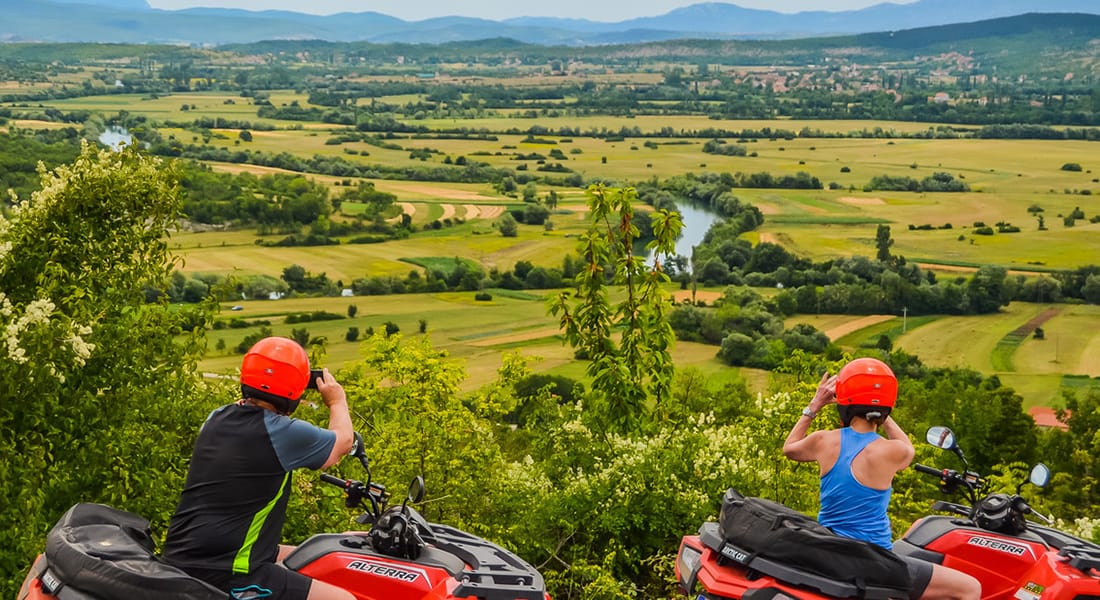 One of the most rugged and extensive mountain ranges in Europe, the Dinaric Alps stretch all the way from to Albania. It includes Dinara, the highest mountain in Croatia, located in the Dalmatian hinterland with one side along the border of Bosnia. The area that surrounds it includes Glavaš, a brilliant, colorful rock pool that's the source of Cetina River. A day trip to this beautiful river sometimes called the "eye of the earth" due to its remarkable resemblance to an eye with various shades of blue and green, brings the opportunity for a wealth of outdoor adventure.
There are many activities that can be enjoyed here on a guided tour, which is the best way to visit the Centina River area as they'll include expert guide/instructors and all the gear you'll need. Most leave right from Split, like an ATV quad excursion that will bring you to see places you couldn't reach with a standard vehicle.
You'll be immersed in unspoiled nature while breathing in the fresh mountain air, embarking on a thrilling ride before stopping to swim in the river's clear emerald waters. If you want to get out onto the water and explore, a river rafting trip will bring you down the rapids for a heart-pounding thrill through the breathtaking canyon where archaeologists have discovered stone age axes and Roman-era weapons.
For an exciting bird's-eye view of the canyon you can whiz above it all on a zipline adventure that takes place just outside of Omis, an area that was once a stronghold for pirates during medieval times.
2. Mount Mosor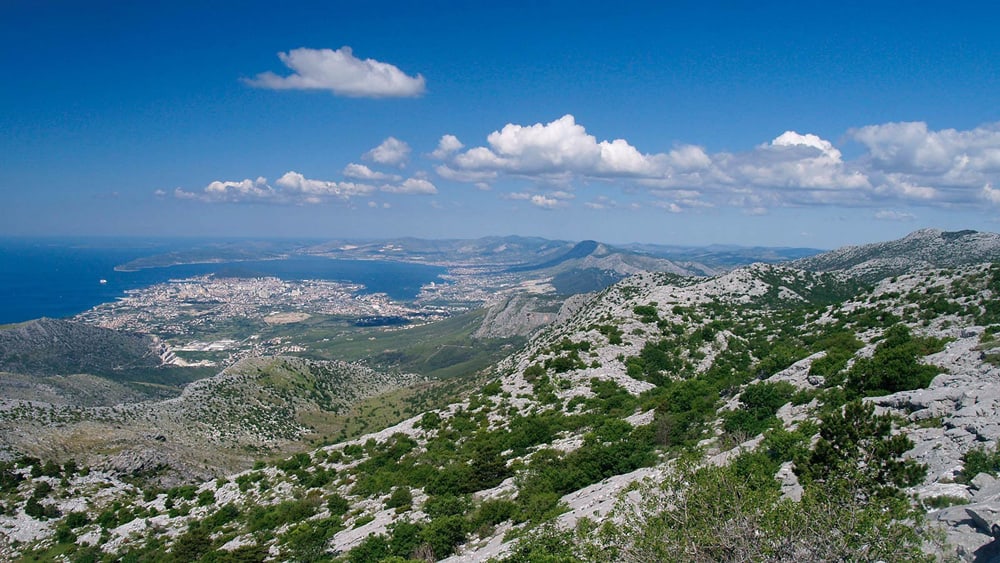 Part of the Dinaric Alps, Mount Mosor is the closest to Split and offers a variety of trails for hikers, bringing awe-inspiring views of the Dalmatian coastline, the Adriatic, Split, and distant mountains in Bosnia and Herzegovina. One of the most popular trailheads can be found in the village of Sitno Gornje.
About a 30-minute drive from Split, the first stop is the mountain hut Umberto Girometta, about 45 minutes in, which is where those wanting a shorter trek often turn around. It's also a great place to fuel up with fresh-cooked warm meals served at reasonable prices. If you want to tackle it all, it will take you four to five hours to reach the top at Veliki Kabal where you'll see a big cross, a sign-in book, and a stamp.
Other day trips from Split:
1. Klis Fortress and the Salona Ruins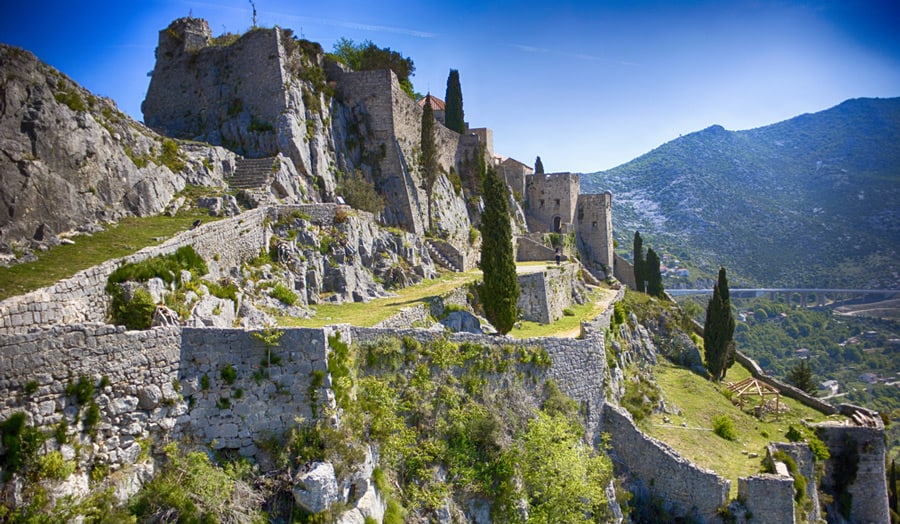 The village of Klis is only 15 minutes from Split, but it's a must for anyone seeking a short but rewarding day trip. Along the way you can also visit the remarkable ruins of Salona that are just outside of Solin, a sleepy little suburb that sits only a few miles north-east of Split. The former capital of Dalmatia in Roman times, it hosts a collection of ruins that testify to the importance of the colony under Roman rule.
As they aren't well-known, you're unlikely to encounter many others here as you wander back in time to the era of emperors, gladiators, and Christian martyrs, viewing highlights like the 18,000-seat amphitheater, a basilica cemetery, covered aqueduct, and museum.
Klis is best-known for Klis Fortress, which was featured in the popular TV series "Game of Thrones." Fans may recognize it as the city-state of Meeren. It was constructed to defend the area from the invading Mongols and Ottomans and includes Roman temples, baths, and an amphitheater. You'll also enjoy a jaw-dropping view of Split, the mountains and the sea.
2. Mostar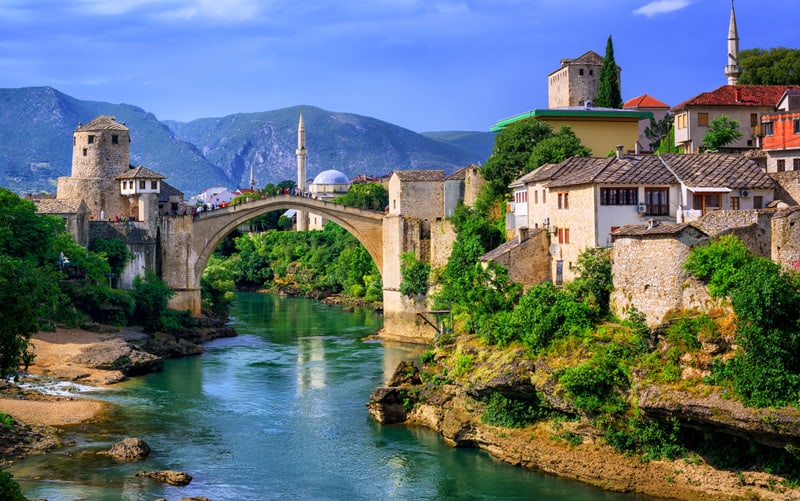 It's easy to explore Croatia's next-door neighbor, Bosnia & Herzegovina, from Split. The historic city of Mostar is just across the border, a two-hour drive from the city. It's a great way to get a taste of another country while you're here, starting with Stari Most Bridge, a famous bridge that spans the Neretva River. Daring locals can often be seen jumping off and there are lovely old Turkish homes to view along with opportunities to swim in nearby waterfalls.
The town itself dates back to the 15th-century as an Ottoman frontier town and offers many great photo-ops from the turquoise river itself see elegant minarets. You'll see reminders of its brutal past in bombed out buildings and bullet hole-laden walls as it was nearly destroyed in the 1990s conflict. Stroll the labyrinth of cobbled streets, view churches and mosques, and in the Old Bazaar, browse the shops and stalls before stopping to re-energize with a strong Turkish-style coffee in one of the cafes.
If you have more time, there are other stops to make like Blagaj Monastery. Nearly 600 years old, it sits at the base of a cliff next to the river Buna just outside Mostar. It's a unique and picturesque series of buildings that include an old Turkish bath and mausoleum, worth visiting just for the photo-op. Medjugorje, also close to Mostar, is a village and popular pilgrimage site that became famous in 1981 when local children allegedly saw the Virgin Mary on a hill just above.
3. Makarska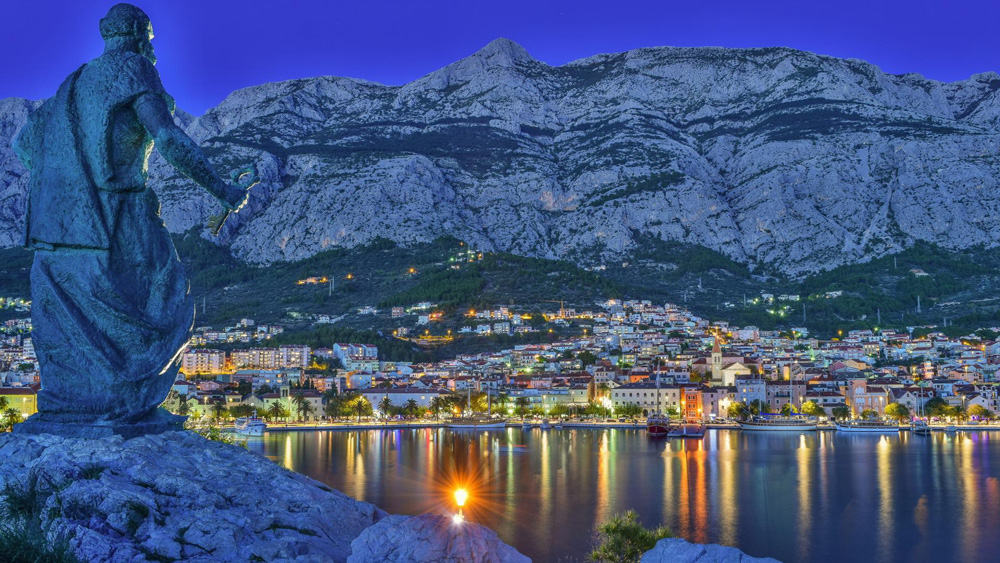 Makarska is just a little over an hour south of Split, lying along a stretch of coastline referred to as the Makarska Riviera. It's lined with some of the most stunning beaches in Croatia, with small, secluded coves and clear blue waters. There are several nearly deserted beaches that are ideal for soaking up the sun in a tranquil setting, but you'll also find options with watersports facilities and nightlife.
In July and August for several nights, the seafront area is transformed into a lively carnival atmosphere with delicious seafood and fish specialties to enjoy along with games and competitions like donkey races and stone-throwing. The breezy summer evenings are ideal for enjoying the live concerts and the Croatian wine that flows like water.
The Makarska Cultural Summer festival takes place between late June and September. It includes concerts featuring international and local performers along with folklore dances, plays, open-air cinema nights and more, with most festivities held along the promenade or in historic Kacic Square.