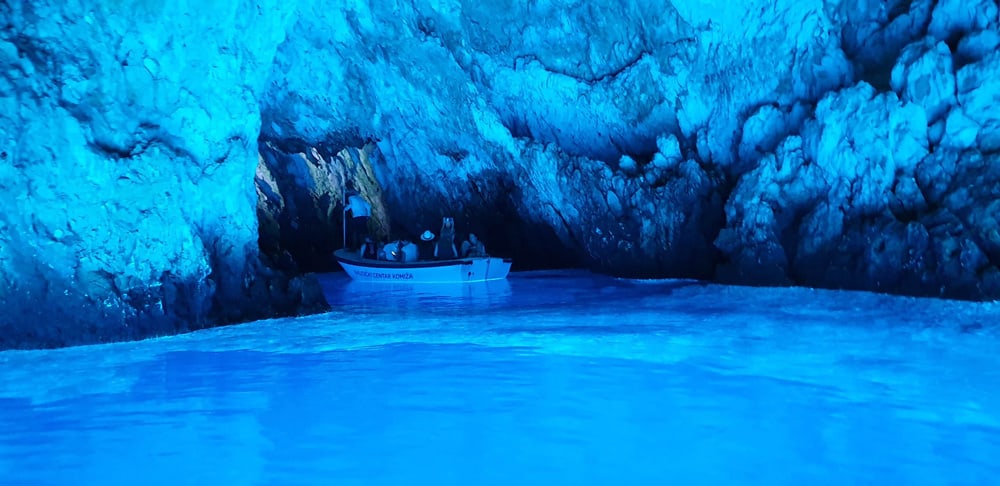 An increasing number of people are discovering the Blue Cave in Croatia, thanks in part to the hit series 'Game of Thrones' that revealed the delights of this spectacular country. It led many to find out for themselves all that it has to offer, although most have yet to experience this magical natural wonder.
You might have heard that the Blue Cave is a must-visit attraction, but beyond that, there's a lot more to know about it if you plan to visit Croatia. It's generally not a place you can explore on a last-minute whim, and you'll want to do it right so that you can bring home those memories of a lifetime.
Of course, first you'll probably want to know more about what the Blue Cave Croatia is, assuming you don't know already. Sometimes referred to as Modra špilja, or Blue Grotto, the cave is a unique and remarkable geomorphological natural wonder located on the island of Bisevo which lies just five miles from Komiza on Vis Island, and 44 nautical miles from Split.
It's the furthest point from the ancient city in the Dalmatian archipelago, with Vis is closest neighbour. The sea grotto is one of the most well-known spots of natural beauty in the Adriatic, and beyond, as well as one of the world's most popular show caves thanks to the surreal, glowing blue light that appears at certain times of the day.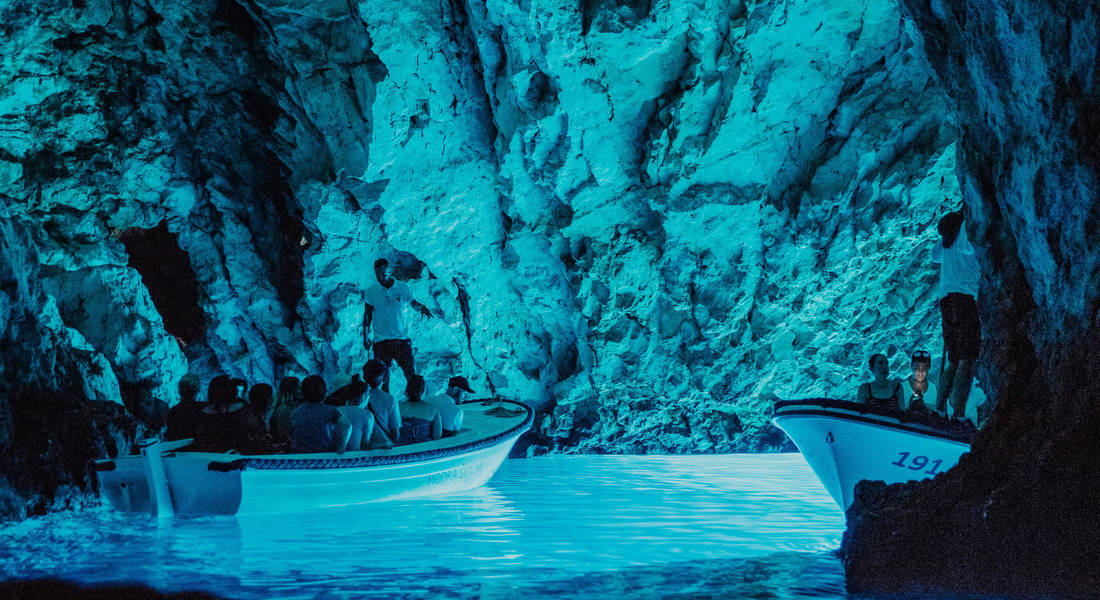 The History of the Blue Cave and How It Was Formed
It isn't known exactly when or by whom the Blue Cave was first discovered, but we do know that local fishermen were aware of it for generations, long before word got out to the rest of the world. It was in 1884 that Austrian explorer, artist, and speleologist Baron Eugene von Ransonet-Villez first described and presented it to the public after finding it on a diving expedition.
Based on his suggestion, an artificial entrance, .5 meters high and 2.5 meters wide, was created by blasting the rock with dynamite so that boats could enter – it's large enough to fit small vessels like rowboats and dinghies, but small enough that the hole doesn't affect the lighting inside.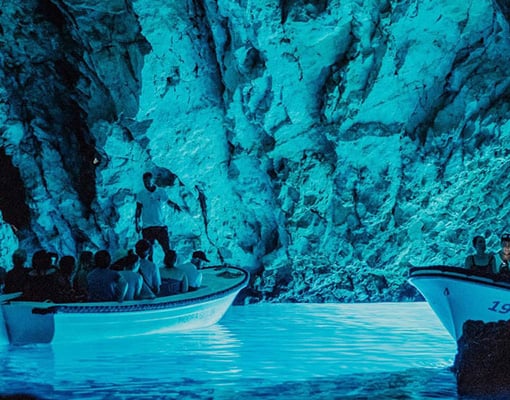 Blue Cave Tour From Split – by Zen Travel
Visit the Blue Cave and some of Croatia's most stunning islands and incredible natural wonders.
The Blue Cave is not man-made but naturally sculpted by the sea. It took many centuries for the sea grotto to develop into what you'll see today. It was formed by the waves over time, with its powerful effects causing the limestone rock, which the entire island of Bisevo is made up of, to gradually erode.
This is the most remote and least populated of all the Croatian islands, just a few square miles in size with only about 15 residents calling it home. The cave, carved into the steep limestone cliffs of the island, is 24 meters long, up to 15 meters high, and 10 to 12 meters deep, while the entrance is 2.5 meters wide and 1.5 meters high, requiring a small boat to enter.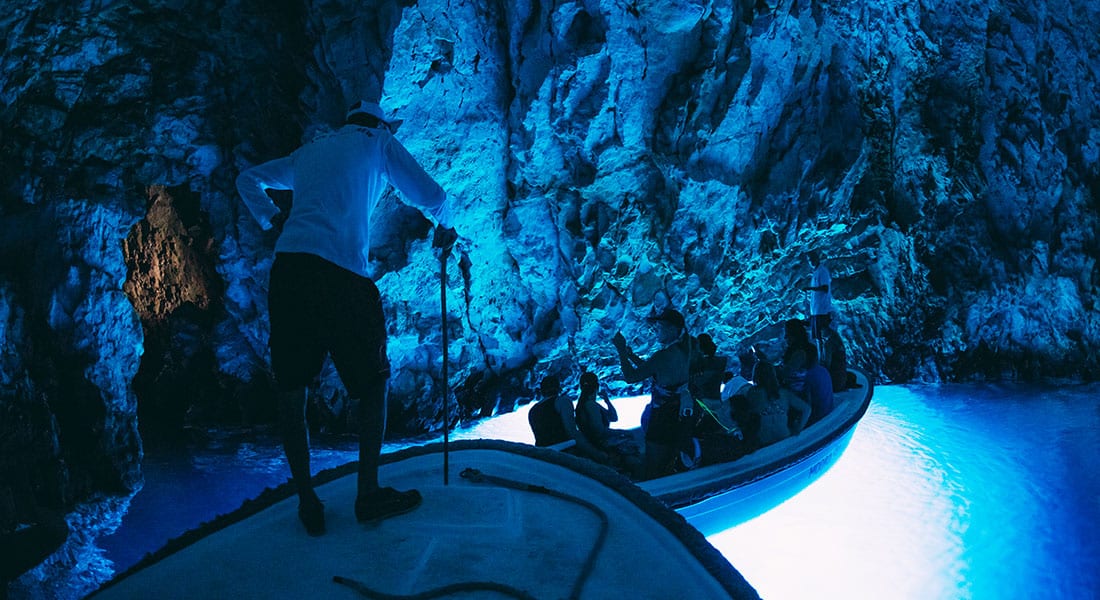 Behind the Magic: How the Interior of the Cave Becomes Blue
The cave is so famous because of the incredible natural phenomenon that occurs when conditions are right. A hypnotizing brilliant turquoise blue illuminates its interior when the rays of the sun hit the surface of the sea through a natural opening in the rock of the arched roof which reflects of the limestone seabed.
The sunlight reflects the color of the water coming from the white floor of the cave to bathe the grotto in that stunning blue hue, while the objects in the water appear to be silver, creating a jaw-dropping fantasy-like scene that you might find hard to believe is real. But once you see it with your own eyes, you'll know it isn't the work of Photoshop or a magician, but Mother Nature.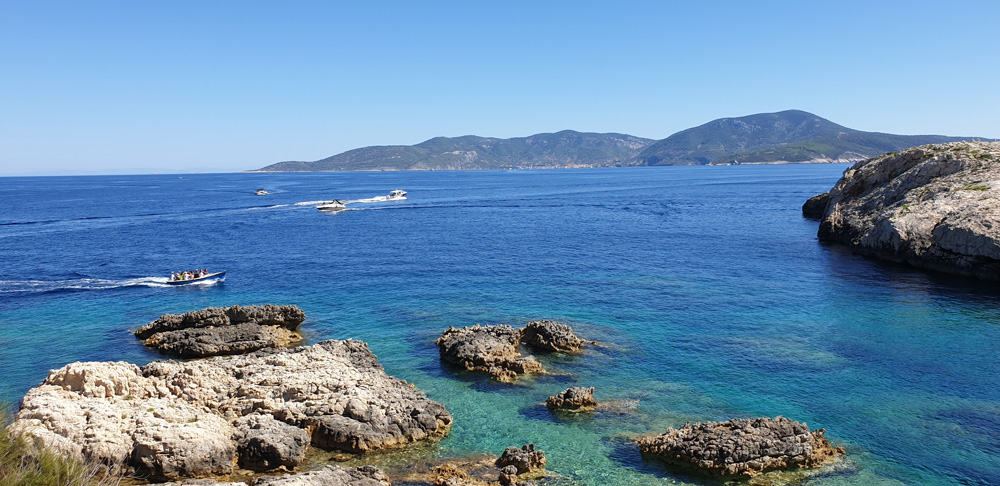 The Spectacular Landscapes of Bisevo Island
Bisevo Island is 785 feet at its highest point; its landscapes are a mix of rocky shrub, fertile fields, picturesque vineyards, and pine forests. There are many caves here in addition to the Blue Cave.
In fact, there are more than two dozen others that are carved into the limestone rock of Bisevo. But the Blue Cave is the only one where you can witness that natural phenomenon with the cave interior flooded with that blue glow.
It's widely considered to be one of the best caves in the entire Adriatic, yet it's only been fairly recently that it's become such a renowned tourist attraction, alluring both Croatians and visitors from across the globe alike.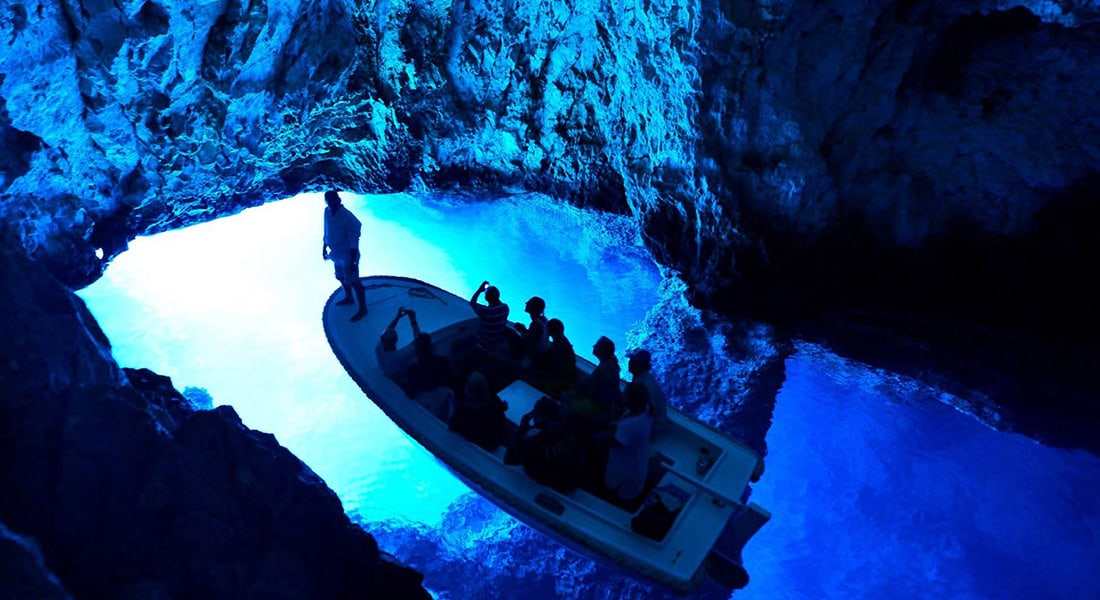 Visiting the Blue Cave Croatia
When It's Open
The Blue Cave itself is always open; however, trips to the cave in Croatia only operate between April 1st and November 1st as sea conditions during the rest of the year usually make entering impossible.
The best period for visiting is generally mid-June through early September, which is also high season, but don't rule out the joys of experiencing its mysticism during the off-season when there will be fewer crowds. For the best of both worlds, if possible, try to plan your visit in late May or around mid-September.
While you might read that the best time of day to visit is between 11 a.m. and noon, the reality is that while the light might be the most intense during that hour, it's always a magical experience.
The shade of blue changes from a brilliant pale to a deep glow depending on the time of day. If it is a cloudy day, however, we generally recommend visiting as close to noon as possible when the sunlight will be at its brightest.
It's also important to be aware that the cave can be closed to visitors due to weather. The most common cause of this is when wind results in waves that are so powerful, that they block the entrance. High tide, typically later in the afternoon, can also result in its closure.
In rare cases, when it is possible to enter the cave but for some reason, loading and unloading of passengers isn't safe due to inclement weather, it may be closed to visitors. And, if strong winds have been coming from the south for several days, even though the sun is out now, the Blue Cave may not be open due to long waves that are barely visible, also heading in from the south.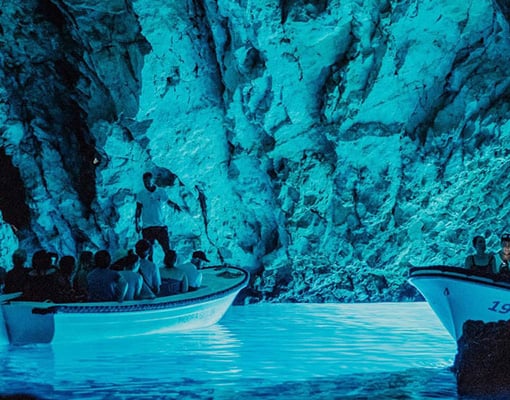 Blue Cave Tour From Split – by Zen Travel
Visit the Blue Cave and some of Croatia's most stunning islands and incredible natural wonders.
Blue Cave Croatia Entrance Fee & Ticket Prices
Tickets to the Blue Cave Croatia can be purchased in the gift shop in Mezuporat Cove near the cave entrance. Prices are lower in the off-season, April 1st through June 15th and September 1st through October 31st, at 75 Croatian kuna per adult and 35 kuna for children six through 12 years of age. Those who are under six years old are free.
From June 16th through August 31st, adult entrance tickets are 100 kuna, tickets for children six through 12 are 50 kuna, and again, children under six are admitted free. When purchasing your ticket to experience the magic of the cave, you'll receive a number that shows your place in line.
It's important to keep an eye on the number that's displayed, because if you miss it, you'll have to repeat the entire process. In high season, be aware that very long lines are common due to the popularity of the cave.
By booking the Blue Cave tour from Split, your entrance will be included so you won't have to worry about paying for your ticket or standing in line. Your guide will take care of all of this for you, allowing you to relax and enjoy the scenery until it's time to enter the cave.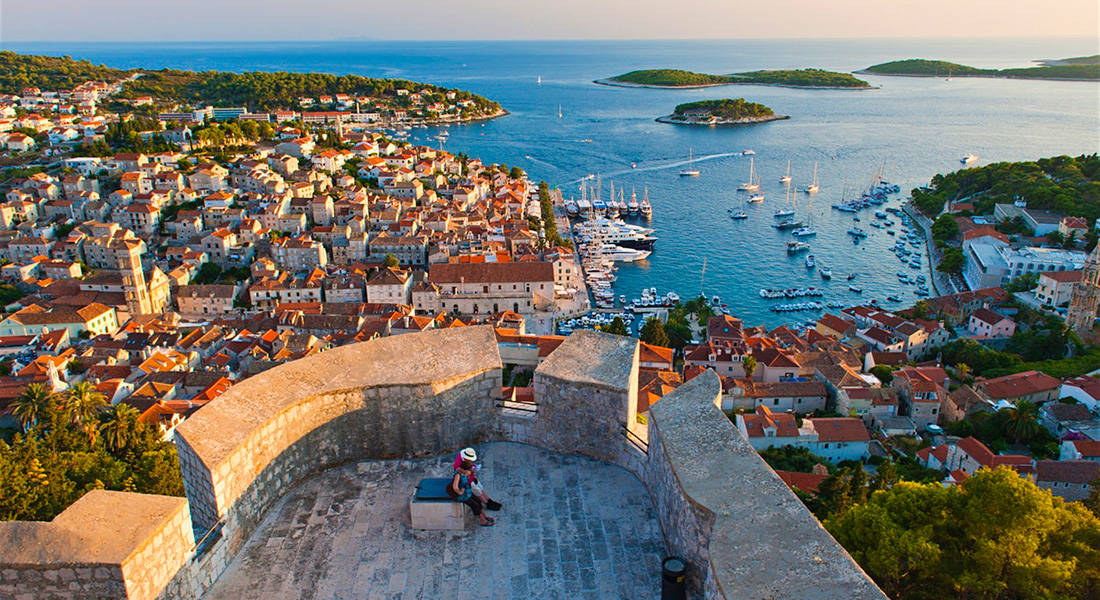 What's Allowed and What's Not:
Entering Independently
If you have your own boat, you may be wondering if you can simply enter independently. Unfortunately, this isn't possible as it can only be experienced on a tour, whether you take the ferry and join a tour once you arrive or book a private excursion from Split that includes other exciting stops and opportunities for swimming as well.
Joining an organized Blue Cave tour is the best way to get the most out of your trip as you won't be sailing all the way to the cave and going straight back again. You'll get to enjoy a full day that allows for dips in the enticing blue waters and other experiences too, but we'll go into more of those details a bit later.
Swimming
While you may have seen photos of people swimming in the Blue Cave, it's no longer possible, having been banned by law in 2014. As the cave is small and many boats go in and out, it would be too dangerous anyway. The better news is that Blue Cave tours often include a number of opportunities for enjoyable swims, perhaps in secluded bays and/or off the shores of beautiful beaches.
Photography
Photography is allowed in the cave; however, no flash photography is allowed. You'll have to have to turn your flash off to capture those postcard-perfect pictures. We advise getting your camera or smartphone ready to take them by turning off the flash mode before entering the cave. Using a flash tends to wash out all the depth resulting in poor photos anyway.
If you bring a camera that can be set to various modes, you'll want to increase the ISO so that it doesn't produce much grain, but will still allow you to snap lots of pictures without the need for a tripod.
Put your camera in Aperture priority mode, if possible, and select the lowest aperture your lens will allow. That helps to keep the shutter speed moving fast enough without the need for a flash.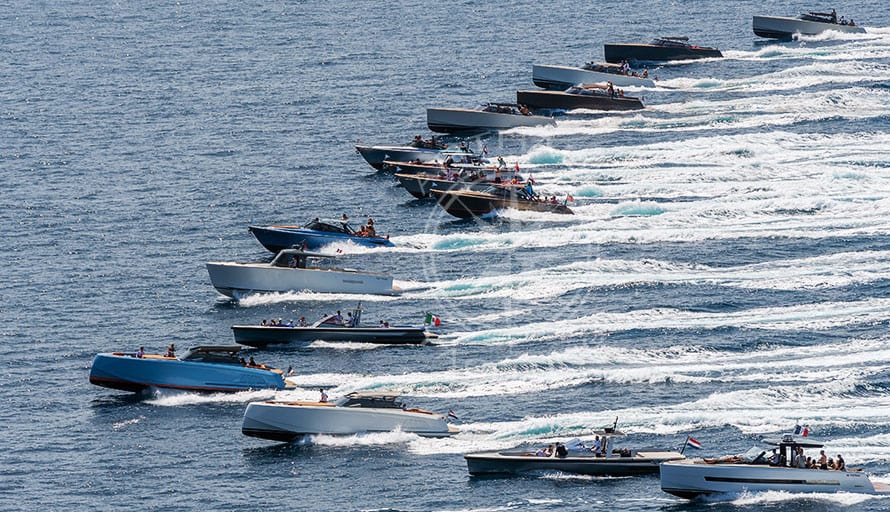 Options for Getting to the Blue Cave Croatia
There are two options for getting to the Blue Cave, by organized tour or by public transport. We'll go over them both in detail.
Public transport:
To get to Bisevo Island on your own is quite a lengthy process. You'll have to take the ferry from Split to Vis Island first which takes from 90- to 150-minutes depending on the route. After arriving into Vis port, you'll then need to hop on a bus for the approximately 15-minute ride that will bring you to Komiza port on the other side of the island.
From here, you'll catch another ferry to the port of Porat on Bisevo. As there is only one trip each way per day, you'll need to do some careful planning, checking the most current schedule to ensure you don't end up stuck on Bisevo. Depending on the day, the boat departs Komiza at 8 a.m. and makes the return trip at either 1, 4 or 5 p.m., with the journey in either direction taking about one hour and 15 minutes.
There is a faster speedboat that will get you there, but it is expensive. Once in Porat, you'll be able to purchase your ticket to the Blue Cave, but remember as mentioned, that the line can be very long, sometimes requiring waits of an hour or more.
While visiting the Blue Cave on your own is entirely possible, it also requires meticulous planning and can be quite the arduous journey. Something else to think about is that without a tour guide, there's a good chance you'll miss places of interest that only experienced locals know about. It's easy to see why most people visit the Blue Cave by taking an organised tour.
Organised tour:
By taking a tour you'll generally get the most bang for your buck as you won't just go into the Blue Cave Croatia, you'll be able to experience a number of other Croatian highlights too.
As part of your Blue Cave excursion, you'll not only get an experienced local guide that will provide interesting insight into the region, but you'll have time to explore other islands on foot, visiting stunning secluded beaches, snorkelling in crystal-clear blue seas (all equipment included), and even visit fascinating historical sites.
Jump into the enticing Blue Lagoon with its brilliant turquoise waters and then enjoy relaxing at the beach bar with a cold drink in hand, surrounded by the magnificent Mediterranean scenery, and then explore the Paklinski Islands, with their hidden beaches and deserted lagoons. You'll get to visit one of the most popular islands in the Adriatic too, sunny Hvar. The island draws visitors from all corners of the globe, including plenty of celebrities, home to everything from lively bars and outstanding eateries to impressive medieval landmarks like Europe's oldest public theatre, which dates all the way back to 1612. From its elevated Spanish fortress, look forward to taking in one of the most spectacular views in the region, a panorama of Hvar town, the sea and the islands.
In addition to experiencing more of what magnificent Croatia has to offer, the primary benefit of joining a Blue Cave tour is not having to worry about anything. You'll be able to relax and enjoy while in the capable hands of an expert guide who will take you from place to place, pointing out points of interest and some of the history behind them as you go.
That allows you to focus on the scenery and enjoying yourself instead of trying to navigate public transport and figure out what to do on your own. You'll also have the chance to meet new like-minded people who just might end up becoming friends or future travel partners.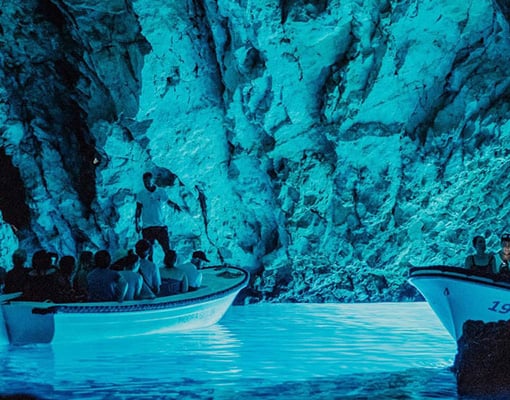 Blue Cave Tour From Split – by Zen Travel
Visit the Blue Cave and some of Croatia's most stunning islands and incredible natural wonders.
A Safe Experience
A question that comes up frequently is "How safe is a Blue Cave tour?" A visit to the Blue Cave is an experience that's extremely safe and enjoyable, presenting no major risks to visitors with its well-vetted interior and carefully constructed artificial entrance. Professional companies ensure safety on board their boats at all times. They'll be fully equipped with all the necessary safety equipment for every passenger. If conditions do not allow for a safe experience, the tour will be cancelled.
Choosing the Best Blue Cave Tour
With an increasing number of tourists visiting Split, more and more tourist companies are opening as a result. It's important to book directly from a reputable tour provider rather than an intermediate agency to avoid paying high agency commission fees. A professional company will be fully insured, with the knowledge and experience you need for a safe and enjoyable trip.
The skipper/guide should be a trained expert ready to offer any assistance during all activities undertaken throughout the trip. Consider the cancellation policy too – if it's non-refundable, walk away. It should allow for cancellations up to 24 hours before the departure. It's also critical to be aware of false promises – while most companies are highly professional, there are a handful that might tell you that you'll be able to enjoy swimming or diving in the cave, which, as we mentioned before, is not possible as it's dangerous and forbidden by law. The actual visit to the Blue Cave isn't managed by any tour agency, but by the concessionaire who limits stays inside the cave to 15 minutes.
While one might think, the more the better, that's not necessarily the case. If too many destinations are included in the itinerary you won't really have time to enjoy them. Some companies operating out of Split might try to squeeze in more stops in an attempt to differentiate from others, but five, such as the Blue Cave, Stiniva Beach, the Blue Lagoon, Paklenski Islands and Hvar, tends to be the best number of stops for getting the most out of each place that is visited. When more are added, that means less time to soak it all in, enjoying the scenery and swimming in those enticing blue water, and more time on the boat traveling from place to place.
Be sure to ask what is included in the Blue Cave tour. Because it's a long day out, 12+ hours, you'll want to stay dehydrated so having bottled water included can be a big benefit. If you'd like to be able to see clearly under the water rather than swim on the surface, you'll probably want to have access to snorkel gear too, if you're not already travelling with your own which can be a hassle.
There are some unique and especially breath-taking bays and beaches for snorkelling throughout the journey and having the necessary gear will enhance the experience that much more. Depending on the month you'll be visiting, and the weather, temperatures can get a bit chilly, especially during the early morning hours when the tour begins, and in the late afternoon/evening when making the return.
A tour that includes wind jackets will mean you can be sure that you'll be comfortable, and you'll have more room in your own backpack too. Other considerations include hotel pickup and drop-off, the entrance fee to the Blue Cave, and the proper insurance, which is an absolute must.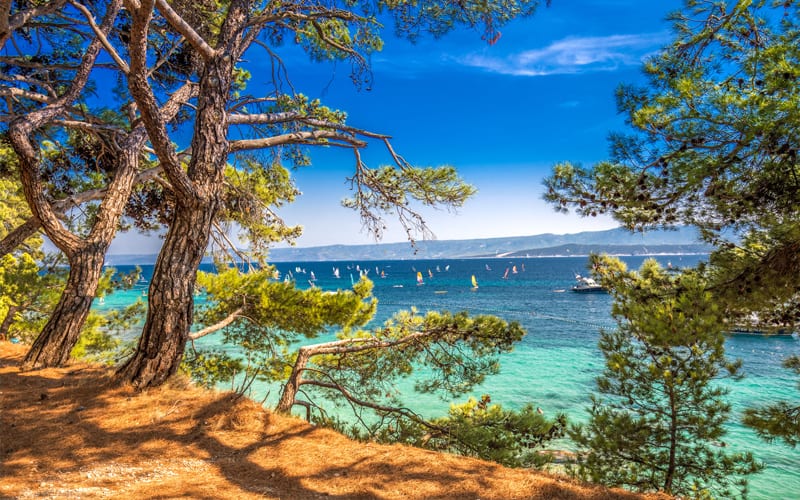 Everything Else You Should Know About a Blue Cave Croatia
Following these tips, in addition to the advice offered above, will increase the odds of a positive, unforgettable tour from start to finish.
Book in advance
We highly advise that you book your Blue Cave tour in advance to ensure availability and avoid a potential untrustworthy "tour organizer." Don't buy tickets on the street anywhere as you could end up in an uncomfortable and/or unsafe situation.
Protect your electronic equipment
To protect any sensitive electronic equipment like your smartphone and camera, put it inside of a waterproof "dry" bag. There are many different, inexpensive types available, all of which can save you from having your pricey gear damaged.
What to bring
We highly recommend bringing sunscreen without biologically toxic chemicals that can harm the sea or marine life such as sunscreen with non-nano titanium dioxide or one that is zinc based rather than containing oxybenzone and octinoxate. Sunglasses and a hat that can be secured to prevent it from blowing off; a bathing suit and towel are also advised. You may also want to bring a change of clothing and some cash for purchasing drinks, snacks and/or meals.
Where to eat
There are opportunities to soothe hunger pangs throughout a Blue Cave tour. With a stop to the Blue Lagoon, you'll have access to a small restaurant, run by the only person who lives here on Budikovac Island, featuring dishes made with organic ingredients. There is also a beach bar and restaurant to enjoy a bite to eat while visiting the Paklenski Islands and Hvar hosts a wealth of dining options from eateries serving authentic Dalmatian cuisine to upscale gourmet restaurants with diverse menus.
While the island of Bisevo may be tiny and very remote, the opportunity to visit the Blue Cave and witness a truly out-of-this-world natural phenomenon is something that every visitor to Croatia should take advantage of. Clearing the dark corridor as the magic of the interior presents itself with its many shades of blue and silvery sea bottom, is a moment you won't soon forget.
Cancellation Policy
Tickets can be cancelled up to 24 hours in advance of your tour date and time to receive a full refund of your money. For example, if you book a tour on July 7, 2020 departing at 7:30 a.m., you will have until 7:30 a.m. on July 6, 2020 to cancel. All clients have the right to cancel their tour with a minimum of 24 hours' notice before the tour begins, and the right to a 100% refund of the amount that was paid, although we appreciate further notice whenever possible.
We monitor the weather conditions 24/7, however, Mother Nature can be unpredictable at times, occasionally causing unexpected situations that may result in cancellations within 24 hours of the start of the tour. That may include extreme weather or other extraordinary circumstances that could not have been avoided or foreseen, or incidents that occur suddenly.
If such situations result in the cancellation of a scheduled tour, our valued clients have several options: Clients may accept a new departure date, replacement package/excursion of equivalent or similar itinerary, or receive a full refund of all money paid. Before all else, your experience and safety are our primary concerns.