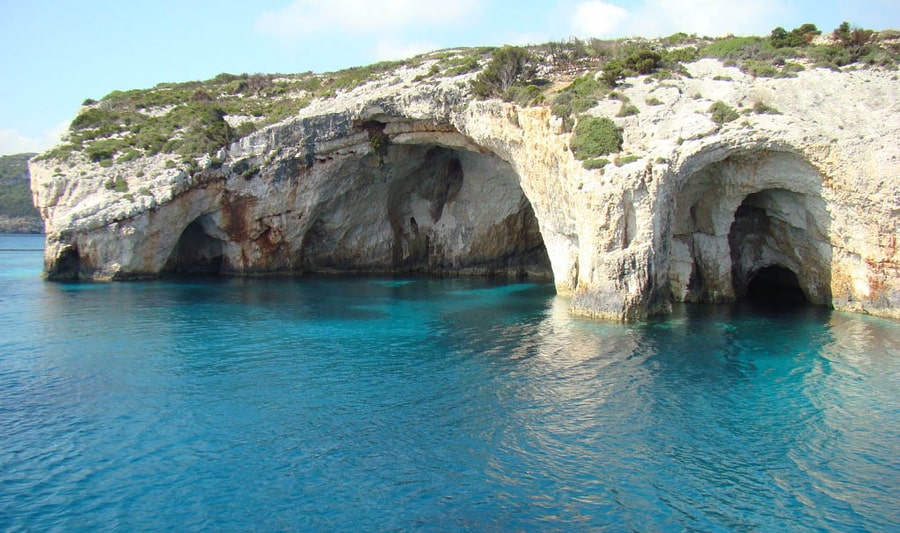 While many people talk about the Blue Cave tour, and it is spectacular, the Green Cave in Croatia is not only larger, but here you can also experience the unique opportunity of swimming or snorkelling inside. Its name was derived from the emerald hue that fills the interior, the result of sunlight beaming through a small hole in the ceiling that was carved out during one of the wars.
You'll be mesmerized by the stalactites which hang from the interior's roof as you hear the chatter of the birds that shelter here. More daring visitors can also climb atop the large entrance and leap down into the water. According to local legend, by diving beneath the beam of light that appears and passing through it, you'll live for 100 years.
While the Green Cave may not be as well-known as the Blue Cave, it's certainly worth a visit take in its magnificent beauty with its stunning and unique green light effects.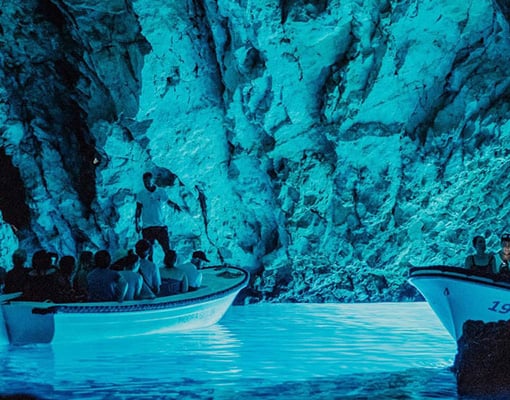 #1 Island Hopping Day Trip From Split, Croatia
Visit the Blue Cave and some of Croatia's most stunning islands and incredible natural wonders.
Where is the Green Cave Croatia?
The Green Cave is located on the south-west side of small, uninhabited island of Ravnik. It's just a short distance from Vis Island, renowned for offering a slice of the Mediterranean as it once was having been closed off to the public for 40 years while used as a strategic military base.
As the Green Cave is often visited as a part of private boat tours that means you can request stops at other destinations too. Vis is easy to include as part of the itinerary. The island boasts some of the most beautiful beaches in Croatia, like Srebrna, perfectly situated on the southeastern coast with pine trees for shade and clear, brilliant turquoise water for swimming.
Nearby Teplus is even closer to the Green Cave almost directly opposite, sitting at the foot of the small fishing village of Rukavac. From here you'll have a fabulous view of Ravnik Island and clear, calm shallow blue waters to splash around in.
Stiniva Cove is also a popular option just a bit further away, home to Stiniva beach which has been named Europe's best, with its pebbly shores and stunning aquamarine water enclosed by high cliffs.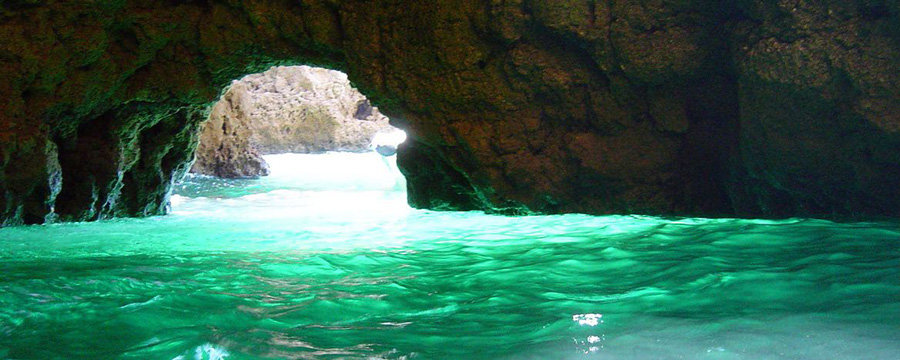 What You Can Expect with a Visit to the Green Cave
As mentioned, as opposed to popular Blue Cave, you'll have the opportunity to swim and snorkel in the Green Cave while witnessing that incredible emerald glow. While immersed in this underwater world, using snorkeling gear that's typically provided on a tour, you'll be able to see that beam of light that reflects from the sea bottom creating a magical scene.
By bringing an underwater camera you can capture fantastic photos to share with your family and friends back home. The visibility is impressive, with schools of colorful fish often coming into view.  If you're particularly adventurous, you may even be able to jump from the top of the cave into the enticing sea below.
Whether you decide to make the leap or not, as the boat departs, you'll likely see a few others jump which makes for some great photos too.
Food and Drink
While you can bring snacks along with you, if you're on a private tour you may be able to take advantage of one of the taverns and other eateries on Vis. Peruka is the only tavern in Stiniva Cove and an ideal place for a refreshing beverage and lunch while surrounded by the unique and spectacular scenery.
Or, if you visit Rukavac, the Diamond Beach Lounge Bar/Fish & Wine House offers delicious fresh grilled fish, seafood, and other items along with ice cream, cocktails, wine, and beer, all enjoyed with a breathtaking view.

When to Visit the Green Cave Croatia
As one of the most popular destinations for sailing, cruising, and all sorts of boat tours, most visitors to Croatia arrive when the weather is generally best, between April and September, with the peak of the season in July and August. These months typically bring hot, sunny days with sea temperatures of around 24°C/75°F, ideal for swimming.
The best time to visit the Green Cave is generally from mid-June through early September, but you'll want to keep in mind that this period also brings the biggest crowds of the year. While it's still a magical experience to be able to swim and snorkel in the vibrant green waters surrounded by such magnificent scenery.
If you want to avoid the crowds and enjoy a very good chance for dry, sunny weather, you might want to plan your visit in late May or around mid-September. If you arrive earlier or later, there's a greater risk of winds that can result in powerful waves that make it impossible to enter the cave.
Another reason to come in May or September is that these months are considered to be part of the shoulder season. That means exploring other top sights and strolling cobbled streets in the medieval villages and cities will be more enjoyable without having to navigate thick crowds.
Your airfare might be cheaper, and you may be able to find discounted room rates too. If you do plan your visit during the peak of summer, it's a must to book your accommodation and experiences in advance, including a trip to the Green Cave.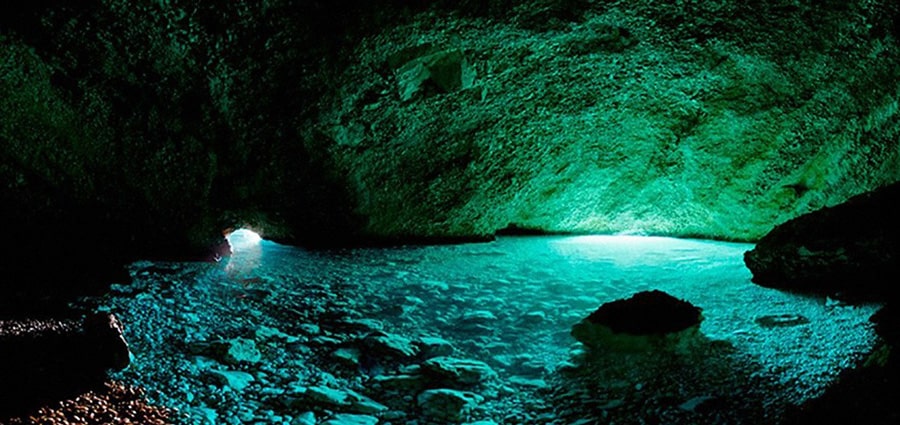 Safety and the Green Cave Croatia
As with anything, it's important to choose a reputable company, not only to ensure a good time, but a safe one. You'll want an expert captain and experienced guide that will instruct you as to how to use safety equipment on board the vessel and the safest way to embark and disembark.
Safety should always be the utmost consideration in every aspect of any boat tour. By reading through reviews, you'll get a good idea as to the knowledge and expertise of the crew you'll be going out with.
Of course, some people also have concerns about what's under the water's surface before going beneath. The Adriatic Sea is considered very safe for swimming and snorkeling, but if you're walking on a sandy sea bottom you will want to watch out for sea urchins, which look like small, spiky balls.
Try not to step on them, as the spikes can penetrate your skin, making it painful to walk. You can prevent a potential injury altogether by wearing water shoes which are great for protecting your feet.
Where to Stay for a Trip to the Green Cave
While it is possible to reach the Green Cave from other locations, Spit is one of the most convenient. You'll have multiple options from here while also enjoying the opportunity to visit the many attractions in this ancient city, birthed with Roman emperor Diocletian decided to build his retirement residence here.
Today, the 4th-century Diocletian's complex is home to some of the most well-preserved Roman architecture in the world, with many buildings converted into restaurants, cafés, wine bars, art galleries.
It's the hub of life in Split, as is the adjacent seaside promenade known as the Riva, where people watching is a popular pursuit. There are many sidewalk cafes for sipping coffee or wine, enjoying what the locals call 'fjaka,' the art of doing nothing. It's a state of mind where time stands still, and all worries fade away so that you can simply enjoy the moment.
There are several museums worth visiting too, like the Archaeological Museum, the oldest of its kind in Croatia, opened over 200 years go. It showcases thousands of artifacts that date from prehistoric to medieval, Roman, Greek, and early Christian periods. Some items, like an Egyptian sphinx statue, were taken from the emperor's palace itself.
There's even a very impressive warrior's helmet that someone managed to stay fairly well intact despite dating from 400 BC. There are plenty of beaches for sunbathing and swimming, and you can get an incredible view over it all from Marjan Hill which overlooks the city, nearby islands, and the sea from nearly 600 feet above.
How to Visit Green Cave
By basing yourself in Split, you can easily join a private boat tour that will take you to the Green Cave Croatia. A customized excursion, you'll get an expert skipper, a boat, and the fuel to basically go wherever you want to go, including the Green Cave.
By taking advantage of this option, after enjoying its beauty, you might choose to spend time on some of those gorgeous beaches on Vis Island. Decide which one sounds like it will appeal the most based on the advice of your skipper/guide.
Perhaps you'll sample some traditional Dalmatian cuisine for lunch and enjoy some other activities too. While your skipper will offer insider knowledge to help you make the most of the experience, you won't have to stick to a set schedule, or worry about the needs and wants of another group onboard.
Along the way, you might spot a pod of dolphins, and as you'll be on your own private boat tour, you can decide to hang out awhile, enjoying plenty of time to capture photos. Of course, the boat ride itself is part of the fun adventure, surrounded by the sparkling blue waters while passing islands like Ciovo with its little 16th-century church.