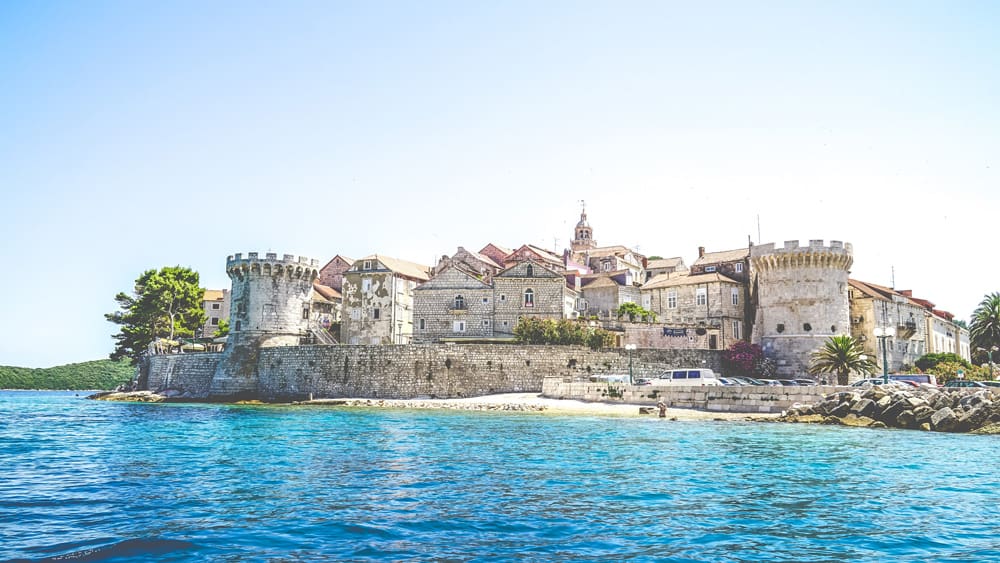 While Split is one of the most enchanting cities in Croatia, with everything from 4th-century Diocletian's Palace, home to some of the most well-preserved Roman architecture in the world, to beautiful beaches and lively nightlife, there are islands nearby that you won't want to miss either.
While you could take an island-hopping cruise, there are some outstanding options for boat trips from Split that can easily be done in a day. Many include stops for swimming and snorkeling, not to mention the scenery that can be enjoyed along the way.
With everything from crystal-clear blue waters, fragrant pines and secluded coves to fascinating history and tasty cuisine, when making your plans, be sure to include enough time to explore the ancient city and take at least one of these unforgettable boat trips.
8 Boat tours from Split, Croatia you don't want to miss in 2023:
1. Blue Cave boat trip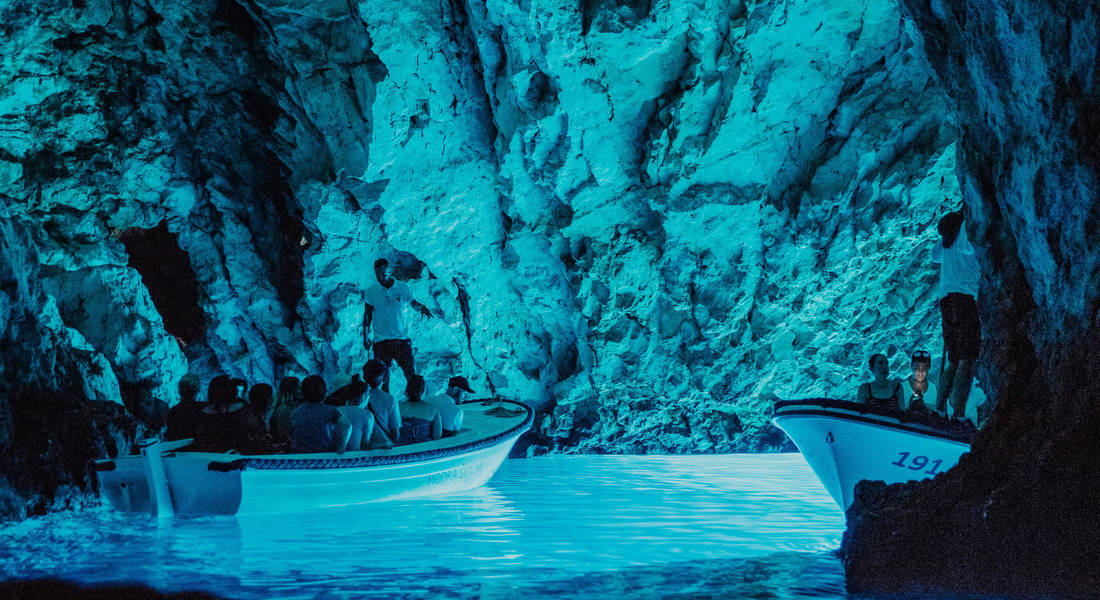 The Blue Cave is one of the most popular boat trips from Split. Located on Bisevo Island, just 44 nautical miles away, it takes about 75 minutes to reach bringing time to enjoy the incredible Adriatic scenery along the way.
This magical natural wonder can only be experienced by taking a tour, with your admission fee typically included in the cost. Once you arrive, you'll hop onto a smaller vessel that can travel through the narrow entrance of the cave to witness an incredible display.
When conditions are just right, the sunlight beams through a crack in the roof of the cave and reflects on the white limestone sea bottom. At that moment it becomes illuminated in a surreal blue glow with the particular shade ranging from a brilliant pale hue to a deep sapphire depending on the time of day.
It's always open, but boat trips to the cave only operate between April and October in order to ensure sea conditions are right. While the optimal time to come is from around mid-June to early September, a visit in late May or mid-September often means fewer crowds and pleasant weather.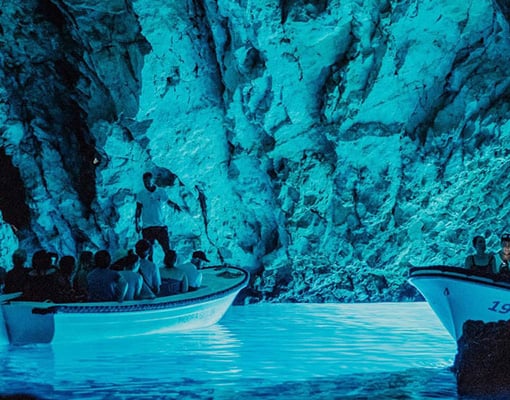 #1 Island Hopping Day Trip From Split, Croatia
Visit the Blue Cave and some of Croatia's most stunning islands and incredible natural wonders.
2. Blue Lagoon boat trip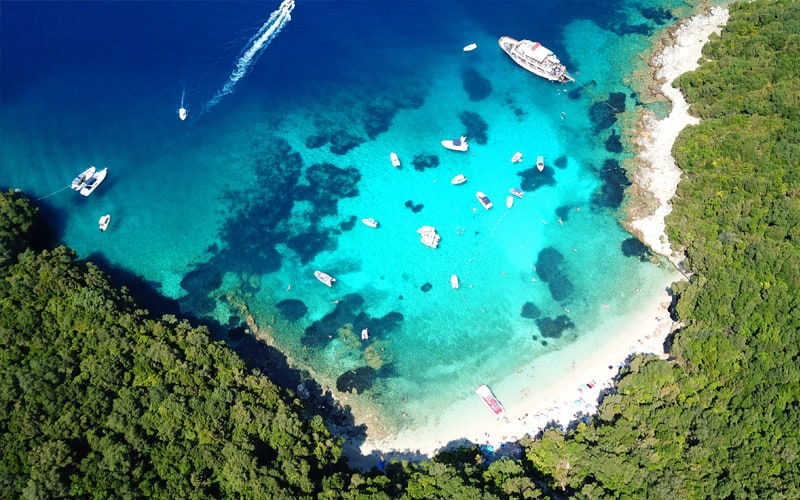 A boat tour to the Blue Lagoon is the perfect way to spend the day soaking up the sea and the sand. One of the dreamiest destinations in Croatia, this is a place that postcards were made for, a hidden slice of paradise.
You'll have plenty of time to snorkel or swim in some of the clearest turquoise waters you'll ever see, in fact it looks as if it were stolen from the Caribbean and dropped into Croatia. When you're ready for a break there is a restaurant/bar where you can sip a refreshing beverage, perhaps a cold beer or a tasty cocktail, along with delicious Dalmatian fare.
The ride to get there takes about 45 minutes from Split, with plenty of magnificent scenery to take in on the way. Your expert skipper will point out some of the sights like Ciovo Island and its 16th-century church.
Keep a close watch for dolphins too as sightings are frequent thanks to the remarkably clean and clear sea that draws the animals here. They might even play right alongside the boat. If they make an appearance a short stop is likely to be made for capturing photos too. It's easy to understand why the Blue Lagoon is one of the most popular boat trips from Split.
3. Hvar, Brac, & Paklinski islands boat trip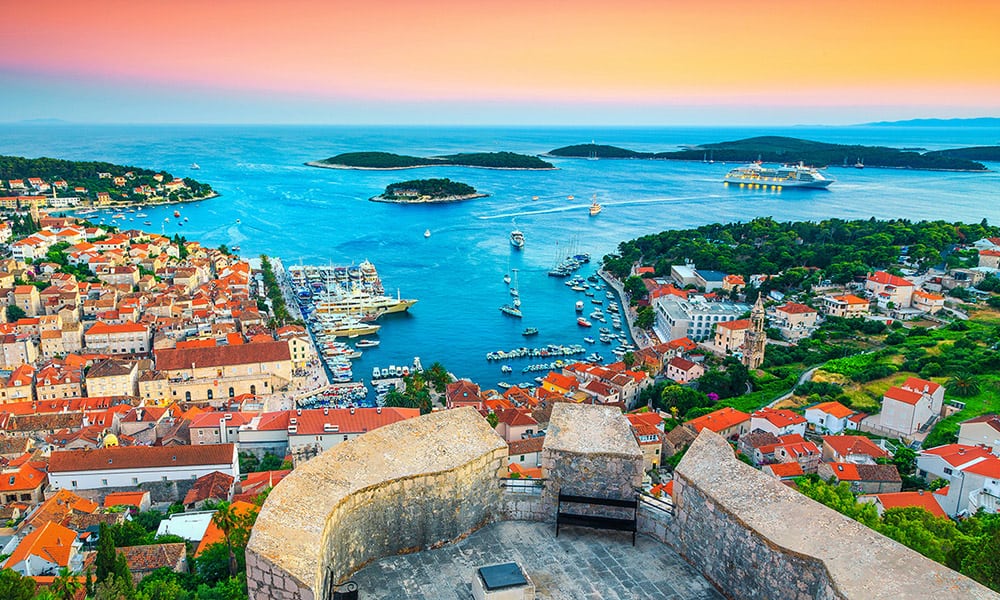 One of the top island-hopping tours, a boat tour to Hvar, Brac, and the Paklinski islands is an ideal itinerary that allows you to take in three islands in just a day with time for swimming, snorkeling, and sunbathing on idyllic Dalmatian beaches, along with some sightseeing too.
It begins early in the morning, a fabulous time to be out in the water soaking up the incredible beauty and Mediterranean sun with few others around. Brac is often the first stop as it's the closest to Split and home to what's often named one of Europe's most beautiful beaches, Zlatni Rat, otherwise known as the Golden Horn.
It's shaped like a horn, jutting out into the vibrant turquoise sea for nearly a third of a mile, the perfect place for swimming and snorkeling, or to just relax and admire the jaw-dropping beauty. Boats usually anchor on its southern side at the hilly town of Bol, known for its ancient monastery and Venetian homes.
Journey to Hvar, one of Europe's sunniest islands, known for attracting plenty of VIPs and celebrities with its fine dining restaurants, iconic beach bars, and buzzing nightclubs. It also boasts spectacular landscapes with golden beaches, vineyard-covered hills and lavender fields. Historic sites are many too, like St. Stephen's Cathedral and the oldest public theater in Europe, dating back to 1612.
A medieval fortress looms above it all, providing a panoramic vista over the yacht-filled harbor, the sea, and nearby Paklinski islands. These hidden emerald treasures are dazzling to behold with the striking contrast against the brilliant blue sea, and they also boast some incredible beaches for swimming and snorkeling. Your skipper will be sure that you have time to enjoy them before making the return to Split.
4. Korcula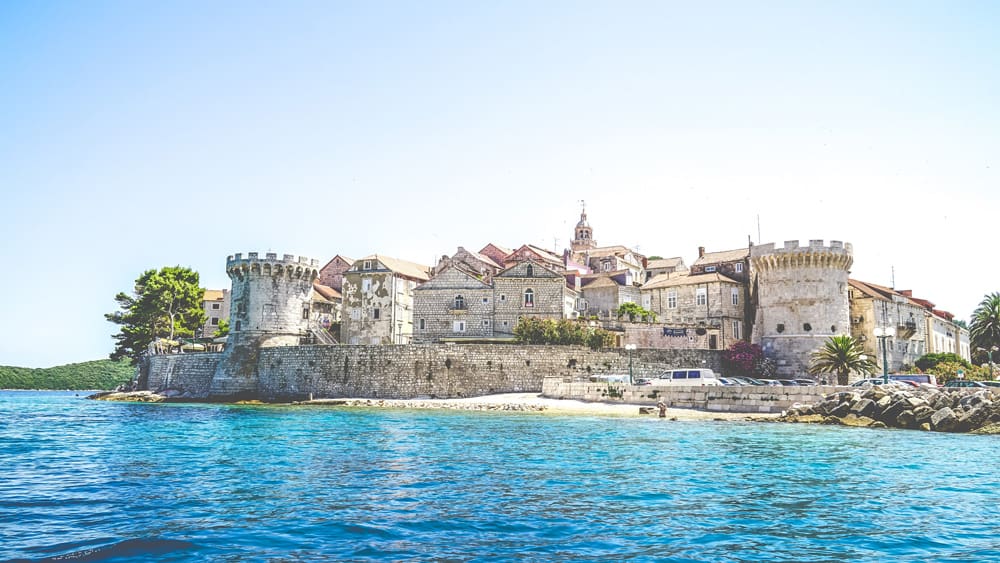 Korcula is just 20 miles long and four to five miles wide, but it packs a punch as one of the most enchanting islands in Croatia. Only 41 nautical miles from Split, a boat trip can easily take you here for the day. There are frequent departures between April and October, typically leaving early in the morning and returning in the evening. It's home to everything from a fairytale-like walled town to charming villages, sandy beaches, olive groves, and vineyards.
It's also said to be the birthplace of international explorer Marco Polo. Old Town Korcula, sometimes called a "mini-Dubrovnik" thanks to its many medieval delights, is surrounded by 13th-century stone walls with imposing gates, towers, and ramparts. Once controlled by the Venetians, you'll see plenty of glimpses of its past as you wander the labyrinth of atmospheric streets and narrow alleyways.
You can visit the Marco Polo House which now serves as a museum, pop into the unique art galleries and family-owned boutiques and enjoy dining one of the traditional tavernas. Wine tasting can be enjoyed too – in fact, Korcula is considered to produce some of the best wine in Croatia.
And, during the summer months, you may be able to catch a Moreska sword dance performance. For a bird's-eye view over it all, head to the top of the Land Gate or climb to the top of the bell tower at St. Mark's Cathedral. It's also possible to rent a car or scooter and visit other places like the fishing village of Racisce or get active by kayaking along the shore.
5. Vis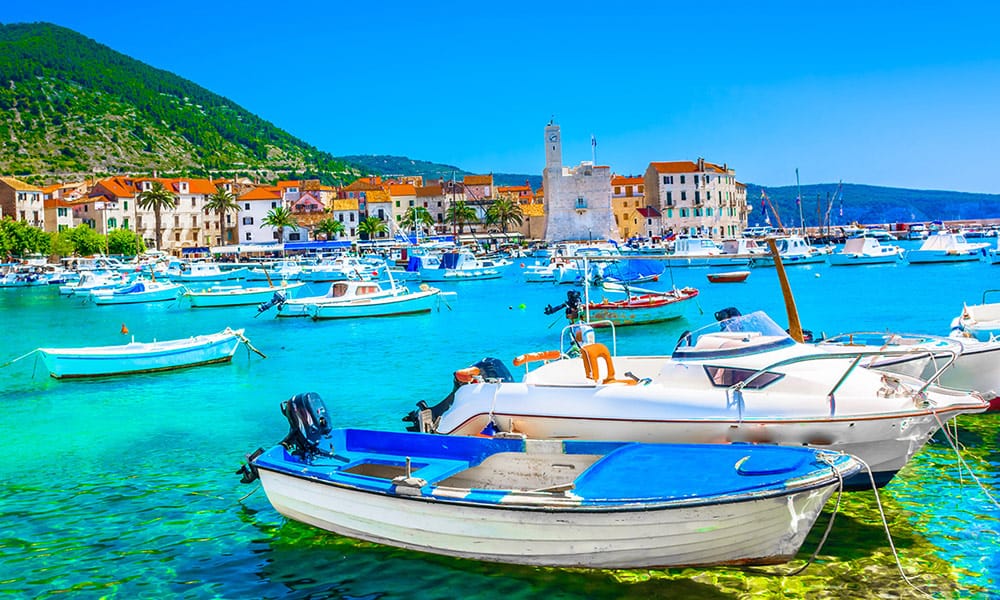 The furthest island from Croatia's central coast, Vis is one of the most unspoiled islands having been closed to the public for some 40 years while serving as a Yugoslav military base. That prevented it from becoming too developed, making it an especially tranquil destination for those who want to experience an authentic Croatian island.
Discover calm secluded bays and postcard-perfect beaches that offer outstanding snorkeling in clear aquamarine waters, like Stiniva Cove where you might even swim right next to some bottlenose dolphins or loggerhead turtles.
Vis Town is the major destination here, so you'll likely arrive into this harbor when taking a boat trip from Split. Here you can stroll along the picturesque waterfront and through the stone streets with magnificent Venetian architecture, stopping to browse the shops or enjoy a meal in one of the cafes. Restaurant menus often serve fresh, local seafood that pairs perfectly with the island's popular wines like Vugava and Plavac.
The City Museum, housed in a 19th-century fortress, is filled with archaeological treasures, including the country's largest collection of Hellenistic artifacts. The highlight is an extraordinary 4th-century BC bronze head of the goddess Artemis, but you'll see ancient Greek pottery, sculptures, jewelry, and relics retrieved from shipwrecks.
6. Solta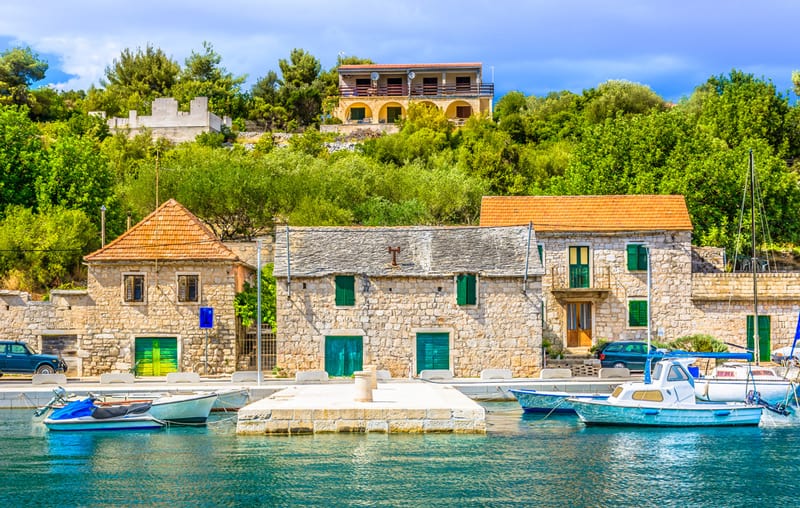 The boat trip from Split to Solta won't take you longer than 30-minutes, Solta is easily reached with frequent connections. Less developed than many of the other Croatian islands, it's an oasis of unspoiled nature, with uncrowded beaches framed by a crystal-clear blue sea. It also boasts rich history and culture, with plenty of fascinating sites to explore, like the ancient ruins of sarcophagi, the prehistoric Gradac fortress, and centuries-old churches.
You can even learn the art of making honey, olive oil, and wine on one of the family-run farms. In the main settlement of Grohote you might even make your own jar of honey, the perfect souvenir to bring home. If you're want to learn about Solta's olive oil making tradition, take a private tour of Olynthia Olive Mill to witness how the olives are pressed and taste the results.
Those who want to get more active might rent a bike and explore. Or simply spend the day enjoying the peacefulness of the island, sunbathing and swimming with the aquamarine waters of Tatinja Bay sheltered from the wind.
7. Mljet boat trip from Split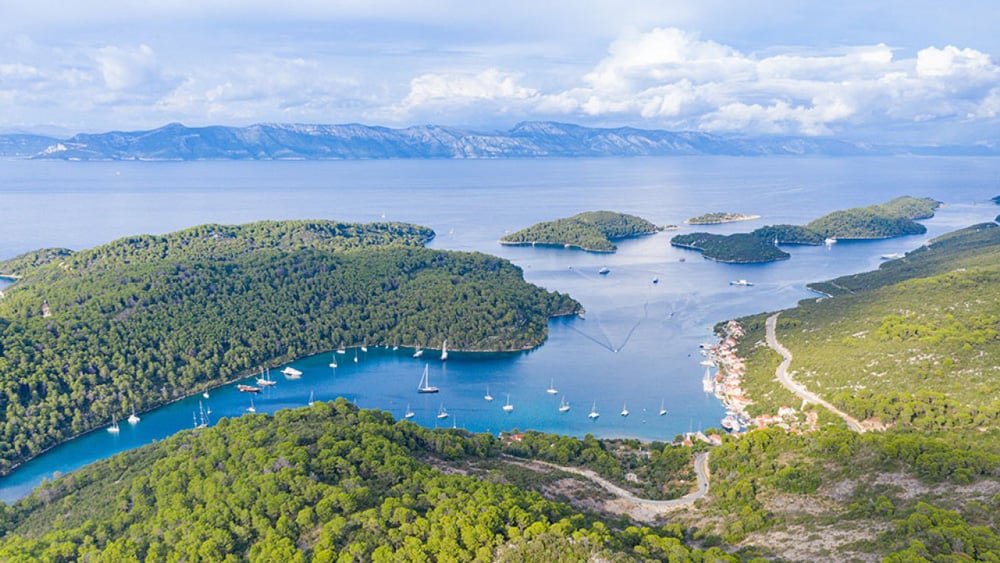 One of the greenest islands in Croatia, Mljet is popular yet it manages to retain a tranquil feel for a wonderfully unspoiled experience, something that's said to have seduced Odysseus for many years. Most of it is covered in dense forest, with a significant portion declared a national park, known for its saltwater lakes that range in shades from turquoise to emerald. There are vineyards, sandy shores, and quaint villages to explore along with an interesting history.
Discover a majestic Roman palace, the largest after Diocletian's Palace in Split, as well as fortifications and tombs. One of the favorite things to do here is to visit Mljet National Park which covers a third of the island in its northeastern region.
The forest is home to mongoose, which were brought here to get rid of snakes. In the middle of Great Lake there's a tiny islet home to a 12th-century Benedictine monastery that can be reached by a boat that makes hourly trips. Or rent a kayak and enjoy the scenic paddle along the way.
By renting a scooter, you can ride to the gorgeous bay at Prozurska Luka which few tourists visit, enjoying lunch and a picturesque view at a restaurant in the tiny hamlet of Prozurska that sits just above. Be sure and sample some of the wine, Plavac, a red varietal, and Marastina, a white which perfectly complements the cuisine.
8. Sibenik Archipelago and Krka Waterfalls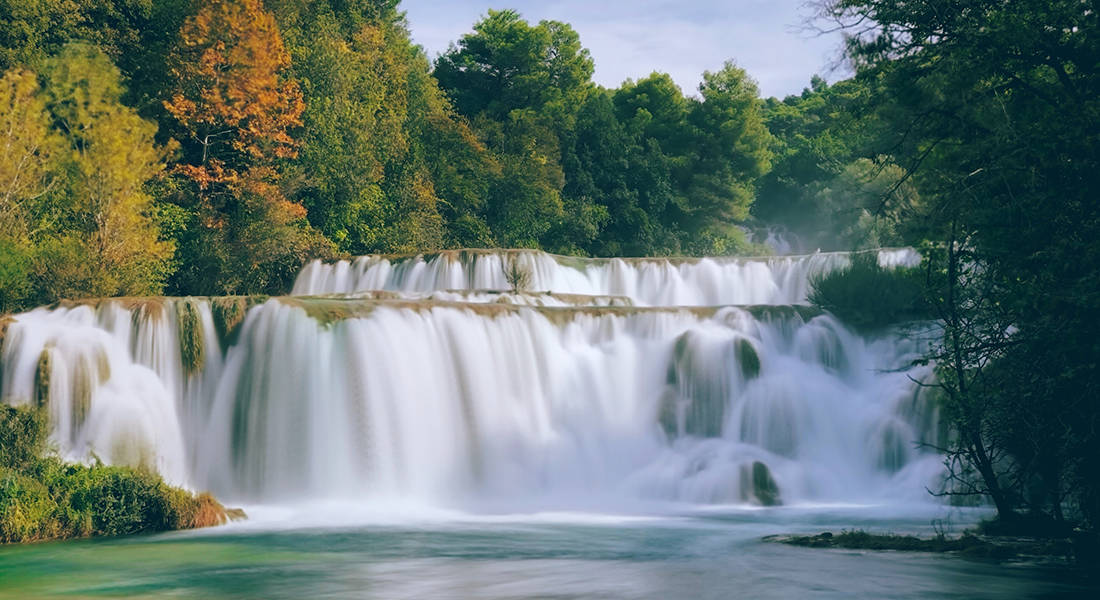 A boat trip can also bring you to discover the magnificent waterfalls in Krka Falls National Park and the idyllic Sibenik archipelago. You might stop in Primosten, perfect for fueling up with coffee and enjoying a walk through the narrow streets with their stone houses. Take in the views of the 16th-century St. Nicolas fortress, one of the Adriatic's most important naval monuments, while cruising through St. Anthony Channel.
You'll have the opportunity to visit the beautiful walled city of Sibenik which dates back over a thousand years, home to one of the largest and most important cathedrals in the region, the Gothic-Renaissance Cathedral of St. James. It's also a popular base for exploring the park and its mesmerizing falls. By cruising to the mouth of the Krka River and up the river itself, you'll be surrounded by incredible scenery the entire way, so you'll want to have your camera ready.
The stunning park is home to abundant flora and fauna along with glorious falls like Skradinski buk, the highest in the Mediterranean. It plunges for nearly 151 feet providing an awe-inspiring sight. Visitors can even enjoy a serene swim in pool at the bottom – bring your bathing suit to enjoy the opportunity.
A customized trip can also take you to the nearby islands of Tijat and Zlarin, the latter of which is car-free for an especially tranquil atmosphere complete with pine trees and enticing beaches. Tiny uninhabited Tijat has a chill, laid-back atmosphere and sparkling bays that are ideal for anchoring. It hosts a popular beach bar where you can enjoy ice cream or a cocktail – the iced coffee, an alcoholic version, is often raved about.