Split is a fascinating city that dates to the late 3rd- and early 4th-century, when Roman Emperor Diocletian the site would make for the perfect retirement residence. It's jam-packed with historic landmarks, including some of the world's most impeccably preserved Roman architecture as well as offering a mouthwatering culinary scene and beautiful beaches.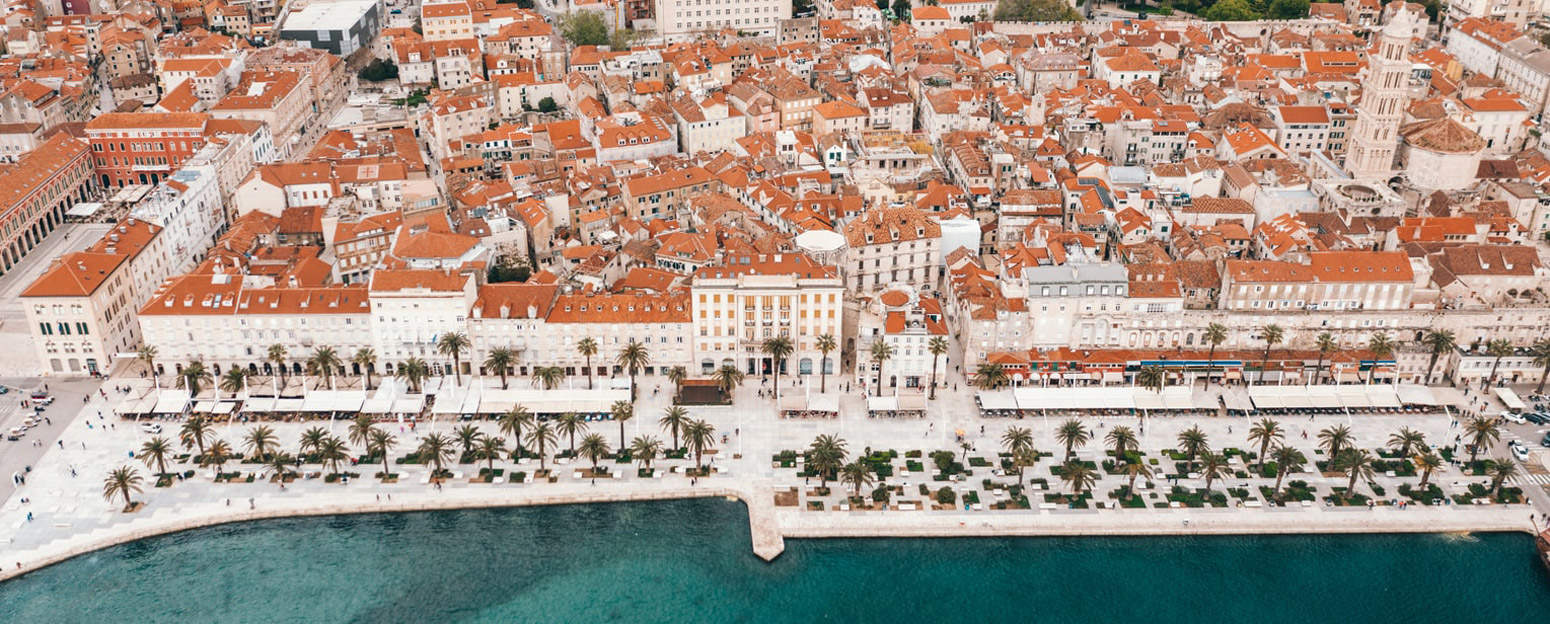 While you'll have plenty of things to do and see right here, you might want to consider visiting some other places nearby, or even taking some of the island hopping tours available.
As this ancient city is a popular transport hub for all of Dalmatia, it makes one of the best starting points for everything from short day trips to all-day adventures. These are some of the very best options to consider for your itinerary, with everything from national parks to magnificent medieval cities.
12 Best places to visit near Split, Croatia in 2023
1. Blue Cave on Bisevo Island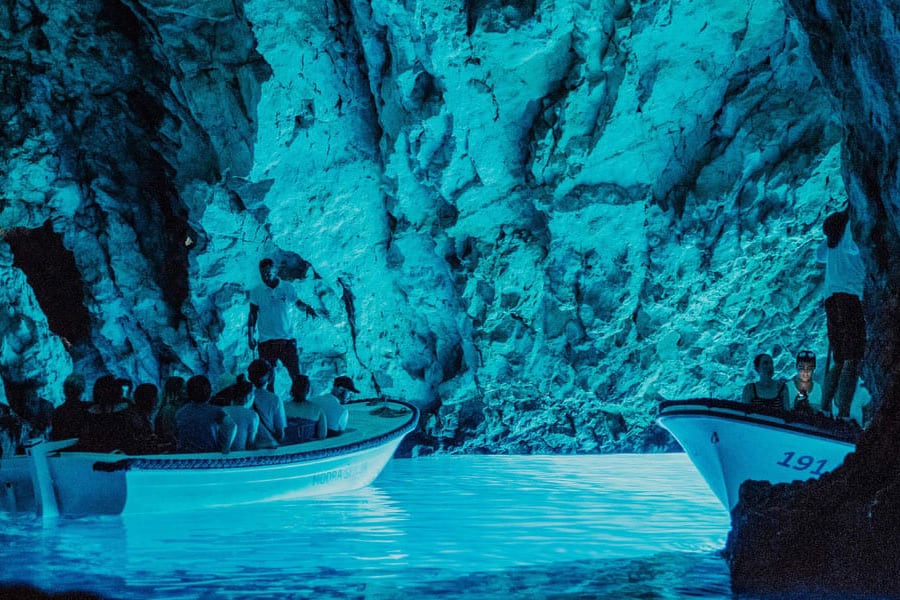 One of the must-visit destinations from Split is the Blue Cave on Bisevo Island. While it's challenging to reach on your own, there are boat tours that can get you there in just 90 minutes, with the ride enjoyable on its own.
You'll be surrounded by the sparkling blue Adriatic water, enjoying the salty sea breeze and the feel of the sun on your skin during the 90-minute journey.
The sea grotto is one of the region's most famous spots of natural beauty and one of the most popular show caves. Once you get there, you'll hop in a smaller boat that can cruise through the entrance, allowing you to witness one of Mother Nature's most remarkable wonders.
Like magic, when the sun's rays enter the interior through a crack in the roof, they reflect off the limestone seabed, illuminating the cave in a surreal blue/silvery glow.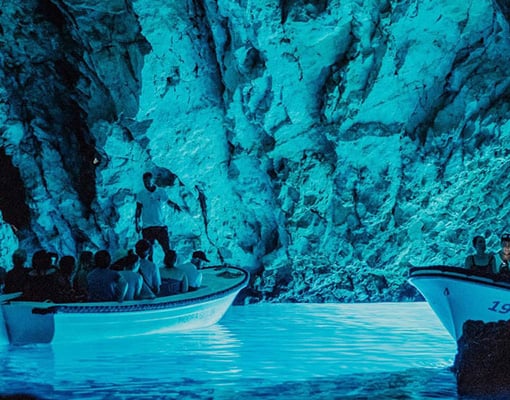 #1 Island Hopping Day Trip From Split, Croatia
Visit the Blue Cave and some of Croatia's most stunning islands and incredible natural wonders.
2. Blue Lagoon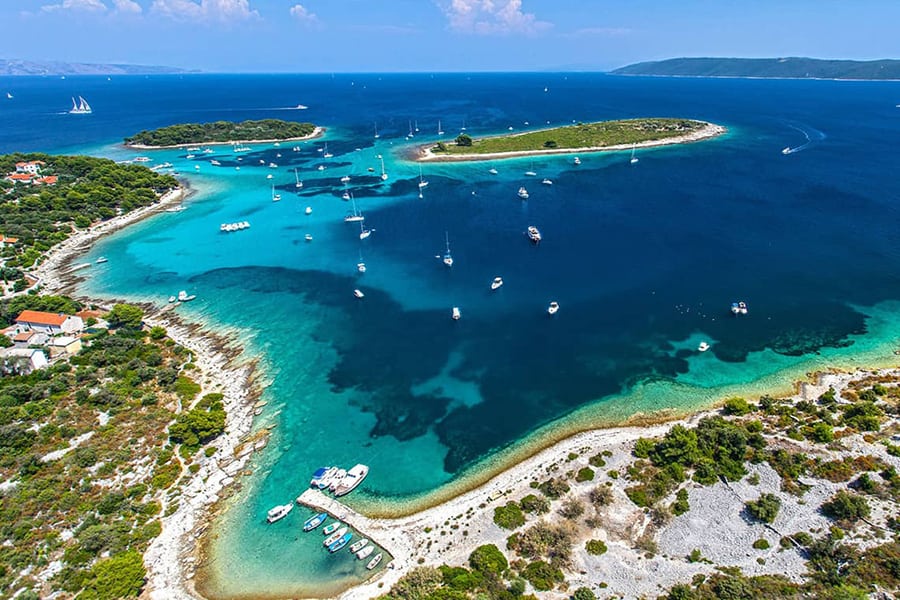 The Blue Lagoon is just a 45-minute boat ride from Split, located on the island of Veli Drvenik. A tour can bring you to see its dreamy, strikingly clear turquoise waters with the remarkable visibility making for outstanding snorkeling, with your gear included.
Along the way, enjoy the view of Ciovo Island and watch for dolphins that often follow in the wake, playfully leaping right alongside the boat to the delight of passengers. Once there, you'll be immersed in paradise, with fine, soft white sands that gently roll into the calm, shallow sea.
When you're in need of a drink or a bite, there's a bar/restaurant that serves Dalmatian fare, cold beer, cocktails, and more.
3. Trogir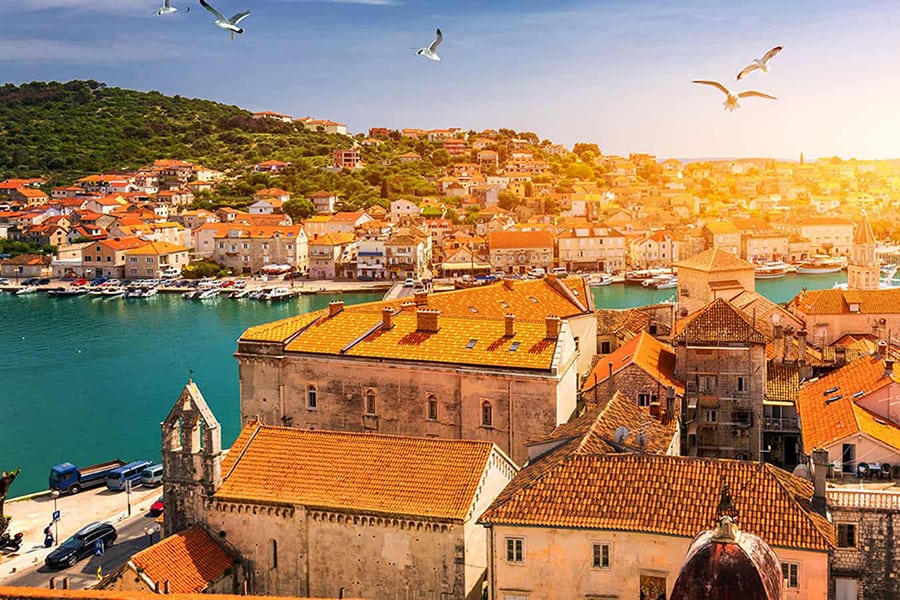 Located less than 30 minutes from Split, Trogir sits on a small island that's linked to the mainland by a bridge. Even if it was much farther away, it would be worth visiting, but for those on the limited time, it's arguably the best option for venturing from Croatia's second-largest city.
Enveloped by centuries-old defensive walls, it's a UNESCO World Heritage Site, listed as a fine example of a medieval town, confirming with the layout of a Roman and Hellenistic city while conserving its urban fabric to an "exceptional degree."
The old town has managed to retain many beautiful, well-intact Romanesque and Renaissance buildings from the 13th- to 15th-centuries. Highlights include the Venetian-built Kamerlengo Castle/fortress and the Gothic- and Renaissance-style Cathedral of St. Lawrence which can be climbed for a breathtaking view. There are grand palaces, impressive towers, monasteries, and stone homes too.
4. Sibenik and Krka National Park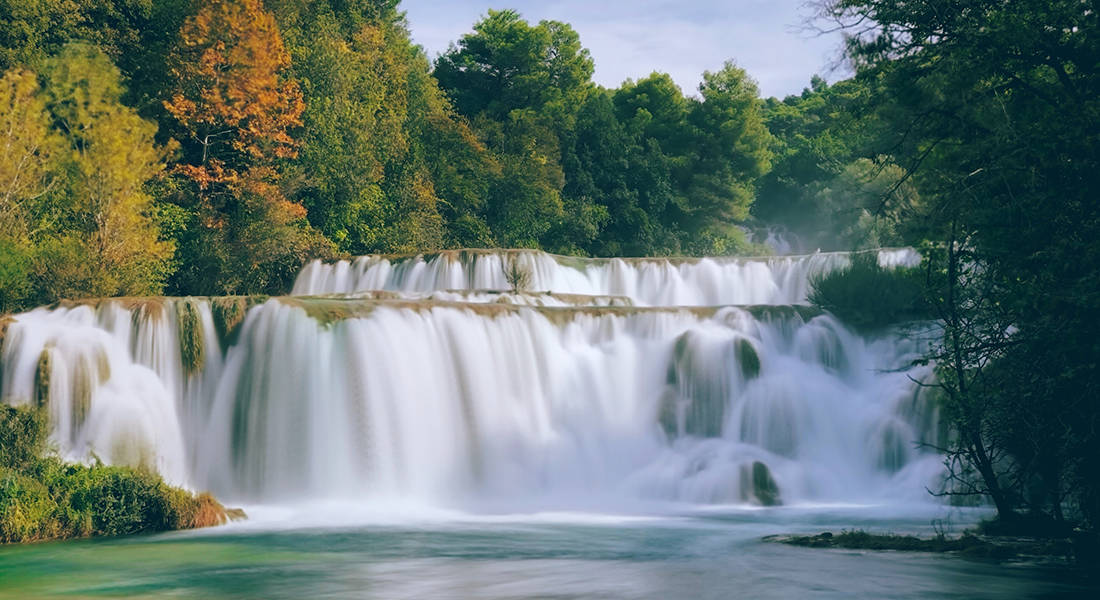 Just an hour from Split, it's easy to visit Sibenik. As it's the gateway to Krka National Park, visiting both makes sense for a full-day out or even just a half-day trip. The ancient city was founded more than a thousand years ago and it hosts the region's largest and most important cathedral, the Gothic-Renaissance St. James Cathedral. Made of stone, it includes over 70 different sculpted faces and was constructed over the 15th- and 16th-centuries.
The Sibenik City Museum is nearby, set within the 14th-century Prince's Palace. It showcases the city's history from prehistoric times to the present. St. Michael's Fortress is a medieval for stands over it all from a steep hill above the historic center, providing views of the bay and nearby islands.
Just outside of Sibenik, Krka National Park lies along the Krka River and is renowned for its waterfalls, with Skradinski Buk the most famous. It's a series of cascades that span more than 2,600 feet, plunging into emerald water below.
One of the best ways to experience it is to hike the trails. The 1.2-mile-loop Skradinski Buk route meanders in and out of the trees with short side trails offering various perspectives of the falls. Bring your bathing suit on a warm day for a refreshing dip.
5. Omis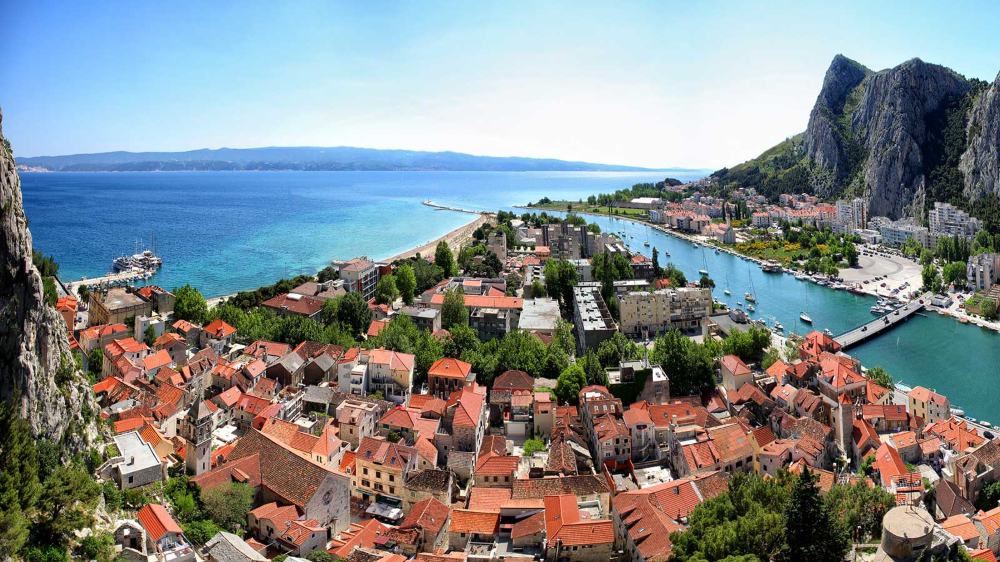 Located where the Adriatic meets the Cetina River, less than 35 minutes from Split, Omis is a small town and port that's often overlooked, but it's a historic gem with a wealth of possibilities for outdoor adventure and fun.
Discover traces of its ancient wall with a secret passage, a Turjun fort, an Illyrian seminary, and the 10th-century Church of St. Peter. While the town is tiny, the views from its fortresses are worth the visit alone.
Omis is also a great place for off-road cycling, zip-line rides, hiking, and kayaking. There are some fabulous sandy beaches nearby, and in July, it hosts a famous acapella festival.
6. Solta Island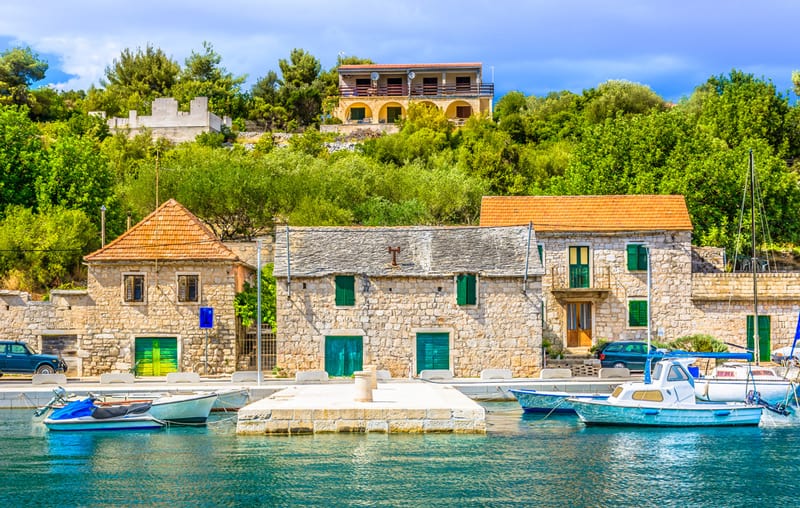 Solta is an unspoiled paradise, spared from too much when it comes to development despite being just a 30-minute ride on the fast ferry from Split. It offers popular spots for diving, a prehistoric fortress, the remains of an ancient sarcophagi, and even the ruins of a fish market in Piskeri Bay that once belonged to the Roman emperor Diocletian. Enjoy time at photogenic beaches, taking in a colorful sunset, and shopping for local products like honey, olive oil, and wine in the port village of Maslinica on the island's west coast.
7. Primosten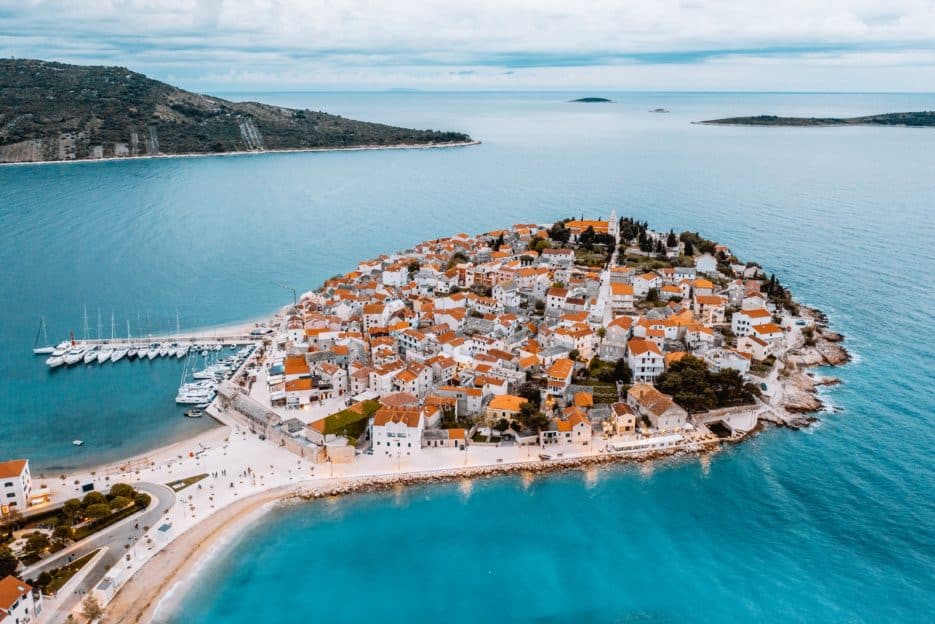 Less than an hour from Split between Sibenik and Trogir, the small coastal town of Primosten is famous for its outstanding local wine and well-preserved medieval Old Town with a fabulous historic ambiance. The highlight is its 15th-century white stone church of St. George which sits atop a hill providing a sweeping view.
Legend has it that when God created the Earth, he created this town as the place to rest from work on the seventh day, something that's easy to believe once you see it. Most come to enjoy sunbathing on its idyllic beaches like Raduca with shallow waters for swimming, perfect for families with young children.
You'll find some very good restaurants for lunch too, including an eatery at Santa Marina which serves traditional Croatian dishes like peka, a mix of vegetables and meat cooked in a big pot over hot coals. Tavern Marina sits at the seaside and features a variety of fish and meat dishes focused on locally sourced products.
8. Brac Island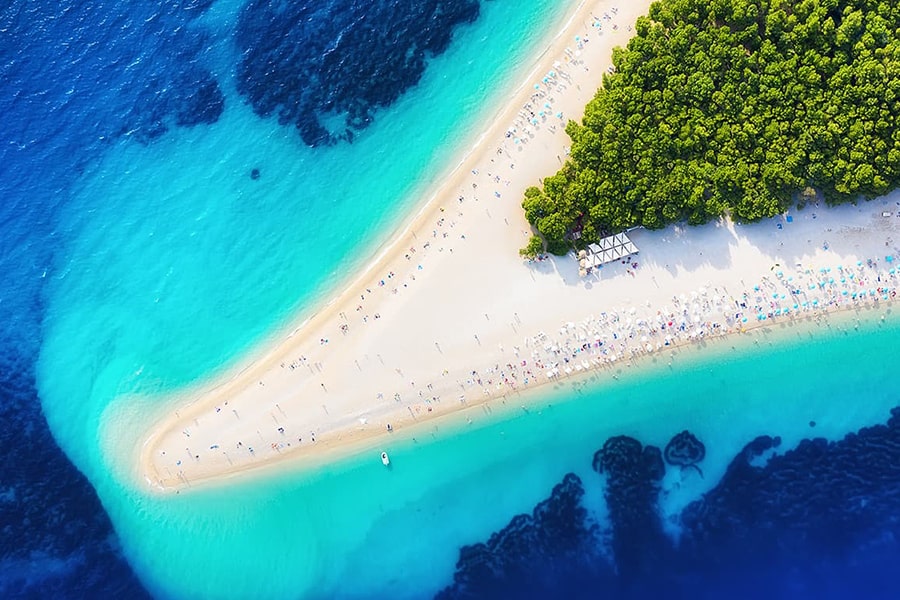 Brac is one of the closest islands to Split, easily reached as part of a boat tour. One of the primary reasons to visit is its famous beach, Zlatni Rat, located near the town of Bol.
Widely regarded to be among the most beautiful in all of Europe, the shimmering, horn-shaped stretch juts out nearly a third of a mile into translucent blue waters, providing one of the best places in the country for a swim.
There are plenty of other things to do here too. If you're looking for a good hike, take the trail that leads to the top of the Adriatic's highest island peak, Vidova Gora. Here at the summit, there's even a bar for unwinding with a drink.
Head to the Olive Oil Museum in Skrip to learn about the tools that are used to turn olives into olive oil and enjoy samples in its tasting room. The small town of Pucisca is one of Croatia's prettiest, known for its glistening white stone which has been used to build the local homes, ancient palaces like Diocletian's Palace, and even the White House in Washington, D.C., along with other iconic landmarks.
9. Makarska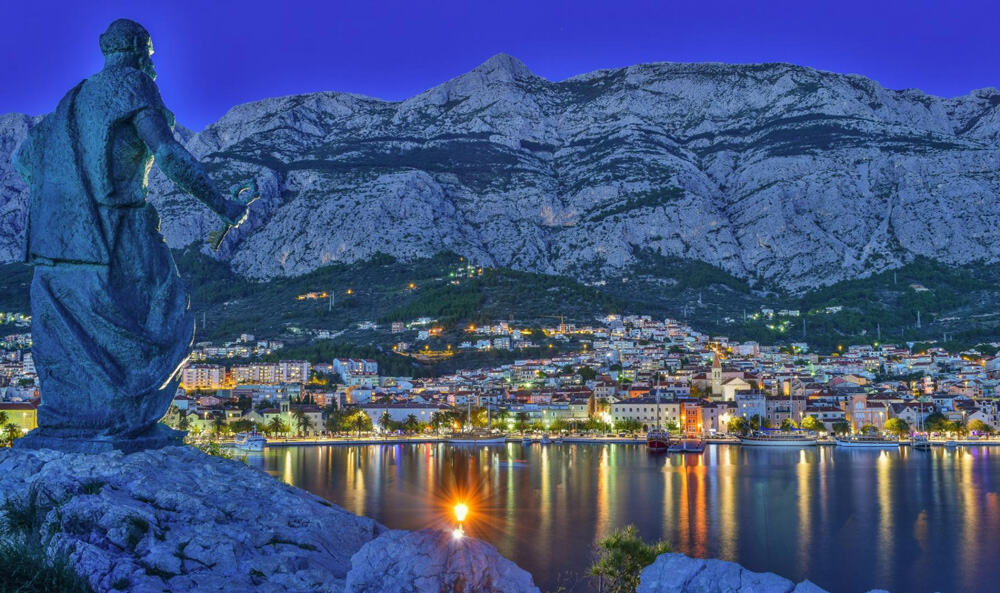 A port town just a little over an hour south of Split, Makarska sits along a stretch of magnificent coastline known as the Makarska Riviera. It's home to some of the country's most spectacular beaches and boasts a lovely seafront promenade. Enjoy soaking up the sun from tranquil sands in secluded coves framed by clear aquamarine waters or head to one offering watersports facilities with a more lively setting.
Towering Mount Biokovo to the east serves as a nature reserve, home to Balkan chamois, a species of goat-antelope, and golden eagles. In July and August for several nights each year, Makarska's waterfront area is transformed into a carnival-like atmosphere with competitions like stone-throwing and donkey races, live concerts, and plenty of delicious fish and seafood dishes.
10. Solin and Klis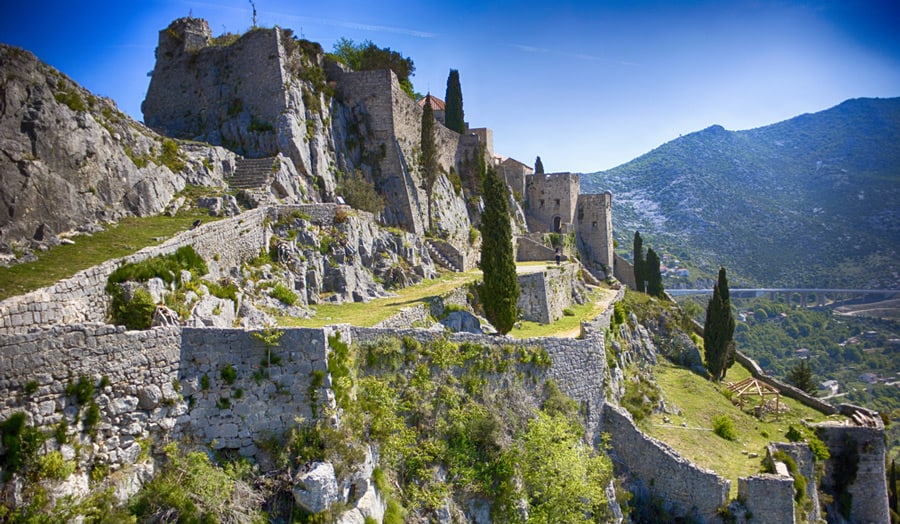 Solin is just to the northeast of Split along the river Jadro, birthed on the location of the ancient city of Salona which was Dalmatia's capital in Roman times. The Salona ruins are one of the most intriguing places to visit near Split, with an extraordinary collection that includes an 18,000- seat amphitheater, a cemetery, covered aqueduct, and a museum.
It's a great place to get a good understanding of life during the times of emperors, gladiators, and martyrs. Just a few miles from here, is the village of Klis with its fortress that was used as the city-state of Meeren in the hit TV series "Game of Thrones.
It was built to defend the area from Ottoman and Mongol invaders and includes a Roman amphitheater, baths, and temples, as well as offering an awe-inspiring view.
11. Mostar, Bosnia & Herzegovinia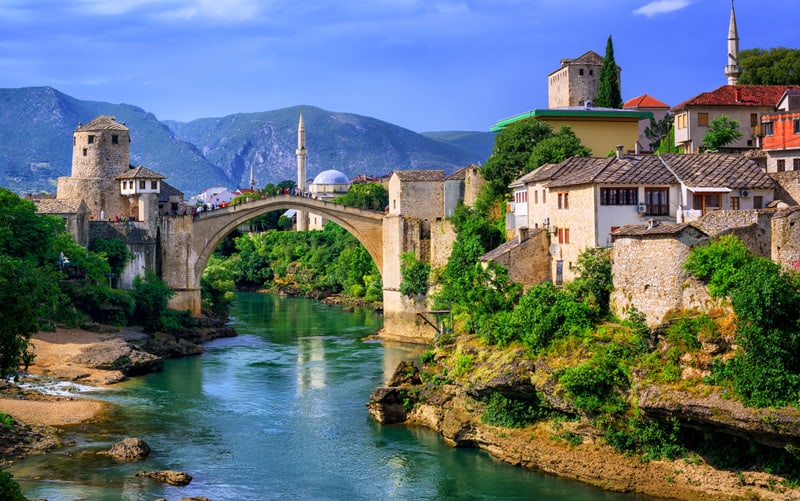 It's surprisingly easy to visit an entirely different country from Split with Bosnia & Herzegovina. In fact, the historic city of Mostar sits just across the Croatian border, about a two hour's drive away. Or you can take a guided tour, with multiple options leaving from Split. Some of the highlights include the Stari Most Bridge which spans the Neretva River.
It's a famous photo-op and you'll often see locals leap from it into the dazzling emerald and turquoise waters below. Mostar was an Ottoman frontier town, dating back to the 15th-century and includes a maze of cobbled streets that are fun to explore. Check out the mosques and churches and browse the stalls and shops in the Old Bazaar. When you're in need of re-energizing, head to one of the cafes to try the strong Turkish-style coffee.
Just outside of Mostar is the nearly 600-year-old Blagaj Monastery which sits at the base of a cliff near the river Buna. A fascinating series of buildings, it includes an old Turkish bath and mausoleum, that makes a great addition to any Instagram feed.
12. Plitvice National Park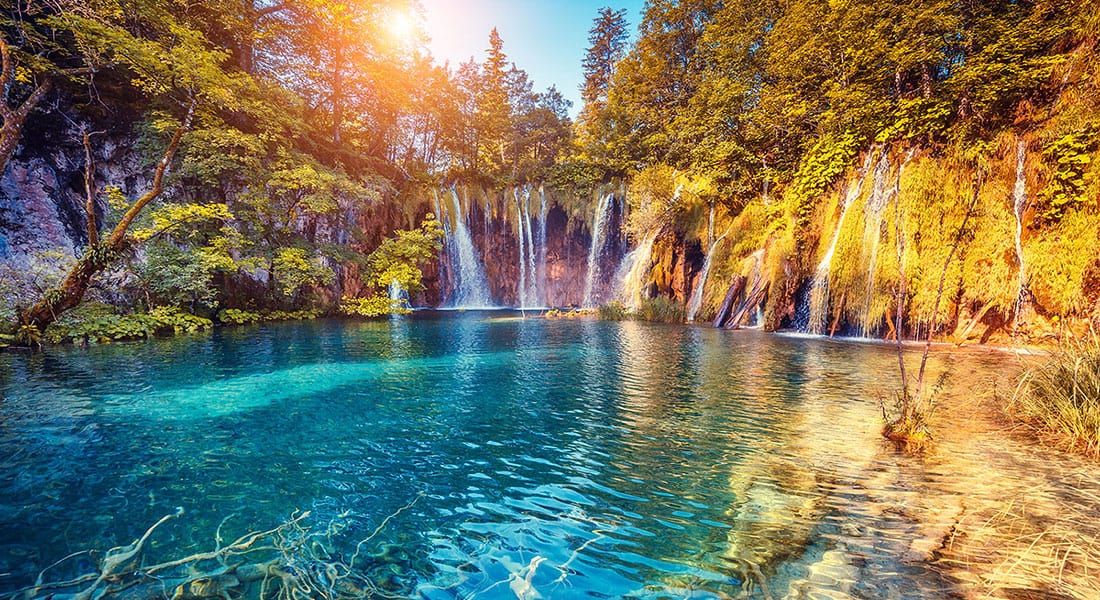 While it's about a 2.5-hour drive from Split, it's well worth taking a day to visit Plitvice National Park. Here, fantasy comes to life. A place that's been splashed across the Internet, tour brochures, and beyond to entice visitors to Croatia, it's home to 16 lakes in shades that range from brilliant turquoise to emerald.
Their waters have been flowing over the limestone and chalk for thousands of years resulting in barriers that create tranquil pools and practically an endless number of waterfalls, all surrounded by rich flora and fauna. You can walk the wooden pathways to see them and take a relaxing boat ride across Kozjak Lake too.
Before returning to Split, you might enjoy a bite at Ethno Garden Plitvice Restaurant. It offers an enticing traditional atmosphere and serves homemade mountain Lika dishes, made according to the old recipes.