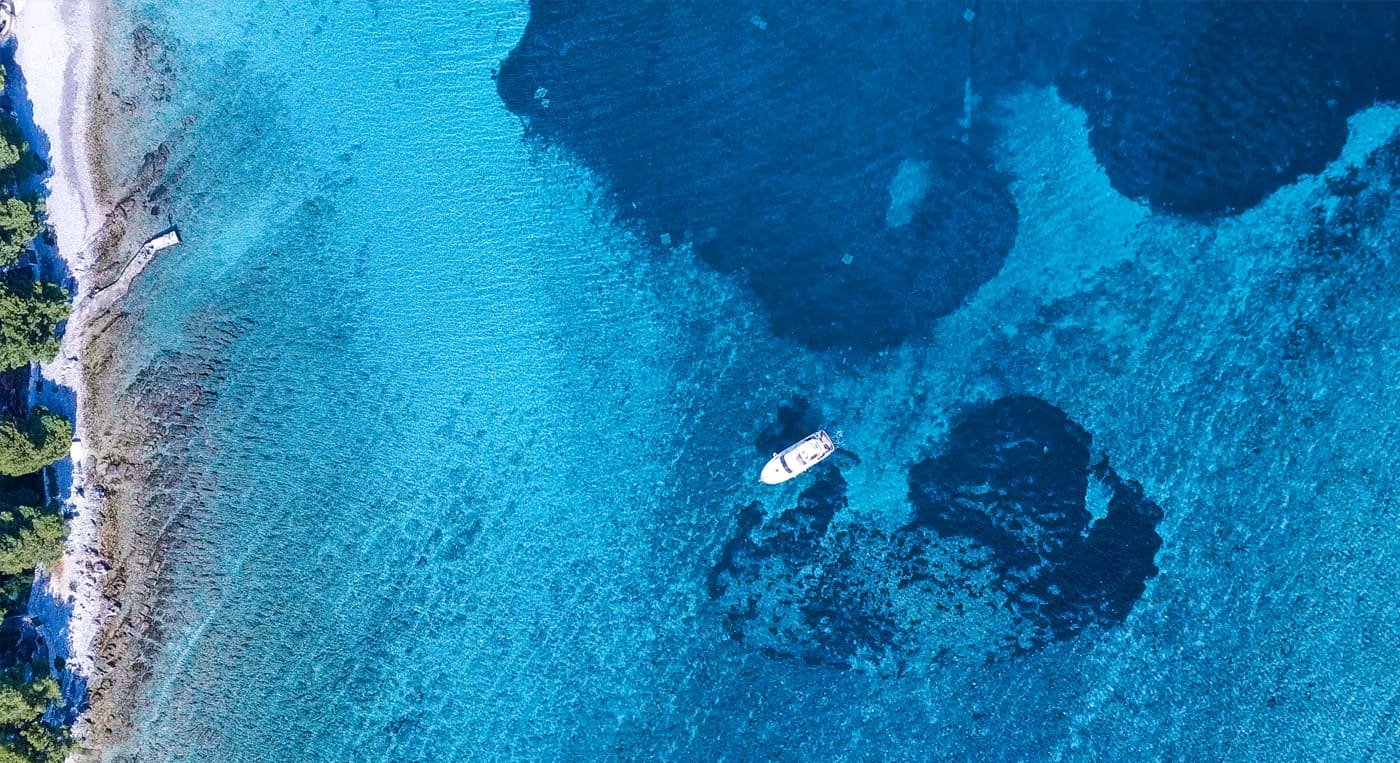 Trip from Split to the Blue Lagoon should be at the top of your must-experience list when visiting Croatia. A visit here will put you in an exotic paradise that looks as if it was stolen from the Caribbean, with stunning translucent turquoise waters, a sandy seabed, and a pristine white pebble beach.
The shallow lagoon sits between the south-east coast of Drvenik Veliki island and two small islands, just off the coast from the medieval town of Trogir near Split. It's in the middle of the Dalmatian archipelago northwest of island Solta, and as it's protected from the elements by other islands, the water is usually calm and remarkably clear, allowing one to marvel at all sorts of fish and other marine life that inhabit the Adriatic.
The sea is home to some 7,000 animal and 6,000 plant species, the product of biological, geological, and climate processes that have shaped it over millions of years.
Visitors often point up that their day spent swimming, snorkeling, soaking up the sun and the scenery at the Blue Lagoon Croatia was the highlight of their time in the country, which is why we've put this guide together to help you take part in this enchanting experience too.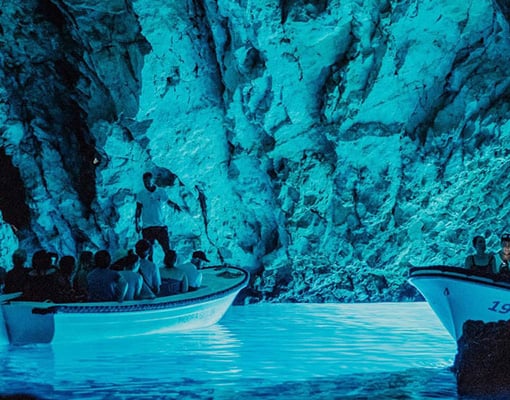 #1 Island Hopping Day Trip From Split, Croatia
Visit the Blue Cave and some of Croatia's most stunning islands and incredible natural wonders.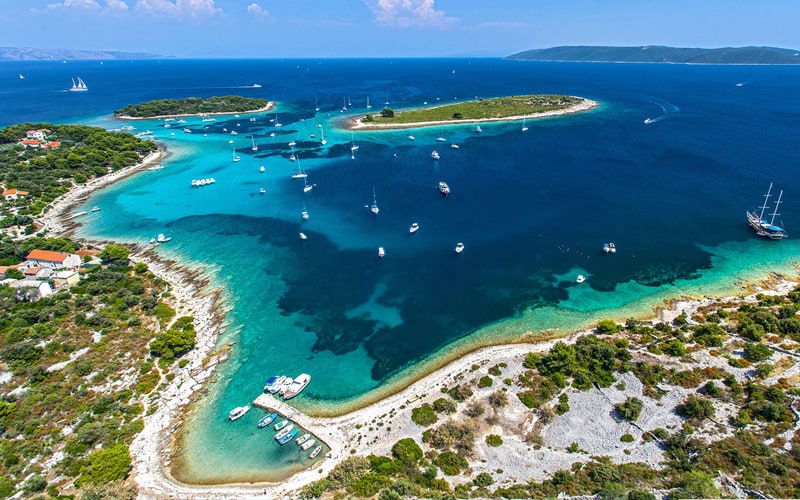 All About Drvenik Veli Island
Drvenik Veli is where your trip to the Blue Lagoon Croatia will take you. A small island with a population of just 168 is the reason it offers such a serene, remote atmosphere, yet it's just 14 miles from the port of Split and six miles south-west of Trogir's harbour.
The island survives on basic agriculture, fishing, and in recent years, tourism. In addition to the famous Blue Lagoon, it has a number of secluded rock coves, olive trees, and some interesting churches like 16th-century St. George's Church with an interior that includes a Venetian altarpiece and baroque furniture.
At the center of the island just outside Drvenik Veli village, the only settlement with a population is St. Nicholas Church. It dates back to 1715 but remains unfinished as the builder never managed to get past the monumental façade. Still, it's worth capturing a haunting photo for your Instagram feed of what could have been.
The island has a long, rich history with traces of life from the Bronze Age uncovered and its first recorded mention in the 4th-century BC when it was called Proterio. In the 13th-century, there are documents mentioning it as "Giruan" and "Gerona," before it was formally inhabited in the 15th-century.
People fled here, seeking shelter from the Ottoman invasion. One of the island's most popular stories is that a force of 80 women living here were responsible for keeping it protected from the Ottomans, though there is little more known about it.
Today sparsely populated Drvenik Veli is mostly famous for its unspoiled nature, the clear waters of the Blue Lagoon, olive groves and carob. There are many different types of plants here that have played important roles in architecture, although the abundance of olive trees plays the biggest part.
They're a significant source of income and trade among locals, who use them to make all sorts of goods, particularly olive oil. The process of olive oil making is specific from family to family, with everyone using their own methods for cultivation, harvest, and production.
The few who live here are mostly older residents with grandmothers who often gossip while grandfathers play cards or drink beer in front of the local store. Younger people and visitors of all ages typically come to this oasis to enjoy peaceful holidays and day trips, especially in the summer when they can spend their days relaxing, sunbathing, and swimming.
The locals, who speak in a distinct, specific Dalmatian dialect, often refer to it as 'Ploca' as the island is flat – ploca translates to 'flat tile' and as you'll notice, there are few hills here. The highest peak is Glavica at 79 meters (259 feet) and on a sunny day the entire island is visible, including most of the homes.
Drvenik Veli and Mali Drvenik both have a tradition of building white-stone houses that have green framed windows and red roofs.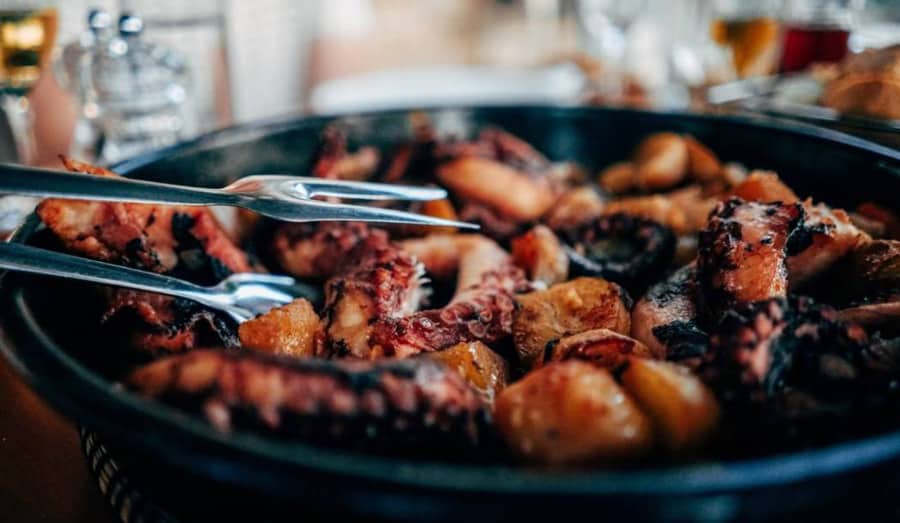 Dining and Drinking
Residents in the area often go fishing, enjoying fish for their own meals or selling it, which is why restaurants often feature it fresh-caught. On a trip to the Blue Lagoon, you'll have easy access to Haven Blue Lagoon, a restaurant/cocktail bar that offers a wide variety of seafood dishes, salads, and meats, including traditional classics.
If you want to sample typical Dalmatian fare you might try Octopus Dalmatian-style with octopus, tomatoes, potatoes, garlic, and onion. The Prawn Risotto, Drunk Mussels, and Grilled Sea Bream are all popular too.
All can be enjoyed alongside cold beers, creative cocktails, or an iced coffee if you're looking to get re-energized for more time swimming or snorkeling in the Blue Lagoon. Live music and other entertainment are often provided as well.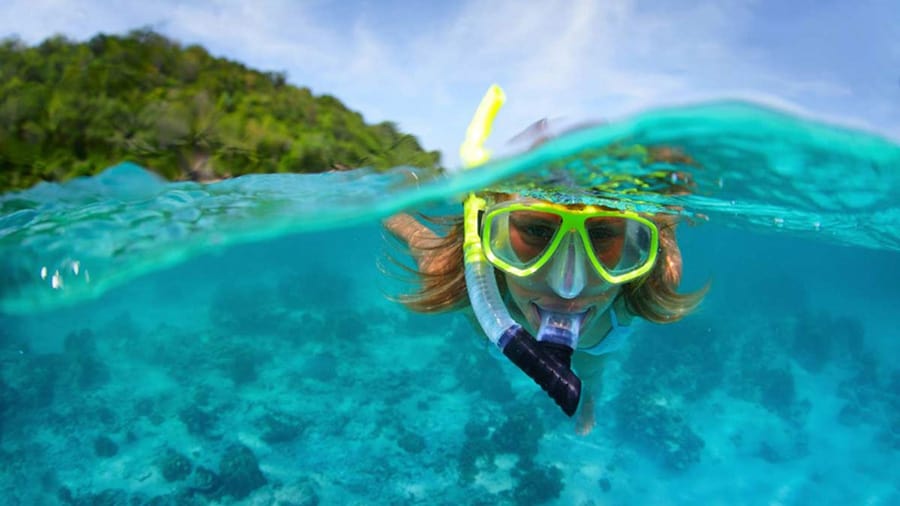 When to Visit the Blue Lagoon Croatia
The best time to visit Blue Lagoon is generally the peak summer months, July and August, which are filled with sunny, hot days while sea temperatures hover around 24°C/75°F for swimming. Although there is a small chance of rain, it's unlikely to dampen your plans as this is the driest time of the year.
Of course, this is also when the most tourists are here, so if you'd like to avoid the crowds while still enjoying warm weather and water that's comfortable for a swim, you might consider mid-May through mid-June or the first half of September.
As September progresses, the chance of rain increases too, although some years the lagoon will be comfortably warm and the weather dry through early October or even beyond, you'll just have to be willing to take the risk.
Either 'shoulder' season is also ideal for exploring Croatia's top sights without the crowds while often enjoying idyllic temperatures and sunny skies. It will be easier to secure accommodation and you might find some discounts on room rates and even airfare.
If you do decide to travel to the Blue Lagoon Croatia during the busiest part of the high season, July and August, you'll want to be sure and book all of your experiences, including the Blue Lagoon, well in advance to avoid disappointment as it's become such a popular attraction.
In addition to the time of year, you'll want to consider the time of day for visiting. Mornings are best, which is why most tours to the Blue Lagoon depart early in the morning. Summer afternoons often bring in winds referred to as the 'Maestral,' which means the water won't be as calm as it causes waves. Mornings are known for 'bonaca' which results in the sea being very calm, almost totally flat.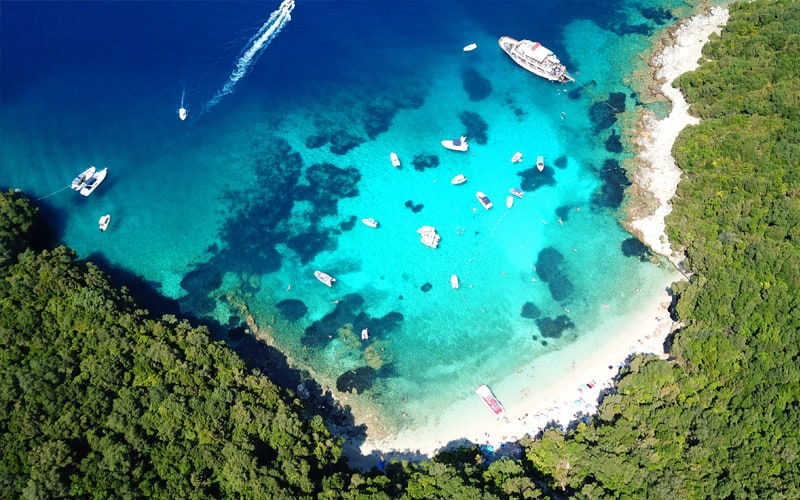 Safety and the Blue Lagoon Croatia
By choosing a reputable company for your Blue Lagoon Croatia tour, you can be sure the ride will be a safe one, with an expert captain and safety equipment on board, as well as a demonstration of how to use it typically included. If, by the off chance, the weather gets in the way, your safety should always be the first consideration.
As the water is so pristine and clear, the depth can seem less than it really is, which makes it important not to overestimate yourself, something that can put you at a greater risk for harm no matter how you choose to get to the lagoon.
If you're worried about large predators in the sea, there aren't any here, and encounters with poisonous fish are very rare. With such outstanding visibility, even without a snorkeling mask, it's easy to spot marine life, including many types of starfish and sea urchins.
The sea urchins move slowly along the sandy bottom of the lagoon, so you'll just want to avoid stepping on them as their spikes can penetrate the skin if pressure is applied.
Where to Base Yourself For a Trip to the Blue Lagoon Croatia
While there are ferries that can take you to Drvenik Veli, to reach the Blue Lagoon you'll have to hop on a speedboat, which takes 30 minutes from Split. That means you'll want to plan a stay in the ancient city as most excursions depart from there or from nearby Trogir. Of course, Split is also a place you won't want to miss while you're in Croatia anyway.
It's home to some of the world's most well-preserved Roman architecture, much of which can be found in the 4th-century Roman emperor Diocletian's Palace. Even for those who aren't into history or architecture, the maze-like complex is fun to wander with the centuries-old buildings housing everything from boutiques and galleries to wine bars and cafes. Plus, fans of the popular TV series 'Game of Thrones,' can check out the numerous filming sites from the show.
The palace cellars were the spot where Daenerys trained her dragons and are open to the public. Visitors can also enjoy people watching along the Riva promenade, checking out the daily markets, exploring museums, and spending time on the beach.
To enjoy it, your best bet is to plan on spending at least three days in Split, with one dedicated to your trip to the Blue Lagoon. Many people don't allow enough time in this area, something they often regret, so be sure and take that into consideration when planning.
How to Get to the Blue Lagoon from Split
Now that you know where to base yourself, you'll want to know how to get to the Blue Lagoon Croatia. We highly recommend taking the Blue Lagoon tour from Split that also includes a visit to medieval Trogir on the return which we'll touch on shortly.
It all begins by gathering at the meeting point with a welcome from your tour host. You'll learn how to properly get on and off the boat as well as how to use the safety equipment.
After boarding, a brief intro session will fill you in on what to expect throughout your tour as the vessel slowly pulls away from the port. After departing, it takes about 45 minutes to reach the Blue Lagoon.
Along the way, you'll get to enjoy lots of beautiful sights surrounded by the endless blue of the Adriatic, including the steep cliffs on the south side of Ciovo Island. Watch for the tiny 16th-century church, Gospe od Prizidnic. If you're lucky, dolphins might even accompany you for part of the ride, so you'll want to have your camera ready just in case.
After all, part of the fun is the trip to get there, enjoying the feel of the sun on your skin and the salty sea breeze. Once on land, simply stake out your spot to relax on the soft, fine sands that gently roll into the enticing blue waters. The lagoon is so irresistible it won't be long before you decide to leap in.
While swimming is memorable, with the water so clear, you won't want to miss the opportunity to snorkel, and you'll have all the gear to enjoy it too without having to lug your own equipment around.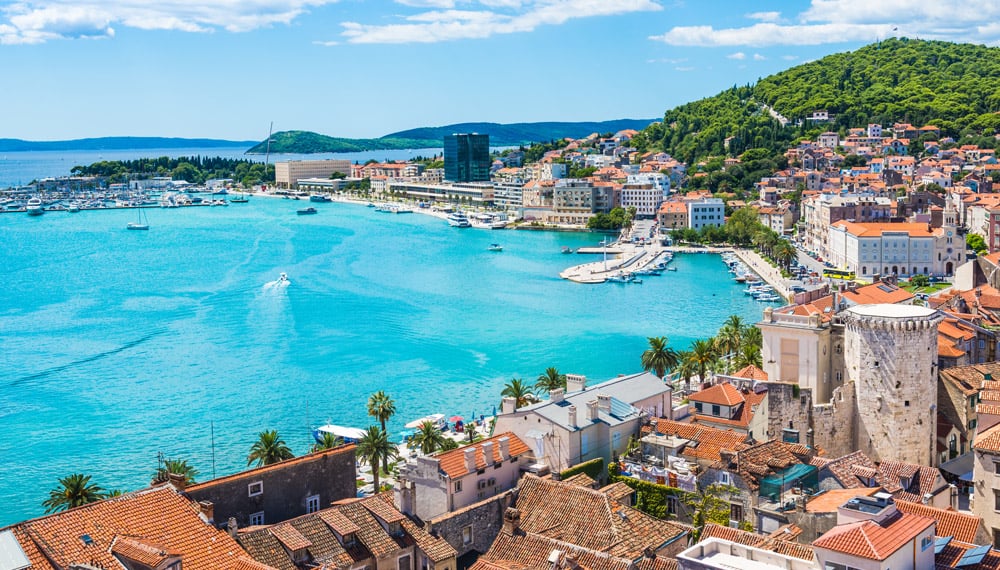 The Return from the Blue Lagoon to Split
As mentioned, the Split to Blue Lagoon tour also includes a visit to Trogir, founded in the 3rd-century BC. A UNESCO World Heritage Site, it's home to some of the best-preserved Romanesque-gothic architecture in Central Europe, so you'll want your camera ready for this destination too. You'll be able to take in magnificent views of the Venetian castle/fortress, Kamerlengo, from the waterfront promenade.
Visitors are also mesmerized by the gorgeous Romanesque-gothic Cathedral of St. Lawrence, the Town Hall, Town Gate, and other sites. Explore the labyrinth of small stone streets, visit Central Square, and perhaps Trogir Museum to learn more about its history.
Housed within the former Garagnin-Fanfogna palace, it displays drawings, documents, books, and period costumes from Trogir's past. Or simply enjoy sipping wine in one of the many restaurants or bars, while watching the world go by.
From Trogir, it's only about 30 minutes to Split, with the ride providing the perfect opportunity to exchange photos and maybe even contact information with your fellow passengers who by now, may have even become friends.