The ancient city of Split is the second-largest in Croatia, and while it's got plenty of history to explore, there's a modern side too. It offers something for everyone from outdoor adventure to fascinating museums, art galleries, wine bars, and world-class restaurants.
While prices are reasonable, if you're on a budget, cheap or even free is obviously better and you've got plenty of options that will help make your visit more affordable, including these free things to do in Split.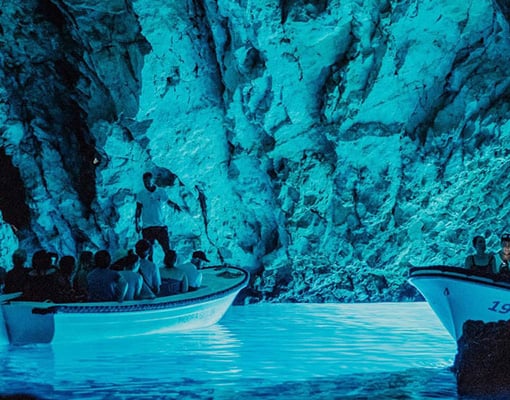 #1 Island Hopping Day Trip From Split, Croatia
Visit the Blue Cave and some of Croatia's most stunning islands and incredible natural wonders.
Explore Diocletian's Palace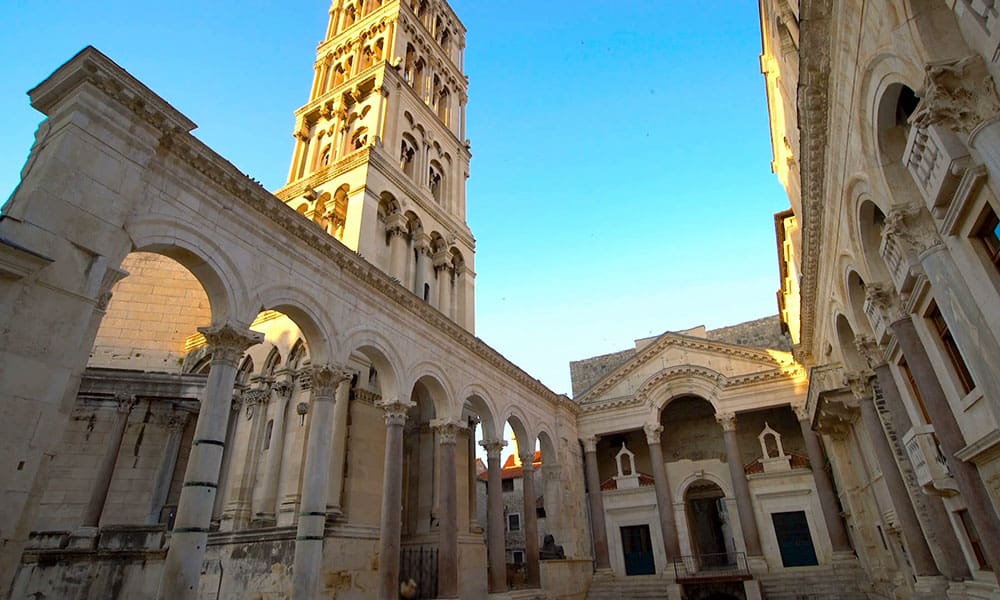 There's no admission price to visit the most popular attraction in Split, Diocletian's Palace. It's what gave birth to the city back in the 3rd-century AD, with Roman Emperor Diocletian choosing it as his retirement residence.
His grand palace was completed in 305 AD and today one can still wander through the sprawling complex with its winding alleyways, tiny squares, and hidden corners that will bring you on a trip back through time.
It boasts some of the most well-preserved Roman architecture in the world, with influences not only from the Romans but from the Greeks and Venetians. Four gates guard the main entrances, including the Bronze, Iron, Golden, and Silver Gates.
The courtyard of Peristil is a major crossing point and adjacent to it, you'll find Sveti Duje Cathedral, which once held Diocletian's mausoleum. It's still guarded by a granite sphinx from ancient Egypt although the building was converted into a church.
During the Middle Ages, it was given elaborately carved doors, a gorgeous pulpit, and a belltower that provides a panoramic view over the palace. Today many of the buildings are home to restaurants, cafes, bars, galleries, boutiques, and shops.
Listen to the Sounds of a Klapa Group in the Vestibule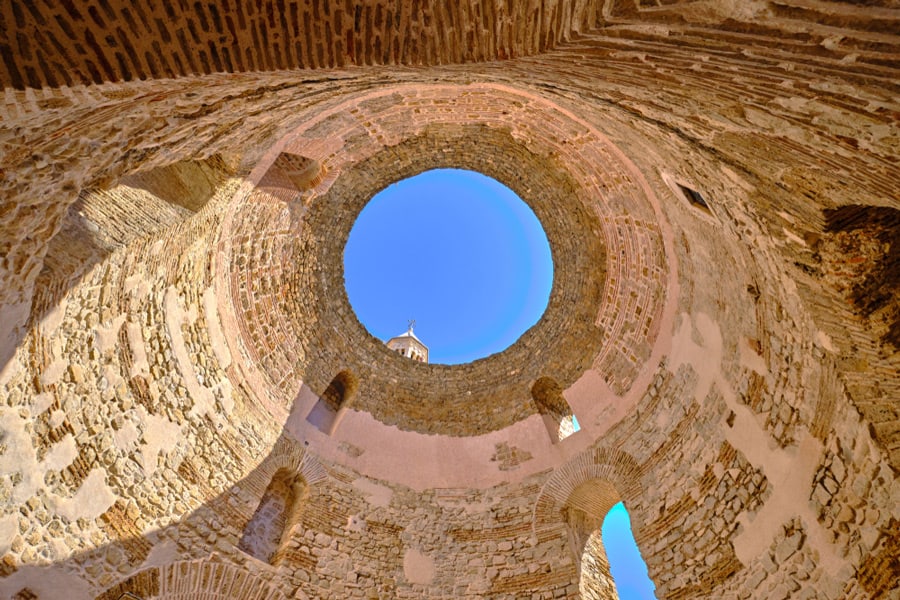 Free music can often be enjoyed throughout the summer in Split but something you won't want to miss if you have the opportunity is to enjoy the harmonic sounds of a Klapa group that blends ancient, traditional, and modern cultures.
Oftentimes you'll find one putting on a cappella performance in the vestibule which sits at the southern end of the palace courtyard just above the basement stairs. The domed room is opened to the sky and offers astounding acoustics for this traditional form of cappella singing.
Klapa, which means the group of friends, is now part of the UNESCO Intangible Cultural Heritage of Humanity.
Let the Temple of Jupiter Take Your Breath Away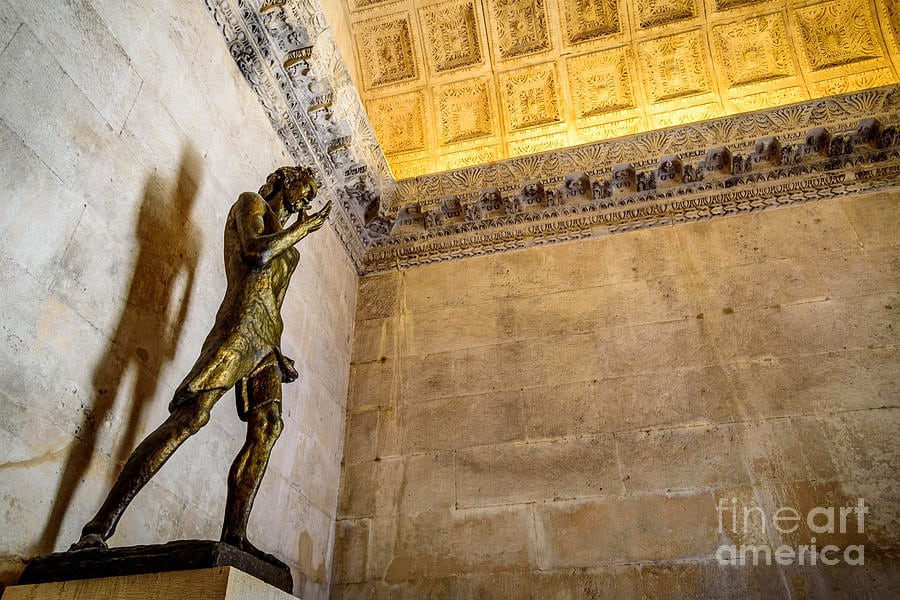 The Temple of Jupiter is one of the palace's major landmarks, located near the courtyard. It's been exceptionally well-preserved, inside and out, dating all the way back to the early days of the city when the palace first built.
The location was carefully chosen to represent the divine connection between Jupiter, the ancient Roman god of the sky and thunder, and Emperor Diocletian. A black granite sphinx guards the entryway, minus its head as it was destroyed by Christians who believed it was a pagan symbol.
One of the most notable features inside the temple is a modern bronze statue of St. John the Baptist, sculpted by Ivan Meštrović, one of the most famous 20th-century Croatian sculptors. You'll also see the oldest image of a Croatian king that's still intact.
Rub the Toe of Gregory of Nin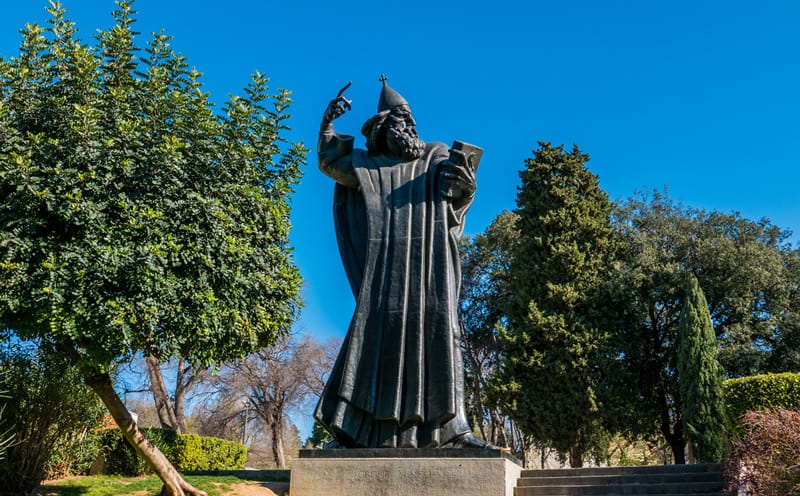 Located near the Golden Gate Entrance is Strossmayer's Garden, a lush urban oasis with greenery, a fountain, and a 28-foot-tall bronze statue of Gregory of Nin who was a bishop in the medieval Croatian capital.
He's remembered for defying the Catholic church in Rome in the early 10th-century, which was against his call to introduce the national language into services so that worshippers could better understand God's word.
The church was adamant that all services be delivered in Latin. He's now regarded as a historical defender of Croatian language, statehood, and culture. From an early age, Croatians are taught that by rubbing the monuments big toe, their wish will be granted, which is why one of his big toes is a different color than the rest. Every day people are gathered around it, stopping to rub the toe before heading through the Golden Gate.
Split Gallery of Fine Arts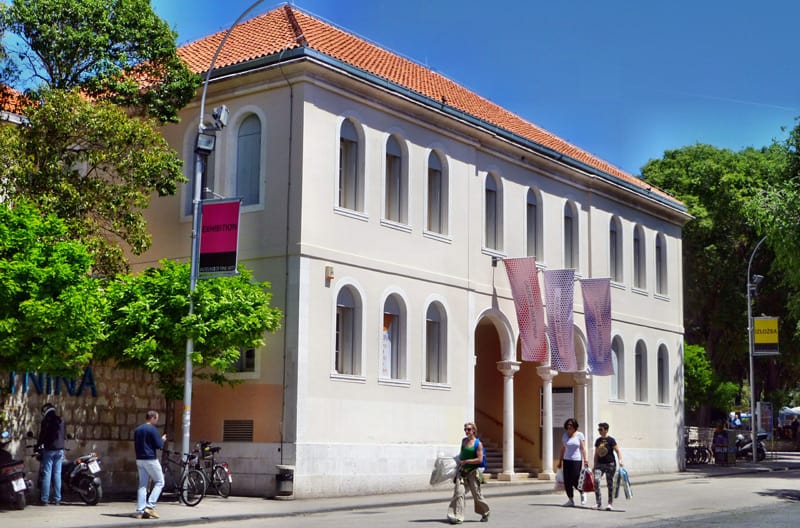 Admission to the Split Gallery of Fine Arts is only about the cost of you're average glass of Croatian wine and you'll be able to peruse its permanent collection that spans from the 14th-century through today. It sits within a late 18th-century building that was once Split's first hospital, featuring some 500 works presented in a chronological journey starting with religious icons.
There are works by renowned artists like Paolo Veneziano and Guido Reni as well as famous local artists such as Ivan Mestrovic, Croatia's most well-known 20th-century Croatian sculptor who lived and worked in Split.
Visit the Art Galleries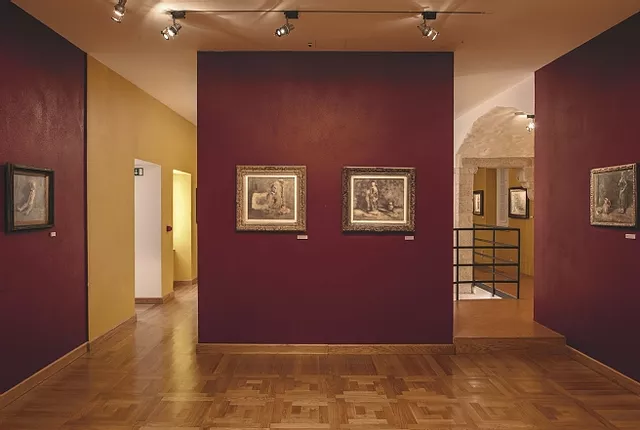 You can explore Split's art galleries for free, many of which are found among the palace alleyways. Some of the highlights include Jaman, featuring Split artist Danijel Jaman who is known for his vibrant, colorful paintings that represent different Mediterranean scenes as well as city landmarks around the world.
A Dean's price of Art Academy award winner, his works are always eye catching. The Jakšić Gallery is family-owned, with Dražen, the father, a known stonemasonry. Fashion designer Ida is the mother while their son Lovre is an academic sculptor and daughter Dina has a doctoral degree in arts. Their ancestors created the first stonemasonry workshop here more than a century ago. You'll find sculptures created with white stone from the island of Brac, oil paintings by Dina, and unique silver jewelry, created by Ida.
Enjoy the Sights, Sounds, and Aromas at the Green Market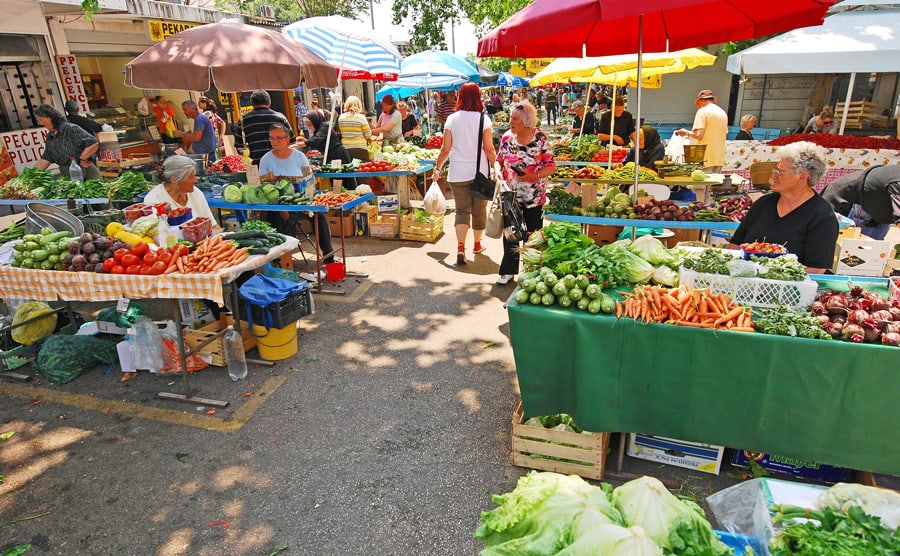 While you'll have to spend some money if you want to purchase something, it doesn't cost a thing to experience the sights, sounds, and aromas at the Green Market, referred to as Pazar by the locals. Located just steps from the east wall of the palace running to the Silver Gate, it features numerous vendors that sell a myriad of seasonal foods, including fruits and vegetables, artisanal products, herbs, souvenirs, and much more.
Of course, it may be worth bringing some Croatian Kuna as you can pick up all sorts of tasty products to put together a picnic, saving money on dining out. Either way, it can be fun just to mingle with the locals as a visit here is a daily ritual for many.
Museum Night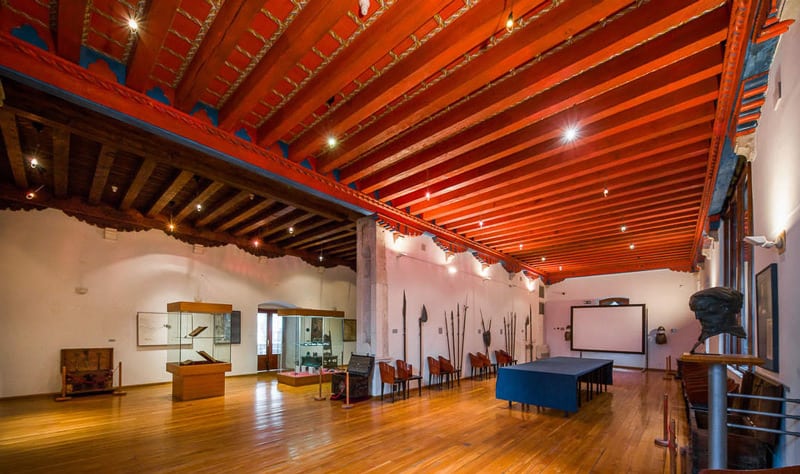 If you happen to visit Croatia during the wintertime, you'll not only appreciate the lack of crowds, but on the last Friday in January, you can visit many of the museums for free. Museum Night is an annual event, and all participating museums are free of charge in addition to staying open until 1 a.m.
There are many great institutions in Split, like the Archeological Museum, Ethnographic Museum, City Museum, Maritime Museum, and The Museum of Senses.
Split Archaeological Museum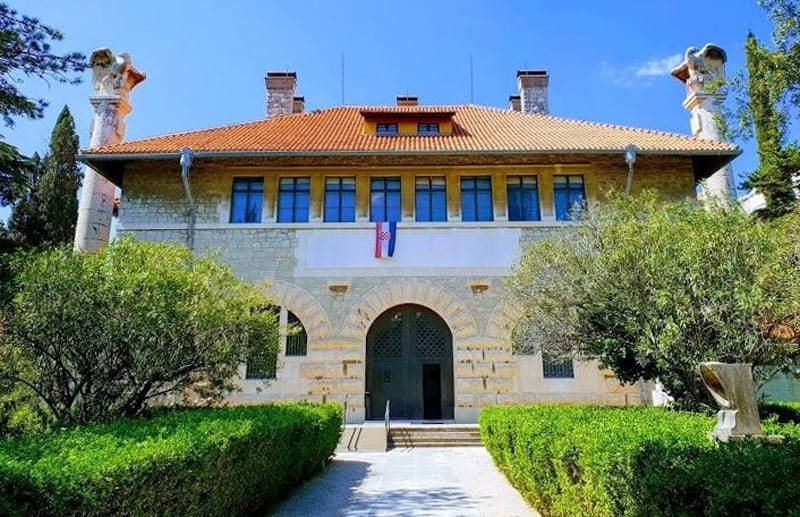 If you can't be in Split for Museum Night, it's well-worth the 20 Kuna admission to visit the city's archaeological museum. The oldest in Croatia, it was opened more than 200 years ago and today you'll be able to view over 150,000 artefacts that span from prehistoric to medieval times.
Most were uncovered in Split and nearby Salona, and some came right from Diocletian's Palace, including a headless Egyptian sphinx statue. Other highlights include a nearly intact warrior's helmet that dates from 400 B.C., finds from Salona's Roman settlement, tombstone mosaics, and a bust of the Emperor Trajan.
Galerija Meštrović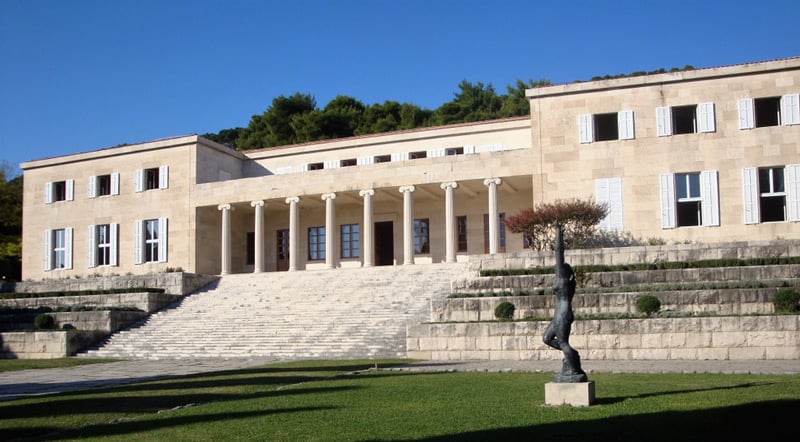 Another worth the small splurge is this gallery that showcases the works of Croatia's greatest sculptor. Not much more than a cup of Starbucks coffee (40 Croatian Kuna/$6.37 US), its two floors display hundreds of Ivan Mestrovic's sculptures, plans and drawings, including some of his most famous masterpieces that were carved in wood, bronze, and marble.
It sits within a sea view villa built by the sculptor himself in the 1930s and served as his personal residence between 1931 and 1939.
Spend Time at the Beach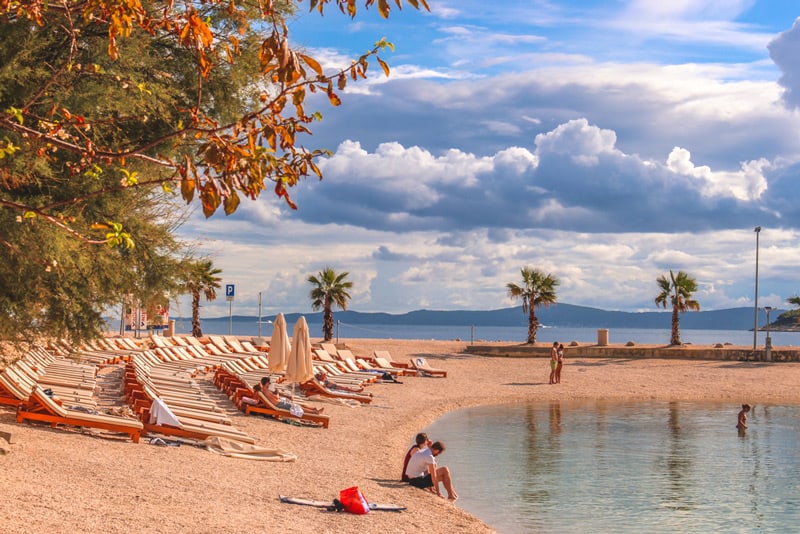 Split boasts over nine miles of shoreline and most of it, other than around the city port, is ideal for swimming. Trstenik Beach is maintained by the Radisson Blu Resort but other than the VIP platform, the rest of it is open to the public for free. A pebbly stretch, it's dotted with sunbeds and umbrellas yet provides plenty of room to toss down your beach towel.
If you want to enjoy a lively crowd, mingling with the locals, head to Bacvice Beach, the only sandy stretch in the city. There are umbrellas and beach chairs available for hire, but you can always lay down a towel or blanket, creating your own ideal spot to soak up the sunshine while enjoying mountain views and the shallow, crystal-clear blue waters.
Kasjuni Beach is another option, with spectacular surroundings on the lush, green Marjan peninsula, a little over 2.2 miles (3.6km) from the city center. Tucked into a bay, the pebble beach includes a row of trees for shade or you can bring your own umbrella. The main reason to visit is the view from the sea – you can swim out and take in the beauty of Marjan Hill with its pine forests and lovely churches.
Hike Marjan Hill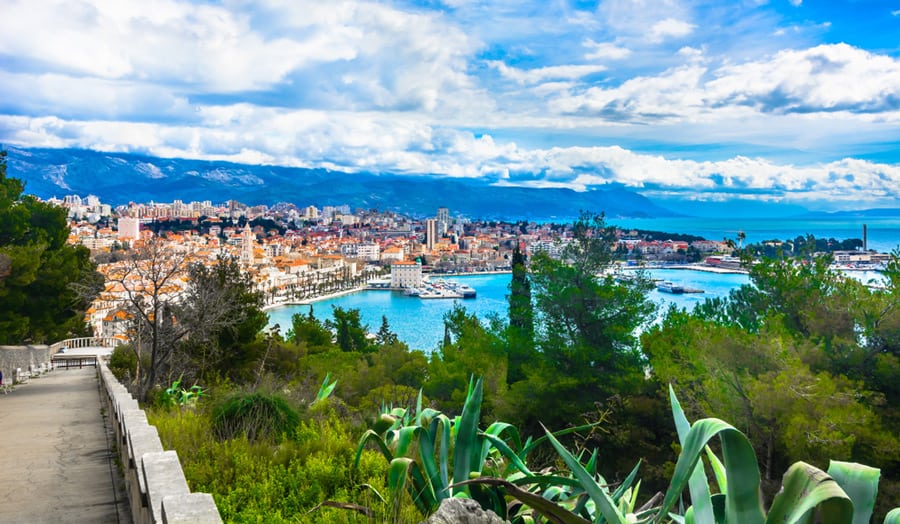 Speaking of Marjan Hill, it's easy to reach from the center of Split on foot and once you're there you can enjoy the fresh air and the scent of the pines as the extensive nature reserve is covered in pine forest. It not only offers jaw-dropping views over the city and the harbor, but scenic trails to hike will bring you to cave dwellings once inhabited by Christian hermits.
There are medieval churches to explore and a Jewish cemetery that provides an interesting look at Split's Jewish heritage. The churches were built during the time the area was considered a spiritual retreat, with many residents frequently making pilgrimages to the holy hill.
There's also a restaurant at the summit, Vidilica, where you can enjoy a magnificent sunset and city view, along with drinks and a tasty meal.
People Watching on the Riva Promenade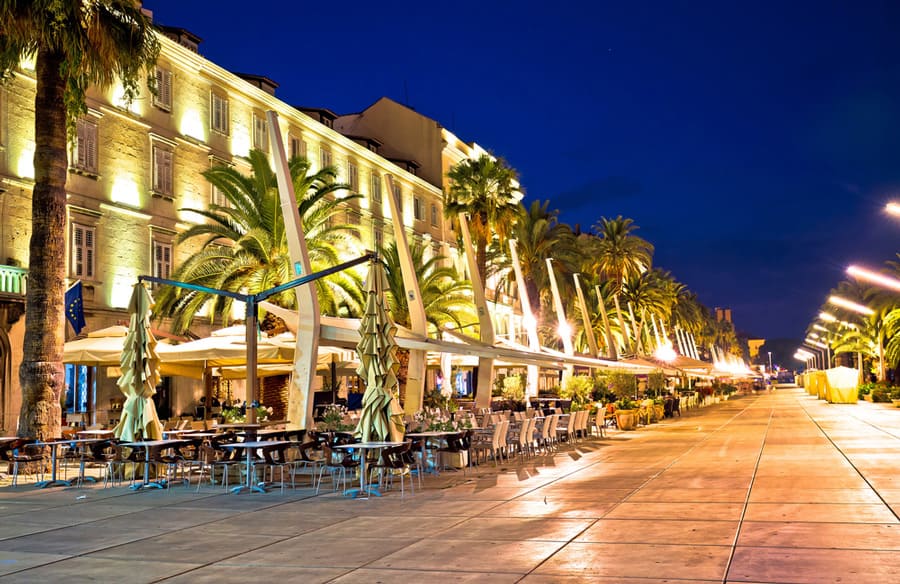 Paris may have its Seine and Cannes the Croisette, but Split has the Riva. This seaside promenade fronts Diocletian's Palace and runs alongside both the marina and Bacvice Beach, providing the perfect spot for sunset watching, a pre- or post-dinner stroll. This is where the locals come too, making for great people watching, and it doesn't cost a thing.
Simply enjoy what Croatian's refer to as fjaka, the art of doing nothing. It's the state of mind where all worries dissipate, time stops, and you can enjoy being immersed in the moment.
Take the Ferry to Trogir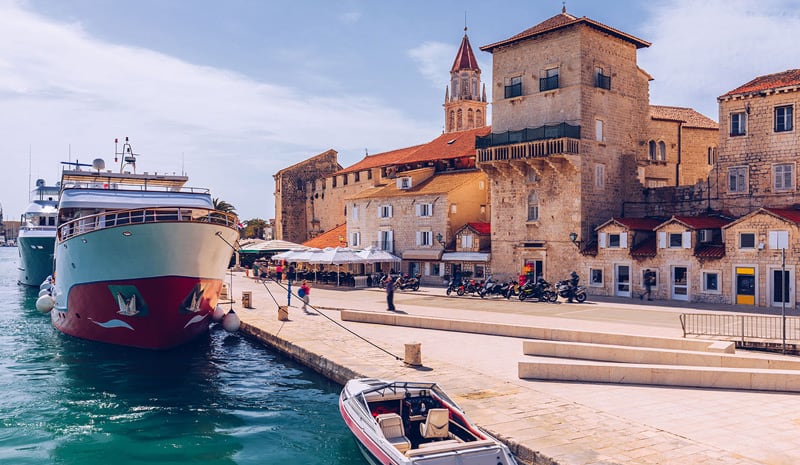 It's a short and inexpensive ferry ride to UNESCO-listed Trogir, with ticket prices for foot passengers ranging from just 20 ($3.19 US) to 35 ($5.58 US) Croatian Kuna. After arriving to this ancient walled city that dates back some 2,300 years, founded by the Greeks in the 3rd-century BC, you'll be able to gaze up at some of the most impeccably preserved Romanesque-Gothic architecture in Central Europe.
That includes the 15th-century Venetian castle/fortress Kamerlengo which can be seen from the waterfront promenade, the magnificent Cathedral of St. Lawrence and the medieval Church of St. John the Baptist. The Trogir Town Museum, housed within a former palace, displays period costumes, documents, drawings, and books from the city's long history, and admission is just 20 Croatian Kuna (a little over $3 US).